Well-known and well-loved by the office staff and hungry students is Alexandra Village Food Centre. Despite its relatively hidden location, this hawker centre is constantly bustling with crowds. It's hardly any mystery as to why because almost every single stall here serves up their unique rendition of hawker classics.
We made a trip down to Alexandra Village Food Centre and we have narrowed their extensive list of stalls to this list of must-tries. Here are the food and drinks that you must get from this poular Hawker Centre!
---
DEPOT ROAD ZHEN MEI SHAN CLAYPOT LAKSA
---
One of the most popular laksa stalls in Singapore, Depot Road Zhen Mei Shan Claypot Laksa's rendition of this hawker classic will always have a place in the hearts of all Singaporeans.
The broth had a sweet taste with a creamy texture from the coconut milk, having a little of that claypot smokiness as well. Stir in the thick spicy gravy and some of their homemade chilli to enhance the flavour of the broth. Milder spice lovers can do without the chilli, but it sure packs a punch of spice and flavour!
It's a definite must-get dish when at Alexandra Village Food Centre.
Stall #01-75
Mon to Sat: 9am – 3pm
(Closed on Sundays)
---
DOVER ROAD KAI KEE WANTON NOODLES
---
Originally found at Dover Road Market, you can now have a taste of Dover Road Kai Kee Wanton Noodles at Alexandra Village Food Centre. For more than 30 years, the humble stall owners have been cooking up delicious plates of noodles for hungry customers.
The sauce had the perfect balance of sweet and salty, with a kick of spice that evenly coated each and every strand of noodle that was extremely springy. Complementing the noodles were morsels of well-seasoned minced meat that was wrapped in smooth and slippery wanton skin. While the char siew slices and vegetables were nothing to shout about, they were the perfect sidekicks for this dish!
It's clearly a popular option among the lunch crowd so whatever they've been doing, they've definitely been doing it right!
Stall #01-09
Sun, Mon, Wed to Fri: 7am – 4.30pm
(Closed on Tuesdays and Saturdays)
---
LAU PHUA CHAY AUTHENTIC ROASTED DELICACIES
---
If you're a fan of gravy-soaked roasted meat and rice, Lau Phua Chay Authentic Roasted Delicacies will be your go-to stall for delicious roast meats. A generous helping of roasted pork and char siew over rice will be drenched in savoury-sweet gravy, making every spoonful a delightful one.
Add some of their homemade chilli for a kick of spice!
Stall #01-20
Mon to Fri: 11am – 7pm
Sun: 11am – 9pm
(Closed on Saturdays)
---
LEON KEE CLAYPOT PORK RIB SOUP
---
This Hokkien-style bak kut teh is a hot favourite of patrons to Alexandra Village Food Centre.
The piping hot Pork Rib Soup (S$5.50) was served in a clay pot and came with a serving of rice, because who eats bak kut teh without rice? Each slurp of the soup was packed with the sweetness from the herbs and umami from the pork bones.
With generous portions of tender pork rib boiled in an ultra-flavourful broth, the people keep coming back for more and after tasting it, we can understand why!
Stall #01-18
Thu to Sun: 9am – 9am
(Closed on Wednesdays)
---
---
Springy yellow noodles, succulent prawn and tender pork ribs sit in a piping hot broth. One sip of this broth will reveal the complex flavours brought about through hard work and hours of simmering.
Helmed by a young hawker, everything is prepared fresh daily at Ming's Prawn Noodles so you can expect the best quality in each bowl of prawn noodles. Hands down one of the best prawn noodles in Singapore!
Stall #01-01
Thu to Sun: 7am – 3pm
(Closed on Wednesdays)
---
---
What better way to wash down a great meal than to get a refreshing and creamy cup of avocado milkshake? Mr Avocado Exotic Juice's milkshake is fresh, silky and dangerously addictive. You won't want to stop at just one cup!
Stall #01-19
Sun to Fri: 11.30am – 9pm
(Closed on Saturdays)
---
SHANGHAI LA MIAN XIAO LONG BAO
---
True to its namesake, Shanghai La Mian Xiao Long Bao's steamed dumplings are little gems bursting with a tender meat filling and sweet broth. Dip these morsels into ginger and vinegar to complete the experience!
They serve a great bowl of zha jiang mian as well – savoury meat and bean paste sauce coats the soft noodles perfectly. Their traditional Chinese dishes are a crowd-favourite and rightfully so.
Stall #01-56
Tue to Sun: 11.30am – 3pm, 5pm –8.30pm
(Closed on Mondays)
---
---
At SweeT.Rex, tucked away in Alexandra Village Food Centre, these cloud-like souffle pancakes won't burn a hole in your wallet while you indulge!
Their signature Souffle Pancakes are only S$4 and for an extra S$1 top up, you get a small scoop of Chocolate Cookies ice cream with the pancake. You can also choose between Strawberry, Chocolate and Caramel sauce to drizzle over your fluffy delights.
The pancakes were light and fluffy – not anything short of those you get at fancier establishments. They had a slightly eggy taste but the ice cream and the caramel sauce would balance it out. For S$5, we think that this plate was pretty satisfying!
#01-79
Mon to Wed: 10.30am – 3pm
Sat & Sun: 10.30am – 3pm, 5pm – 8pm
(Closed on Thursdays & Fridays)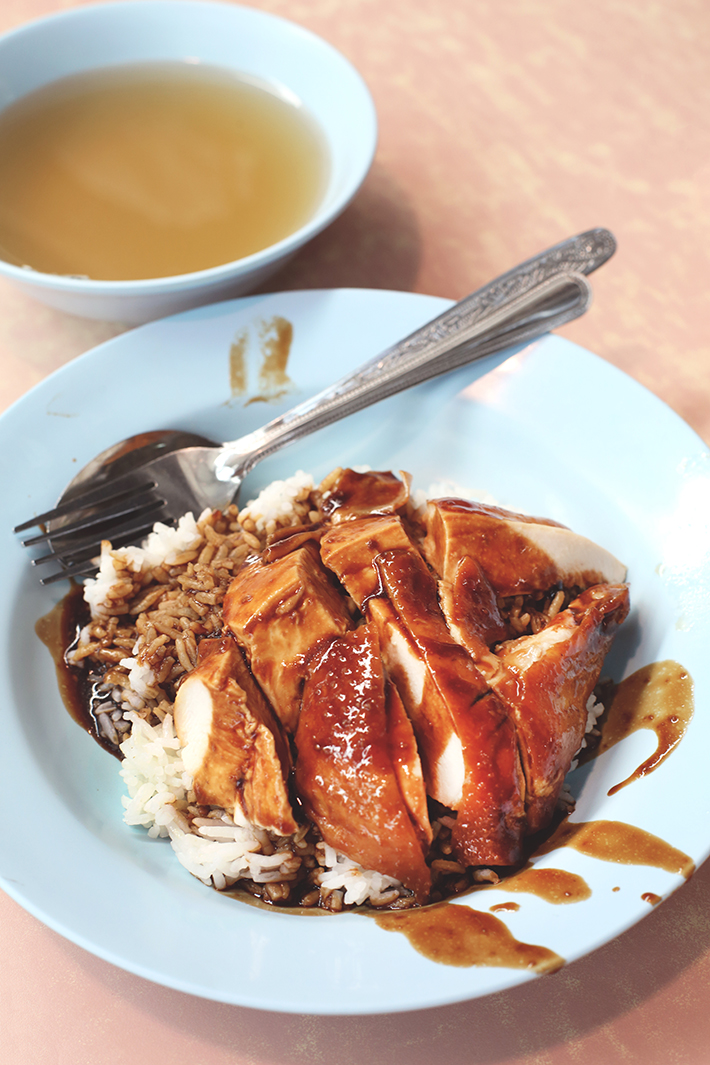 ---
XIANG JIANG SOYA SAUCE CHICKEN
---
Possibly one of the best Soya Sauce Chicken stalls Singapore has to offer, Xiang Jiang Soya Sauce Chicken will wow you with their succulent chicken and savoury dark soya sauce gravy. Have it with fluffy white rice or a bowl of Hong-Kong style egg noodles.
Tip: Add their handmade wontons for some extra satisfaction!
Stall #01-77
Wed to Mon: 7am – 2pm
(Closed on Tuesdays)
---
Words by Natasha Ng & Teri F.