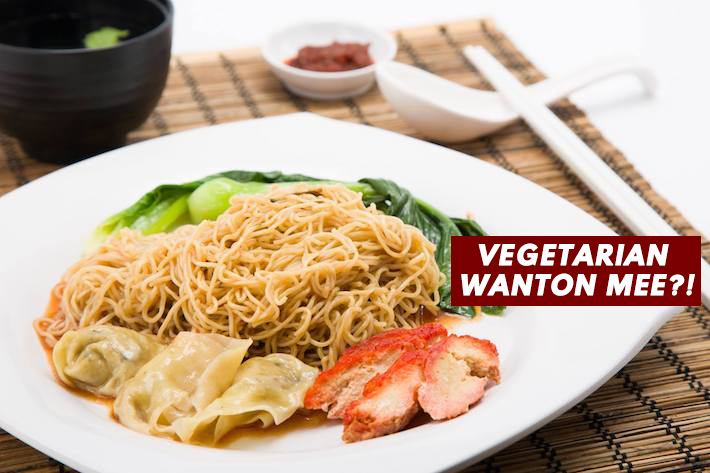 If you're a newly initiated member of the vegetarian community or you're simply a curious carnivore, we're here to set you straight. There are vegetarian F&B stalls in Singapore that whip up incredible meatless versions of your beloved hawker delights.
We've included all your favourites, from satay to oyster omelette. Trust us, they're legit. Check out these 10 vegetarian hawker stalls in Singapore that you can count on.
Photo Credit: www.instagram.com/redwingx82/
---
#1 33 VEGETARIAN
---
Meat-free chicken rice? You best believe it. 33 Vegetarian's best-selling chicken rice tastes like the real deal. Their Healthy Vegetarian Chicken Rice set (S$6.80) lets you choose between steamed or roasted chicken, and comes with soup, achar and oyster sauce greens.
If you ask us, we'd take the steamed chicken any day. Made from seitan, or wheat gluten, it looks and tastes like actual chicken. We don't know what's going on in the kitchen but there is definitely some vegetarian sorcery going on in there.
409A Ang Mo Kio Ave 10, Teck Ghee Market & Food Centre, #01-33
Singapore 561409
Tel: +65 9683 9448
Thurs to Mon: 12.30pm – 8pm
Nearest Station: Ang Mo Kio
Photo Credit: http://www.facebook.com/gokulvegetarianrestaurant/
---
#2 GOKUL VEGETARIAN RESTAURANT
---
A familiar name in the vegetarian community, Gokul Vegetarian Restaurant has one of the most diverse menus we've ever seen. You've got traditional Indian eats alongside local delights, such as Mee Rebus (S$8.50) and Char Kway Teow (S$8).
One of the must-tries here is the Gokul Special Hokkien Mee (S$8). Three types of noodles — yellow mee, bee hoon and kway teow — are tossed in a fragrant house-made sauce and served with fiery chili sauce. Vegetarian or not, you're bound to be a convert after a meal here.
19 Upper Dickson Rd
Singapore 207478
Tel: +65 6396 7769
Daily: 10.30am – 9.15pm
Nearest Station: Little India
Photo Credit: http://www.facebook.com/kwaninn.vegetarian/
---
#3 KWAN INN VEGETARIAN
---
With over six outlets islandwide, Kwan Inn Vegetarian is definitely one to watch in the local vegetarian food scene. While they pledge themselves to serving healthful, wholesome fare, rest assured that taste is not compromised over here.
While vegetarian laksa isn't the most groundbreaking concept, Kwan Inn Vegetarian's rendition is in a whole other league altogether. Swapping out the coconut milk for soy milk, its broth is a lot lighter on the palatable and won't have you feeling like you just downed five packets of coconut milk in one sitting.
134 Geylang East Ave 1, #01-229
Singapore 380134
Tel: +65 6744 4424
Daily: 7am – 10pm
Nearest Station: Aljunied
Photo Credit: http://www.facebook.com/lovinghutsg/
---
#4 LOVING HUT
---
We can already hear the scoffers — "Oyster- and egg-free orh luak? That's like ordering chicken rice with no chicken and no rice". Well, you all won't be laughing once you have a taste of Loving Hut's surreal creation. Their Vegan O-Luak is fried to a glorious crisp and harbours delicate chewiness within.
Apart from this dish, their menu houses a trove of other hawker delights. Think laksa, mee siam and — get this — char siew. We are quaking.
229 Joo Chiat Rd, #01-01
Singapore 427489
Tel: +65 6348 6318
Mon to Fri: 11.30am – 2.30pm, 6pm – 9.30pm
Sat to Sun: 11.30am – 9.30pm
Nearest Station: Eunos
Photo Credit: http://www.facebook.com/naturecafe.com.sg/
---
#5 NATURE CAFE
---
Nature Cafe has certainly upped the stakes with their overwhelming variety of nosh. Get swept off your feet by the flood of dishes in store, some of which you didn't even know could be made vegetarian.
With every turn of the page, we're astounded by what we find. Rojak (S$6.50) and Satay (S$9)? Check. They even have Kuey Chap (S$6.50). Don't ask us how. Just eat.
12 Kallang Ave, Aperial Mall, #02-14/15
Singapore 339511
Tel: +65 6702 3962
Daily: 11am – 9.15pm
Nearest Station: Lavender
Photo Credit: http://www.facebook.com/newfutkai/
---
#6 NEW FUT KAI VEGETARIAN RESTAURANT & CATERING
---
If you're looking for a classier spot for a family celebration, New Fut Kai is a pretty good bet. This restaurant is more than ready to entertain your zi char impulses, whether you're feeling for some yam ring or cereal prawns. Go big with their "suckling pig", which is outrageously good.
But, if your palate is crying out for simpler fare, they have the usual wanton mee and lor mee.
282 Jalan Besar
Singapore 208945
Tel: +65 6398 0836
Daily: 10am – 3pm, 5pm – 10pm
Nearest Station: Farrer Park
Photo Credit: http://www.facebook.com/sautesan/
---
#7 SAUTÉ-SAN
---
A jack of all trades and a master of many, Sauté-San refuses to be confined to a singular cuisine. Their menu is a mix of Japanese, Western, Italian and local influences, with pizzas and udons sharing the spotlight.
But, one page of their menu, in particular, has got our heart racing. It's an entire section dedicated to orh-luak, with vegetarian and vegan selections. Kimchi and Mala Orh Luak already sound like great combos, but they've raised the bar even higher with their Orh Luak Okonomiyaki. Damn, son.
180 Kitchener Rd, City Square Mall #03-23/24
Singapore 208539
Tel: +65 6398 0836
Daily: 10am – 3pm, 5pm – 10pm
Nearest Station: Farrer Park
---
#8 TANAKA VEGETARIAN
---
With a rotational menu that changes every day, you'd better make sure you visit Tanaka Vegetarian on the right day if you're after a particular dish. But, even if you didn't, you'll probably like what you get.
Tanaka Vegetarian does some really legit food, with mainstays on their menu including Fishball Noodle (S$3.50) and Roast Pork Rice (S$3.50). If you happen to be there on the day they have Chicken Rice (S$3.50), get it.
Block 347, Bukit Batok Street 34, #01-252
Singapore 650347
Wed to Mon: 6.30am – 9pm
Nearest Station: Bukit Batok
Photo Credit: http://www.instagram.com/cancerian_jen/
---
#9 VICTOR VEGGIE
---
If you simply handed us a plate of Victor Veggie's satay and otah, we'd wipe it clean without batting an eyelid. The man behind this stall is, you guessed it, Mr Victor. He has been in the vegetarian hawker trade for over 40 years, and it certainly shows in his food.
Smoky, charred and slightly sweet, his satay skewers (S$0.80/stick, min. 10 sticks) can barely be told apart from its meaty counterparts. It's not surprising that they usually sell out by dinner, so fastest fingers first.
79A Circuit Rd, Circuit Road Food Centre
Singapore 371079
Tel: +65 9002 5986
Thurs to Tues: 2.30pm – 10.30pm
Nearest Station: Mattar
Photo Credit: http://www.instagram.com/hungry_monkey_yeah/
---
#10 YI XIN VEGETARIAN
---
You'll probably find as many vegetarian spots as you'll find tourists in the Chinatown area. Yi Xin Vegetarian may look like just another one of them but you'd be very wrong to undermine them.
Their Vegetarian Laksa is an absolute powerhouse, brimming with coconut fragrance and heaped with toppings such as fried beancurd skin and crunchy greens. Healthier folks can opt for their herbal Bak Kut Teh which is comfort food for the soul.
43 Temple St
Singapore 058584
Tel: +65 9366 6002
Daily: 8am – 9pm
Nearest Station: Chinatown