Tucked away amongst some old HDB buildings in Hougang, Hainanese Village Food Centre is a popular wet market and hawker centre that sells affordable and delicious local grub in the North-East precinct.
This three-storey building is home to plenty of old-school hawker fare filled with nostalgia. From the famous Lorong Ah Soo Lor Mee to the traditional He He Min Jiang Kueh, you will undoubtedly be spoilt for choice here at this food paradise.
Here are 13 of our favourite stalls at Hainanese Village Food Centre to try.
If you love old school western food, you need to check out Apollo Western Food. This no-frills stall serves up some mean plates of western food that hit all the right spots. We adore their Chicken Chop which features a generous slab of chicken that's drenched in a savoury gravy and paired with a side of crisp fries, beans and a freshly toasted bun.
BEACH ROAD PRAWN MEE (#02-25) 
Prawn lovers should definitely check out Beach Road Prawn Mee for some really solid bowls of prawn noodles. They serve it up in either dry or soup form and we personally love the soup version very much. The broth is packed with plenty of umami from the prawns and pork lard used, giving the dish plenty of depth and flavour. The stall is also run by a sweet old couple who make every single bowl with plenty of love!
Steamed in small aluminium tins, each Chwee Kueh yields a firm yet bouncy texture filled with the aroma of rice. The best part? You get a generous topping of sweet-savoury chye poh (preserved radish) and a side of fragrant homemade chili from Bedok Chwee Kueh. This is one of the many distinctly Singaporean breakfast dish we cannot live without.
BLUE STAR FRIED HOKKIEN MEE (#02-26) 
Blue Star Fried Hokkien Mee is a stall at Hainanese Village Food Centre that dishes out good plates of Hokkien Mee. What truly makes or breaks a plate of Hokkien Mee is its stock and we are pleased to say that the stock here at Blue Star Fried Hokkien Mee is pretty decent.
Not the best wet version of Hokkien Mee that we've had in Singapore, but good enough for a quick meal.
HE HE MIN JIANG KUEH (#02-16) 
For a blast back to the past, you should definitely try the min jiang kueh at He He Min Jiang Kueh. We love how the pancake-to-filling ratio is well-balanced and you can expect the traditional pancake to be packed with finely crushed peanut powder instead of peanut butter. If you aren't a fan of peanut, they also have other flavours available such as cheese, coconut and red bean.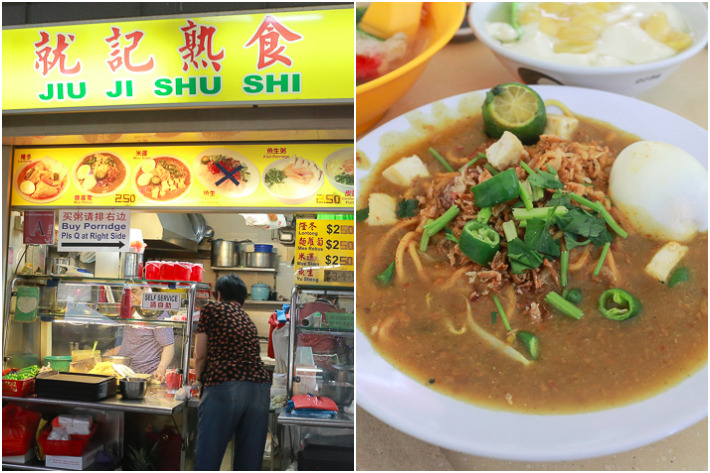 JIU JI SHU SHI (#02-31) 
Jiu Ji Shu Shi may have a Chinese name but they are actually well-known for their Malay dishes such as Lontong, Mee Siam and Mee Rebus. With everything on their menu going at S$2.50, no doubt this hawker stall is a crowd favourite for its pocket-friendly dishes. Aside from Malay dishes, the stall also offers a small range of Cantonese-style Porridge.
LORONG AH SOO LOR MEE (#02-51)
Any foodie will be familiar with this name. Lorong Ah Soo Lor Mee is one of the most highly lauded lor mee stalls in Singapore. This hawker stall is known for their thick and robust gravy that boasts a heavy flavour. Each bowl comes with flat yellow noodles, braised pork belly or shredded duck meat, topped with ngoh hiang, braised egg, and fish cakes.
PUNGGOL NOODLES (#02-24) 
Punggol Noodles sees endless snaking queues daily, which is a testament to how good their food is. They sell an extensive array of dishes and if you're spoilt for choice, we recommend that you order yourself a bowl of their classic Punggol Noodles. You can have it either dry or in soup form and for those of you who order it dry, it comes with a side bowl of soup that's brimming with ingredients such as minced pork, meatballs, liver and vegetables. What a steal!
SELETAR NAM HOE BAK KUT TEH (#02-07) 
If you're hankering for a hearty bowl of bak kut teh, you should have a go at the ones here at Seletar Nam Hoe Bak Kut Teh. They are incredibly generous with the number of ribs that they give per bowl and we appreciate how each rib has a decent amount of meat on it. The soup, on the other hand, is peppery and robust; just the way we like it!
SHUAN QUAN (#02-38) 
A hidden gem in Lorong Ah Soo Market, most would overlook this hawker stall as any other ordinary drink stall. What makes them stand out is their handmade, silky-smooth Tau Huey that goes for just S$0.80 per serving. Besides having it plain, we recommend that you add some of the provided almond essence or gingko nuts to it. Aside from that, you also can get yourself a cup of their homely grass jelly or soya bean milk.
For some really good homemade drinks and traditional local breakfasts, we recommend that you pay the good folks at The Blend Inc a visit. They make their coffee right before your eyes and each fragrant brew is the perfect way to start your day. We also recommend getting one of their nostalgic breakfast sets if you're feeling a little more peckish.
XIN MEI COOKED FOOD (#02-33) 
Xin Mei Cooked Food is a humble hawker stall that serves up hearty bowls of of yong tau foo. Each bowl comes with yong tau foo of your choice soaked in a light ikan bilis-based soup. If you are filling hungry, you can add either yellow noodles or rice to your meal.
YONG SENG TEOCHEW FISHBALL MEE (#02-47) 
Yong Seng Teochew Fishball Mee specialises in comforting bowls of teochew fishball mee. Bowls of mee pok here feature al dente noodles tossed in chili and vinegar and topped with various ingredients such as fish balls, fish cake, minced pork and liver, and mushrooms.  Do note that the queue at this hawker stall never seems to go away but we assure you that it is definitely worth the wait.
Hainanese Village Food Centre 
Blk 105 Hougang Ave 1
Hainanese Village Centre
Singapore 530105
Daily: 6.30am – 2pm
Nearest Station: Serangoon