The world of Hainanese chicken rice in Singapore holds fearsome contention. You've got people arguing over the superiority of the steamed or roasted version and in the background, another debate is going on about the most important component of the dish — the chicken, the rice or the chili.
But for now, let's just all take a step back and enjoy the dish for what it is. Silky chicken and fragrant rice are as simple —and as delicious — as it gets.
As if the market for Hainanese chicken rice in Singapore wasn't already oversaturated, we've found another chicken rice gem, one that's hidden in Tanglin Halt Market.
Meet Chen Ji Hainanese Chicken Rice.
This stall in the well-known hawker centre sits humbly at the corner, with plump chickens on display and an inviting signboard menu beckoning customers over. They are one of the few chicken rice stalls in Singapore that also offer a side range of comforting stewed soups, such as sweet corn pork ribs and yong tau foo soup.
One of the owners of the stall, the young Chinese lady pictured above, shared with us that the stall has been around for around 10 years. Yes, it's not the most impressive number when you compare it to the age of the surrounding stalls, some of which have been there since the hawker centre first started over 50 years ago.
But, that certainly bears no implication on the quality and integrity of their food.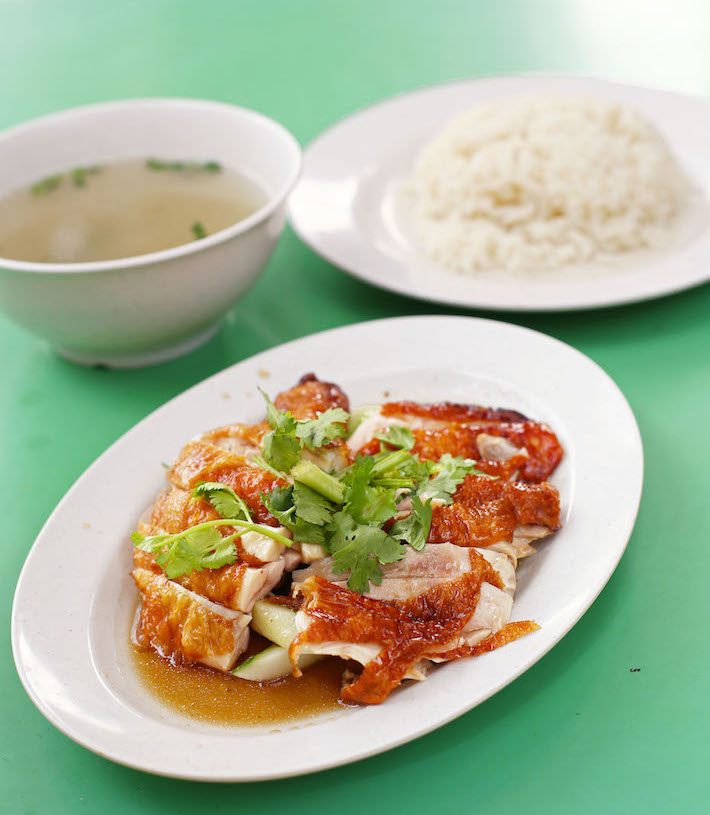 We got a quarter roasted chicken with rice (S$8.50), which came with the usual bowl of soup. The portion of chicken given was pretty generous, and came well-loaded with slivers of fresh cucumbers and coriander.
We took that first bite of chicken and oh man, it was everything we could have asked for. Silky, succulent and juicy, the chicken was just delightful. The chicken skin had a nice glistening sheen and wasn't dry or brittle at all.
As for the rice itself, it wasn't as fragrant as we'd hoped for and was a little too dry. But it definitely feels a lot healthier than most other renditions, which can be pretty greased up and heavy.
Chen Ji Hainanese Chicken Rice may not be the best among the rest, but it sure puts up an excellent fight. If we were in the area and needed to fix our chicken rice cravings, we'd have no second thoughts about running back to this stall.
Chen Ji Hainanese Chicken Rice
47 Tanglin Halt Rd, Tanglin Halt Market, Stall #24
Singapore 141047
Thurs to Tues: 9am – 5pm
Nearest Station: Commonwealth