Kway chap is a simple yet classic dish that is loved by many Singaporeans as a breakfast or supper item.
It consists of a steaming bundle of braised pig innards alongside a bowl of flat rice noodles topped with fried shallots in a savoury broth. Of course, there are other variations that feature the likes of duck meat, braised tofu, fish cakes and pork belly for those who are not huge on pig innards.
The dish itself might look simple but on the contrary, it takes a lot of effort to prepare and hours have to be dedicated solely to cleaning out the various offal properly so as to ensure that the pig offal bears no foul smell or taste. If you're someone who has yet to try it, or someone who simply can't go a week without having it, here are our top 10 picks for the best kway chap in Singapore.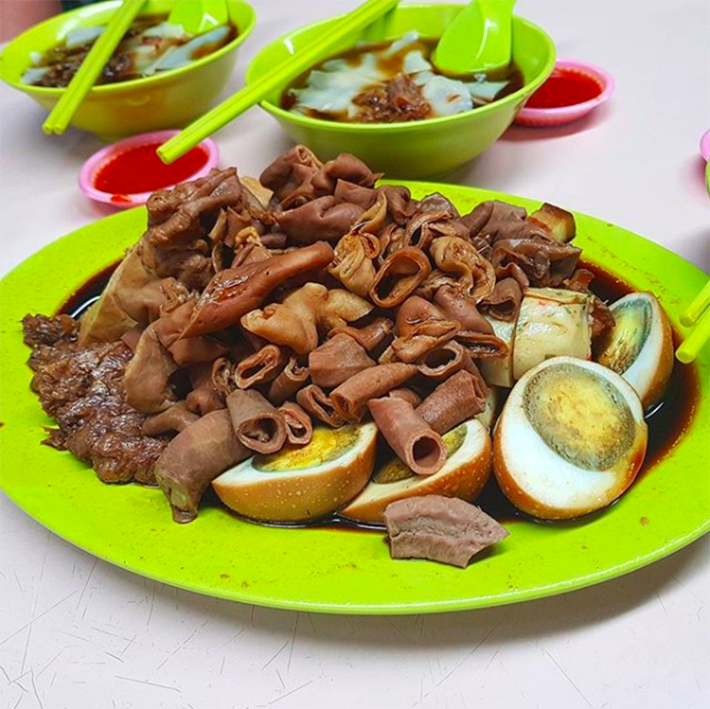 Photo Credit: thehungrypang
---
284 KWAY CHAP
---
Many people might be surprised to know that this stall only opens at night but it is only because it operates as a rice stall during the day but transforms into a kway chap heaven come evening time. Opened till 4am daily, 284 Kway Chap is a great spot for those looking for a late night supper and is a popular spot among youths who often head there post-clubbing.
The pig intestines are well cleaned without any foul taste and the braised meat sauce is thick and flavourful but not too overpowering. What sets them apart from most kway chap stalls is definitely their broth. Most places serve a broth that is bland but theirs is incredibly tasty.
284 Bishan Street 22
Singapore 570284
Mon to Sun: 8.30pm – 4am
Nearest Station: Bishan
---
AH KEAT PIG'S ORGAN SOUP AND KWAY CHAP
---
At Ah Keat Pig's Organ Soup And Kway Chap, the classic dish is simply perfect. Packed with lots of ingredients like large and small intestines, fish cake, braised eggs and more, a platter for 1 here can easily feed 2. Here, their braised delights boast a stronger hint of garlic rather than the usual 5-spice aroma.
If you are into a richer broth, this one is definitely for you. The soup is filled with just the right amount of saltiness, which is probably why so many people become addicted to it. Their tangy chilli sauce is definitely a plus point as well!
Blk 211 Marsiling Crescent
Lucky Star Eating House
Singapore 730211
Mon to Sun: 9am – 9pm
Nearest Station: Woodlands

Photo Credit: Eddy Tan
---
DOUBLE SPRING TEOCHEW LOR DUCK KWAY
---
Given the generous portions of braised offal, duck meat and other ingredients in a single serving, it is easy to know why Double Spring Teo Chew Lor Duck Kway Chup is pretty famous in its area. Apart from its value-for-money meals, the food is well cooked and simply appetising.
The ingredients soak up the braised sauce like a sponge and every bite hits you with an umami kick. Pair it together with the zesty chilli sauce and you can definitely experience a burst of flavours in your mouth!
#01-48, 41A Cambridge Road
Singapore 211041
Mon to Sat: 8am – 6pm
Closed on Sundays
Nearest Station: Farrer Park
---
GARDEN STREET KWAY CHAP
---
Garden Street Kway Chap is one of the best things you can eat in Serangoon Garden Market & Food Centre. For the very simple reason being, their kway chap is seriously next level stuff.
The tender and well-braised meat is definitely a must order and the innards are well cleaned and not too chewy. Another gem here is the tau pok because it soaks up all the goodness of the savoury braised sauce. Those who are into a herbal broth would definitely love the soup here.
49A Serangoon Garden Way, #01-21
Serangoon Garden Market
Singapore 555945
Tues to Sun: 8am – 3pm
Closed on Mondays
Nearest Station: Lorong Chuan

Photo Credit: Nobi Nobita
---
GUAN KEE KWAY CHAP
---
There are many components that make up a plate of kway chap, but for us, the key to any great kway chap is definitely the pig offal. Here at Guan Kee Kway Chap, the pig innards are definitely the highlight of the dish. Well cleaned and braised to tender, tasty perfection, every piece of offal, be it the small or the large intestine, is just mind-blowingly good.
Rich in flavour but not too heavy on the herbs, the garlic-infused soy-based broth is a star on its own as well. The rice noodles were wonderfully smooth and slurpilicious and each bite of noodles simply slides down your throat easily.
#01-24, 210 Lor 8 Toa Payoh
Singapore 310210
Mon to Wed: 11am – 8pm
Sat: 11am – 8pm
Sun: 9am – 8pm
Closed on Thursdays & Fridays
Nearest Station: Braddell

Photo Credit: Philip Lim
---
LAO SAN KWAY CHAP
---
Tucked in the heart of Ang Mo Kio, Lao San Kway Chap serves really tasty kway chap! This place is well known for their silky smooth rice noodle that sits in a savoury broth, that is delicate yet perfect for allowing all that luscious sauce to latch on.
The ingredients here are pretty much what you get at other kway chap stalls but it does not have a strong herbal taste. A special mention, however, must be given to their awesome chilli sauce that is potent and robust, with a lively piquancy.
Blk 232 Ang Mo Kio Avenue 3 #01-1222
Singapore 560232
Tues to Sun: 6am – 3pm
Closed on Mondays
Nearest Station: Ang Mo Kio

Photo Credit: Maggie GR
---
OLD BUGIS KWAY CHAP
---
Located in Sengkang's Kopitiam Square, Old Bugis Kway Chap is one of the more popular kway chap stalls many people might know. Having been around for over a decade, this stall definitely knows how to make the perfect kway chap to keep their customers coming back for more.
Drenched in a thick and savoury braised sauce, the meat and intestines were thoroughly braised and absorbed all the flavours. The rice noodles were served in a dark broth but surprisingly had no herbal taste to it.
10 Sengkang Square
#01-38 Kopitiam Square
Singapore 544829
Mon to Sun: 11am – 11pm
Nearest Station: Seng Kang

Photo Credit: tigerkiller
---
QUAN LAI KWAY CHAP
---
At Quan Lai Kway Chap, the display counter comprises rows of beautifully braised duck, tofu, pig innards and other ingredients for a perfect kway chap meal. Although the food here is not as cheap as compared to other kway chap stalls, it is definitely worth the money!
The unique thing about this place is that they serve deep-fried intestines. Deep-fried till golden brown, the pig intestine had a crackling skin that took on the texture of a suckling pig. Apart from that, the kway chap is drenched in a light but delicious braised sauce that complements all the ingredients.
560 MacPherson Road
Singapore 368233
Mon to Sun: 8am – 12.30am
Nearest Station: Tai Seng
---
SIGLAP KWAY CHAP
---
Located along East Coast Road, Siglap Kway Chap is dedicated to serving a good set of kway chap to their loyal customers. Although the food does not look as appetising due to the wrinkled intestines, the taste will definitely make you change your mind.
The tender and thinly sliced pig offal is drenched in a thick and flavourful braised sauce that is bound to impress anyone who tries it. Served in a piping hot bowl of aromatic dark broth, the rice noodle is a bit thicker than others but not too bad as well.
727 East Coast Road
Singapore 459073
Fri to Wed: 8am – 2.30pm
Closed on Thursdays
Nearest Station: Kembangan
---
---
Everyone knows that Old Airport Road Food Centre offers a variety of cheap and good hawker eats so it is no surprise that To-Ricos Kway Chap will be featured on this list. They offer a standard mixed plate that features everything from braised pig intestines, pork belly and more!
Here, the pork offals are braised until tender in soy sauce and herbs along with other ingredients. The rich sauce was ladled all over the duck, innards and tofu—all of which were cooked to the right doneness.
51 Old Airport Road #01-135/136
Old Airport Road Food Centre
Singapore 390051
Wed to Sun: 11am – 3pm
Closed on Mondays & Tuesdays
Nearest Station: Dakota
---
---
Yaowarat Thai Kway Chap serves kway chap the Thai way which, needless to say, is their signature dish. For S$5, you get a bowl of comforting goodness featuring deep-fried pork belly slices, beef slices, Thai fish sausages and offals together with their unique, rolled-up kway.
Unlike the dark soy sauce broth we usually get in our local kway chap, Yaowarat's version is clearer and more on the peppery side. Light yet extremely flavourful, the soup reminded us of a Bak Kut Teh broth. Delicious as it is, we must say that the star of the show would be the rolled up kway—each piece was silky smooth and had a satisfying mouthfeel to it.
945 Upper Serangoon Road
Singapore 534711
Tel: +65 8822 5637
Tue to Sun: 11am – 3pm, 5pm – 11pm
(Closed on Mondays)
Nearest Station: Kovan

Photo Credit: debbbaayyy
---
YU KEE DUCK RICE
---
Yu Kee Duck Rice is a well-known eatery with over 15 outlets island wide. The key to their success is said to lie in their speciality-braised sauce that is made using over 10 different types of herbs and spices.
Although well known for their duck rice, Yu Kee also serves up one of the best kway chap around. For those who are not into pork innards, you should definitely give this duck kway chap a try because their duck is well seasoned and braised for long periods of time, allowing the flavours to really penetrate deep into the duck.
744 Yishun Street 72 #01-197
Singapore 760744
*Mon to Sun: 9.30am – 9.30pm
Nearest Station: Yishun
(Yu Kee Duck Rice has multiple outlets)