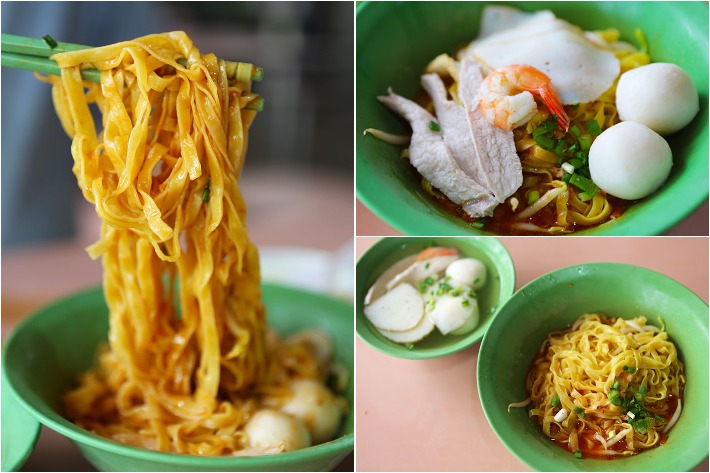 Over the past 20 odd years, Sembawang Hills Food Centre has seen its fair share of hawker vendors who have come and left. There really is no room for the mediocre given its small size, as occupying it, are a slew of veteran stallholders that present their craft exceptionally well.
One such stall that has stood the test of time, is Jing Ji Fishball Noodle. Having been around for over 30 years, this humble noodle stall has built for itself a loyal customer base. Many travel far just to savour a bowl of their loaded and well-seasoned fishball noodles, while many others just love the fact that they still price their bowls at only S$3.
Despite having only 2 items to choose from—Teochew Meatball Noodle (S$3) and Fishball Noodle (S$3)—, there is always a queue. In the past, they use to deliver but given the amount of time and age catching up on them, they have since made their food 'self-service'.
We got ourselves a bowl of Dry Fishball Mee Pok (S$3), which came with a substantial amount of noodles tossed in their homemade chilli sauce and a bowl of soup comprising fishball, fish cake, prawn and pig liver on the side. Unlike many other vendros who dollop their ingredients over the noodles, the folks here place it in the soup.
There are really not many ingredients in the bowl of noodles except a handful of crispy pork lard and bean sprouts, but that's the beauty of it. Each bite of springy noodles was well coated with the mouth-watering tangy chilli sauce and we mopped the dish up within minutes.
As for the soup, it was clear and light on the palate with a distinct pork flavour with subtle notes of spring onion—just perfect to wash down the spiciness of the noodles. Their fishballs were really fresh and they have a noticeable bounciness to them. A shout out to the pig liver in the soup—they were really fresh, soft and cooked perectly.
Jing Ji Fishball Noodle
590 Upper Thomson Road
#01-23 Sembawang Hills Food Centre
Singapore 574419
Mon to Sun: 6am – 2pm
Nearest Station: Marymount