Falling sick sucks, and no one likes to feel all weak, sluggish and bedridden when we could be out and about doing something more productive. The other really depressing thing about being sick is that your food choices are severely limited.
However, being sick does not mean that you are only stuck with dull, bland foods. Surprisingly, there are a number of pretty delicious things out there that you can still eat when you're sick that won't compromise your health.
We have here a list of our 12 recommended foods for the sick that is not only good for you but taste pretty good too. From a refreshing smoothie a comforting bowl of tau huay, we're here to help you when you can barely help yourself.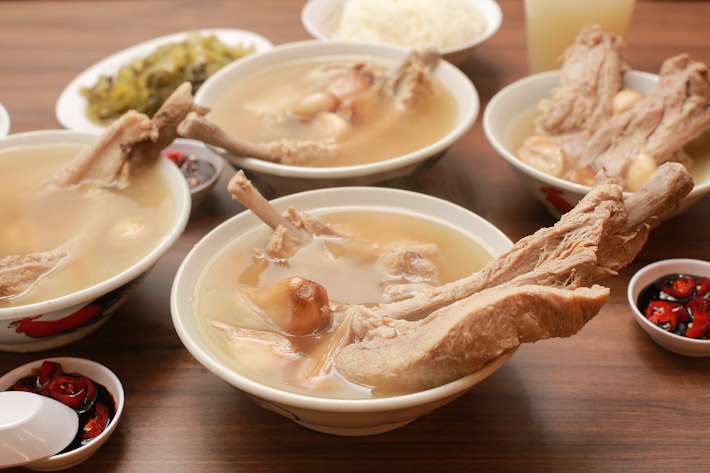 ---
BAK KUT TEH 
---
A peppery, piping bowl of bak kut teh is definitely one of our favourites on this list. This bowl of goodness is especially useful in clearing up blocked noses and warming up a cold and tired body. Some like to add some chilli for that extra kick to get rid of the congestion in their noses and throats.
Our favourite place to get some solid bak kut teh soup definitely has to be from Song Fa Bak Kut Teh.
---
BEE HOON SOUP 
---
This simple yet comforting bowl of hot bee hoon soup is the perfect remedy for the sick. Despite looking bland, this unassuming dish tastes amazing when you're feeling tired and sick.
It is also easily available in almost any hawker centre, which makes it all the more a convenient sick food. Our favourite place to get some delicious bee hoon soup would be from B52 Cafe.
---
CHICKEN SOUP 
---
The first thing that comes to mind when one mentions sick people food definitely has to be chicken soup. For the longest time, this magical concoction has been a go-to option for many people when they are feeling sick or weak. Even research has shown that the ingredients of a comforting bowl of chicken soup is good for the immune system as well as to clear up nasal congestion.
One place we recommend for some really solid chicken soup that comes loaded with a herbaceous kick would be from Hainan Chicken Rice Ball where, instead of conventional cabbage soup, they serve a much more complex and herby flavour profile.
---
FISH SOUP 
---
Another viable option would be a bowl of fish soup. This comforting, hawker staple is easily accessible and has many health benefits. The warm soup also helps to warm up and soothe ones tired body after long hours of being bedridden.
One of our favourite fish soups definitely has to be from Piao Ji Fish Soup, and the feeling of biting into some of their chunky pieces of fish when you are sick definitely feels quite shiok.
---
FRUIT INFUSED WATER
---
This is a tasty option for people who hate drinking water. Not only does fruit infused water keep you hydrated, it also has cooling properties for people who experiencing too much heatiness or are having a fever. Fruit infused water is also really easy to make, and you can do so easily at home. Just a bunch of freshly cut fruits and vegetables, and water!
---
HERBAL SOUP  
---
Chinese soups are known to be made of plenty of healthy, medicinal ingredients that can work miracles on the body. They seem to have a soup of every kind of body issue out there, so you have plenty of options to choose from. It is also a pretty rich and tasty option for those who loathe bland-tasting foods.
Best of all, herbal soup is easily and readily available at many food courts, hawker centres and even restaurants, so it is convenient to get some when you don't feel like moving about so much. If you're up to it, you can even to make it yourself.
---
GREEN BEAN SOUP 
---
Green bean soup is not just a Chinese dessert; it has tons of great health properties that are great for people who aren't feeling their best. Green bean soup is also easy to make. However, if you're lazy to make it, you can always pop down to a drink or dessert stall at a hawker centre to get some.
---
PORRIDGE 
---
This is another classic sick people food that our mothers have been shoving down our throats since we were kids. We all know and have experienced how comforting a bowl of porridge tastes like when we are down with the flu, and even though it may taste bland at times, we all know that it still is good for us.
Porridge is also another hawker staple that is readily available at pretty much any hawker centre. One of our favourites has to this creamy bowl of goodness from Sin Heng Kee Porridge.
---
TAU HUAY  
---
Think you can't have dessert when you're sick? Think again. The dessert to have when one is sick is definitely a nice bowl of silky tau huay. While tau huay is nice eaten cold, if you're sick, its best to eat this hot with less sugar. Nonetheless, it still is something comforting to slurp up when your body has given up on you.
---
YONG TAU FU 
---
A classic hawker favourite that we all know and love is a good old bowl of yong tau fu. This customizable bowl of goodies is great for warming up a frail, sick body. On the bright side, you couldn't choose whether to fall sick or not, but at least you can choose the ingredients in your yong tau fu.