Tucked away in an odd corner of a local Chinese eatery, along rows and rows of shophouses and coffee shops, it's almost way too easy to miss this unassuming shop, even if you're actively looking out for it. A humble display cabinet placed outside a glass window kitchen is the only indication that it's there.
At the age of 20, Abel See Toh runs and oversees Patisseries Vine from start to finish, all by himself. What originally started out as a simple birthday request to run his own business to his parents — who, then, didn't know what baking involved beyond chucking flour and eggs into the oven — has since grown to be his pride and joy.
Needless to say, every item that he places out in the display cabinet is a labour of love. He prides his desserts on being less sweet than the norm, without sacrificing any of the other aspects that define a good dessert. We were fortunate enough to have a peek into his kitchen to observe his process of making macarons.
The Macarons (1 for S$2, 6 for S$10) sport a variety of flavours, from the classic favourites such as Cookies and Cream and Earl Grey to ones more tailored towards the local palate like Thai Milk Tea and Matcha. With a crispy shell and chewy, luscious interior, the macarons are simply divine.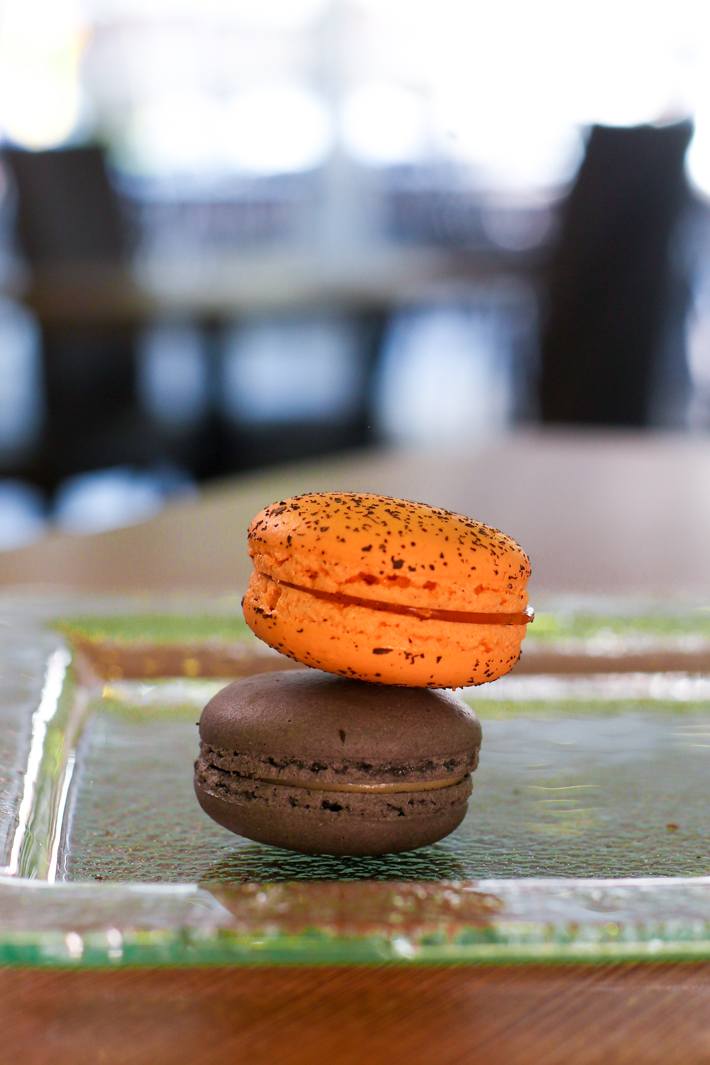 We got one of the Thai Milk Tea and another of a classic Vanilla. Rather than shattering like the regular mass produced macarons, these offered a clean break and had a satisfying chew without sticking to the roof of our teeth.
He also offered us a freshly baked Dark Chocolate Macaron to sample, and a bite was all it took to win us over. The shell was sweet without being overwhelmingly so, with the taste of almonds seeping through. Made from purely dark chocolate and a bit of heated cream, the rich creamy ganache had the perfect bitter note that contrasted nicely with the sweet shell. The overall taste was like having a chewy pocket of flavoured air, indulgent but not sinful.
As simple as the process of making macarons might seem, Abel's nothing short of meticulous when it comes to perfection. Depending on the weather and humidity of the day, he's able to estimate how long it would take for the macarons to dry, and with touch alone he can tell whether the macarons are fully baked or not. 
While macarons might be his main game, you'll also find other pastries varieties in the display counter too.
The La Vigne (S$5.50) looked deceptively like tiramisu at first glance, but what sets it apart is the multiple fine layers in it. Using less mousse and more sponge, and introducing a praline layer in the middle, it melts in the mouth to form a symphony of flavours and textures. It also pays homage to the shop name, meaning "vine" in French.
Although he runs a dessert shop, Abel admits that he's more partial to sour treats instead. The Lemon Meringue Tart (S$4) features a buttery tart base filled with tangy lemon curd, topped with meringue and lemon zest. 
Constantly seeking to expand his skill set and horizons, Abel constantly travels around to learn more from chefs overseas, but rest assured his shop continues to open for business with the help of his friends.

If you'd like to have a taste of one of his macarons, make haste to visit Patisseries Vine, as while quality is limitless, quantity is limited.

Patisseries Vine
Changi Village
#01-2021 Ding Heng
Singapore 500005
Daily: 10am – 11pm
Nearest Station: Pasir Ris