When it comes to Thai food, there are just so many varieties and styles to choose from, with dishes such as the classic tom yum that may be executed differently depending on which particular region you have it in. With 3 outlets scattered around the city, Nana Original Thai Food serves one of the best and most authentic Thai dishes in Singapore.
With the first outlet located in Golden Mile Complex, the original idea behind setting up this restaurant here in Singapore was to accommodate Thais living in Singapore who long for the taste of home. However, with Singaporeans' unwavering love for Thai food, the restaurant has expanded to the heartlands of Singapore.
Nestled in the heart of Clementi Road, this humble Thai eatery offers a wide range of Thai food from different parts of Thailand. We decided to try the outlet at Clementi because it seemed to be the most underrated and to our surprise, the place was quickly filled up by lunchtime—a reminder to drop by early if you happen to want to pay this humble stall a visit.
First up on our table was the Stir-fried Basil Minced Pork (S$10). The aroma of the dish immediately filled the air and we swear we nearly drooled a little then. Tossed in garlic, chilli, basil leaves and other condiments, this dish was savoury with a fiery yet delightful kick.
The thinly sliced long beans added a nice crunch to the dish, and the finely minced, spicy bits of pork goes perfectly with rice.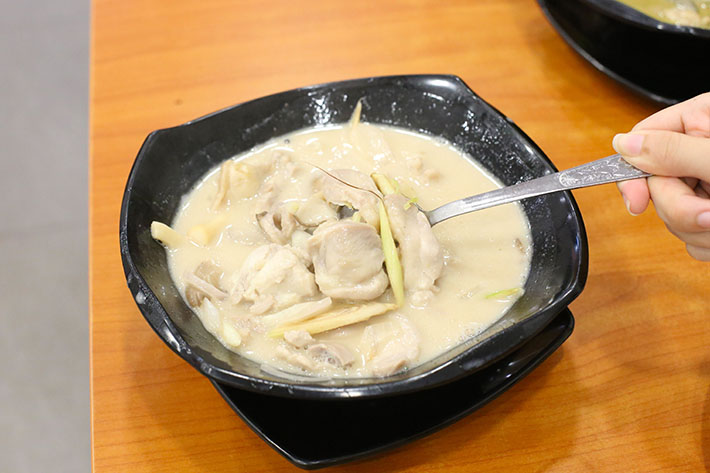 Next up was the Tom Kha Gai (S$8), which actually bore a resemblance to Campbell's mushroom soup. This classic Thai dish is essentially a coconut-based soup that comes filled with lightly poached chicken, lemongrass, ginger and of course, a silky and rich coconut milk broth.
It was rich and creamy and the flavours hit the palate like a tank with the creaminess and sweetness of the soup. For those who are looking for something sweet, this is definitely a great option for you!
But what is Thai food without some curry? Their Thai Green Curry Chicken (S$8) was hands down one of the best green curries we have ever had. Filled with chicken, eggplant, chilli and curry leaves, this dish might not be packed with as much variety of ingredients as we would have liked but it was definitely filled with flavours.
Most of the green curries we have had before have been rather mild, but this dish has a subtle tangy sensation and a slightly spicy kick at the end. It struck the perfect balance between spiciness (with the chilli) and richness (with the coconut milk) in the dish which we dare say was enough to get us coming back for more.
Since it opens till 12.30am and is located near NUS, this is a perfect joint for students to come and have supper after a long day in school.
Although it might seem a little bit inconvenient for those who are not familiar with the place, there are actually a lot of buses you can take from Haw Par Villa MRT Station. And after all, they have 3 outlets spread out across Singapore so just drop by any one of them for your Thai food fix!
Nana Original Thai Food
*18 Clementi Road
Singapore 129747
Tel: +65 6873 2250
Daily: 11.30am – 12.30am
Nearest Station: Haw Par Villa
(Nana Original Thai Food has multiple outlets)