Since the downtown line started operating, it opened up a treasure trove of food havens because it brought many food centres close to the new MRT stations. Beauty World is one of the places in the west of Singapore that has become more easily accessible and we found a slew of food gems within walking distance from it.
To add to the cosy cafés and eateries we found, here is a list of hawker stalls if you are looking for budget meals that are equally as satisfying and delicious. Head up to the fourth floor of Beauty World Centre and you will reach a one-of-a-kind privately owned open-air food centre.
Here is our Beauty World Food Centre guide featuring 8 hawker gems.
Photo Credit: Buta Kin
---
BUTA KIN RAMEN
---
Never would you expect to find good quality ramen in Singapore for under S$10. However, Buta Kin has managed to do just that. They sell restaurant-quality ramen in generous portions for S$6.90 a bowl, and we love how they are not stingy with their ingredients. Each bowl comes filled to the brim with thick slices of chashu, black fungus, nori, and a soft boiled egg.
144 Upper Bukit Timah Road, #04-28
Singapore 588177
Daily: 11.30am – 8.30am
(Closed on Mondays)
DHABA 1376 (#04-64)
If you are looking for a heavy meal, Dhaba 1376 offers a Bum Biryani Chicken (S$6) with chunks of meaty chicken hidden in a huge serving of rice. There was even a large drumstick in ours. The rice is spicy even before you drizzle it with the curry gravy that it comes with so you might want to consider ordering their Masala Tea (S$1.50) too to help with the heat.
DON & BENTO (#04-38)
For Japanese fare, Buta Kin sees long a queue for their ramen but the lesser-known Don & Bento is fantastic for donburis. Their Mentaiko Salmon Don is a must-try for a small price of just S$6 . A sizeable slab of salmon is topped with a generous amount of mentaiko sauce and torched before you.
HONG KONG SOYA SAUCE CHICKEN NOODLE RICE (#04-51)
The popular Chicken Noodle (S$3.30) at Hong Kong Soya Sauce Chicken Noodle Rice comes with wanton mee topped with well-marinated chicken thigh meat or thick chunks of chicken breast that are incredibly tender. The noodles are soaked in a delicious dark sauce which is what keeps customers returning.
JIA JIA SHU SHU (#04-21)
The Hokkien Mee (S$3) from Jia Jia Shu Shu maintains the old school standard of thinly cut pork belly and an even distribution of yellow noodles, thick bee hoon, and vermicelli. Though the noodles could have had more prawn stock flavour, they were neither too wet nor dry and still made for a simple and savoury dish that satiated our cravings.
TOP 1 HOME MADE NOODLE (#04-44)
At TOP 1 Home Made Noodle, we ordered Sliced Fish Home Made Noodle (S$5) and had no regrets. The star ingredient was undoubtedly their thick noodles which were easy to slurp up and were distinctly flavourful in themselves. Their ikan bilis broth base was delightfully rich and sweet. Although TOP 1 charges S$0.30 for each saucer of chilli sauce, what you get is already pretty potent.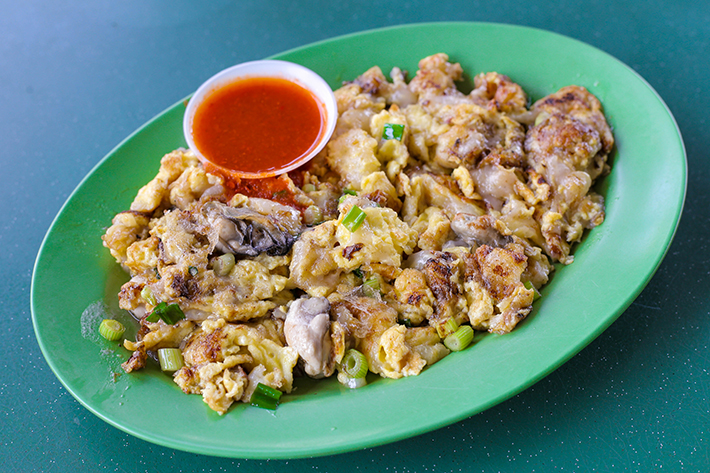 YE RI XIANG XIAO CHI (#04-19)
Ye Ri Xiang Xiao Chi's Fried Oyster (S$5) arrived with a mouthwatering aroma exuding from it. It had an even ratio of fried egg to starch and was lightly garnished with chopped spring onions. It was a plus that Ye Ri Xiang didn't skimp on the size of their oysters which were decently plump and fresh. It was one of the dishes we eagerly gobbled up first.
YOU PENG NOODLE DUMPLING HOUSE (#04-23)
We got our xiao long bao fix with an order of Shanghai Fresh Meat Juicy Steamed Buns from You Peng Noodle Dumpling House. Their minimum is ten pieces per set at S$7.50. The steaming dumplings were full of soupy stock and their fillings were without strong porcine flavour. The skin of each piece was reasonably thin and though there are better xiao long baos out there, You Peng competes with its quality for its price point.
Beauty World Food Centre
144 Upper Bukit Timah
Beauty World Centre
Singapore 588177