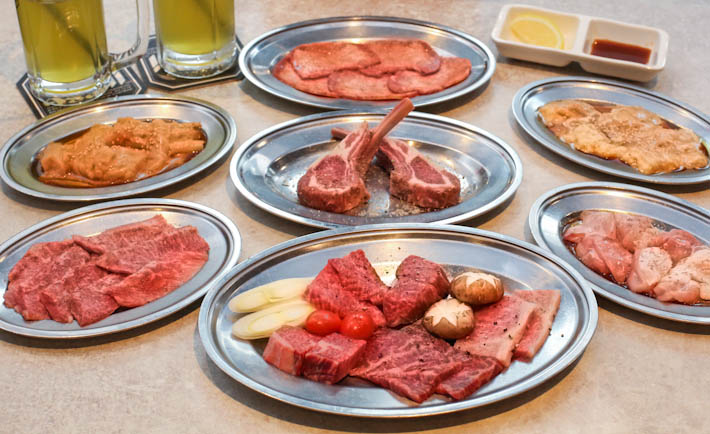 Indulging in premium Japanese meats is a fantasy for all meat lovers—just thinking of the tender meat melting in our mouths is enough to get us salivating. Life would be great if we could indulge in high-quality Japanese meat every day, but that is going to cost a bomb and the last we checked, our last name isn't Kardashian.
But guys, what if we tell you there is a yakiniku place located right in the heart of town offering premium meat that will not burn a hole in your pocket? That's right, you can feast on Wagyu and other high-quality a la carte dishes starting from as low as S$10++ when you dine at Yakiniku Jan Jan.
It is a great place to hang out with your squad over a great variety of meat and alcohol or for days when you just feel like treating yourself to some good Japanese beef without splurging.
Nestled within Cuppage Terrace, Yakiniku Jan Jan is less than a 10-minute walk from Somerset MRT Station. The restaurant has two levels—those who are interested to watch the chefs live in action before your very eyes can take a seat by the bar at the first level. Otherwise, there are more tables on the second level where it is more spacious.
The seating arrangement at Yakiniku Jan Jan is perfect for group gatherings and their tables can sit up to six people. Of course, the friendly staff will help you make the necessary arrangements, depending on the size of your group.
The menu features four types of meat—US and Japanese beef, pork, chicken and lamb and you get over 25 choices. Most of the a la carte premium meats are below S$20++ per plate! Those who have been to Japanese yakiniku restaurants will know that this is a steal because good quality meats are usually very expensive.
At Yakiniku Jan Jan, you can even get Wagyu Karubi for only S$24++! We kid you not.
Wagyu is a Japanese beef cattle breed that is widely considered as one of the best in Japan so this is what you must order when you dine at Yakiniku Jan Jan. Just look at the marbling of the beef—there is a good amount of fat between lean meat that will result in a more tender and juicier bite after it is grilled.
The most affordable options on the menu are Nami Karubi (S$10++) and Nami Rosu (S$10++). The former is regular chuck rib while the latter is regular loin. You can also choose to top up only S$6 to get the premium cuts. We are blown away by how prices are kept so low!
What we enjoyed more, however, was the Wagyu Ichibo (S$30++). For those who have not heard of this, it is essentially a cut of meat that sits on the top of the rump; highly marbled and you can see the streaks of fat in it. We recommend grilling the meat till it is medium rare so you get tender meat that is very rich in flavour.
Fans of lamb must not skip the Lamb Chop (S$16++) for it went above and beyond many others that we have tried in Singapore. It does not have the strong gamey taste that is present in most lamb chop dishes and the succulent lamb chop does not require any seasonings at all.
Other meat dishes to look out for include Jo Tongue (S$18++), Iberico Karubi (S$15++), Tori Momo (S$10++) and Sausage (S$10++). There are also beef innards such as Wagyu Shimocho (S$20++) and Wagyu Hoso (S$19++).
For a more satisfying meal, Yakiniku Jan Jan also has a selection of cooked food. We particularly enjoyed their Red Soup Gukbap (S$11.90++), a spicy soup that comes with meat, bean sprouts and rice. The spice level was not too overwhelming so everyone of any spice tolerance can enjoy this comforting dish.
If you are looking for alternatives, there are also Wakame Soup (S$4.80), Ra-men (S$10++) and Tamago Soup (S$4.80++).
Yakiniku Jan Jan
43 Cuppage Road
Cuppage Terrace
Singapore 229463
Tel: +65 6908 9968
Mon to Thu: 6pm – 11pm
Fri & Sat: 6pm – 2.30am
Sun & PH: 4pm – 10.30pm
Nearest Station: Somerset
Facebook: https://www.facebook.com/YakinikuJanJan/
Website: http://www.sential.com.sg/jan-jan.htm
This post is brought to you by Yakiniku Jan Jan.