There's just something about eating out of a claypot. Its rustic, worn-out appearance seems to bring us back in time and inject a sense of nostalgia into the dish.
But beyond the emotional experience, did you know that food cooked in claypots are actually better for you? The porosity and insulating properties of claypots slow down moisture and nutrient loss from the food. So, you end up with slightly more delicious and healthier food!
Thus, began the hunt for spots with comforting claypot dishes, beyond the usual claypot rice. For those of you who are working in the Ubi and Tai Seng area, you have to check out Ubi 33 Food House Claypot Delights—a humble coffeeshop stall that offers affordable claypot dishes.
The stall has its beginnings since the day the coffeeshop first opened. Their menu has 20 different options, so we were pretty spoilt for choice. Thankfully, the friendly servers were more than happy to rattle off recommendations.
We settled on four dishes — Sesame Oil Chicken (S$4), Claypot Beancurd (S$4), Oyster Sauce Vege (S$4) and Pig's Organ Soup (S$4).
The Sesame Oil Chicken was superb, with the gravy being the star of the show. Rich and thick, it emanated a robust sesame fragrance. The chicken thigh cubes were succulent, as expected, and draped in the gorgeous sauce. It had a very warm, homely taste, almost as if our grandma had whipped this up for us.
We're usually suckers for hotplate beancurd, but this claypot beancurd made us question our allegiance. This claypot was a treasure trove of fried egg tofu, Chinese Napa cabbage, minced pork and shaven carrots, all doused in a flavourful starchy gravy. Finished with a runny yolk enthroned in the centre, the dish was elevated by a silky creaminess from the egg.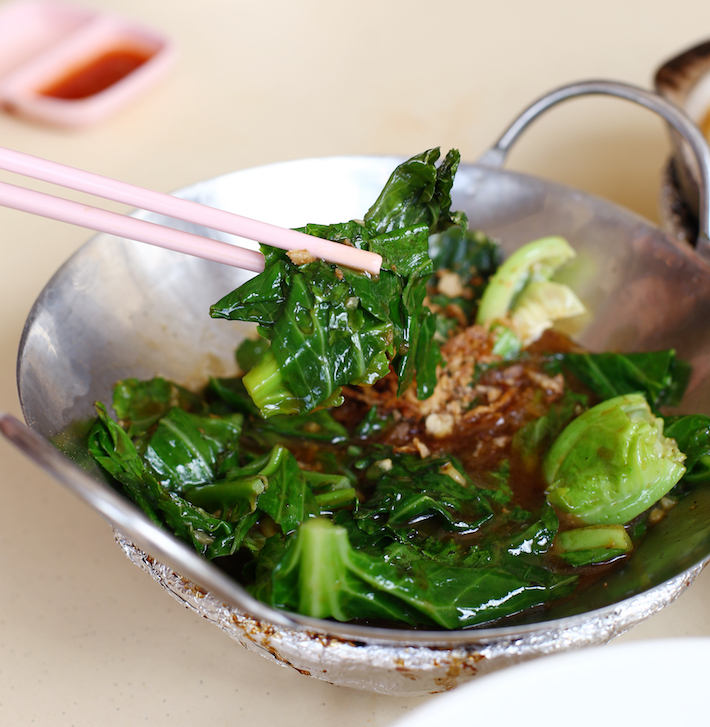 You know how most "oyster sauce" vegetable dishes usually are — bland vegetables soaked in diluted brown sauce. Well, Claypot Delights' rendition makes all of them look bad. Extremely bad.
This seemingly standard dish impressed us with its smoky, flavourful sauce that was reminiscent of a wok-hei-laden hor fun. The baby kailan was perfectly cooked too and was tastefully crunchy.
Sadly, the Pig Organ's Soup was the runt of the litter. The soup was slightly too salty and tasted pretty one-dimensional. Its only saving grace was the generous amount of ingredients given. You get a sizable quantity of sliced pork belly, lean meat, liver, stomach and meatballs.
Do note that most of the dishes leaned towards the salty side so it would be wise to pair them with a bowl of rice.
Overall, it was a tie between the Claypot Beancurd and Sesame Oil Chicken when we were choosing our favourites. Both dishes were so well-executed and made for a really wholesome meal. For the incredible price point and generous portions, we would definitely return to Claypot Delights!
Claypot Delights
33 Ubi Ave 3, Ubi 33 Food House
Singapore 408538
Tel: +65 6834 4849
Mon to Sat: 6am – 8.30pm
Nearest Station: Ubi