If you were born in the 80s or 90s, then you'd probably be familiar with things such as ice gem biscuits, white rabbit candies as well as dozens of other treats that are considered iconic nowadays. When we were young, the largest debate was whether the wrapper of the white rabbit sweet was edible—something unheard of amongst children that are born after the late 2000s.
Our little red dot is developing at an unstoppable rate, and in the process, these old-school tidbits are fading out slowly and finding these treats in stores is a rarity. Luckily for us, there are some—albeit just a handful—stores in Singapore that still sell these childhood treats. Here we have sussed out 5 places in Singapore where you can get authentic, bite-sized nostalgia.
//
---
---
Situated along Upper Thomson Road just a few shops down from the well-known Casuarina Curry Restaurant, Biscuit King is an old-school tidbit and toy wonderland that will bring you back in time to the 90s.
From iconic past-times such as 'pick-up sticks' and 'snakes and ladders' that we used to indulge in back in primary school, to childhood snack time favourites such as iced gems to pineapple jam biscuits, this is a place worth checking out no matter which generation you belong to.
Biscuit King
130 Casuarina Road
Singapore 579518
Tel: +65 6458 0925
Tue to Sun: 11am – 10pm
(Closed on Mondays)
Nearest Station: Marymount
---
---
These days, food fads are aplenty—sometimes, rather than having crepe cakes, layered rainbow cakes or indulgent, rich chocolatey treats, all we crave for is a slice of traditional, old-school and unpretentious cake.
Helmed by an elderly couple, Love Confectionery serves old-school bakes that are so immensely popular, they sell out early almost every day. We suggest that you grab a slice or two of their soft and utterly moist cream cakes if you get the chance to.
Love Confectionery
122 Bukit Merah Lane 1, #01-60
Singapore 150122
Tel: +65 6278 2385
Daily: 12pm – 10pm
Nearest Station: Queenstown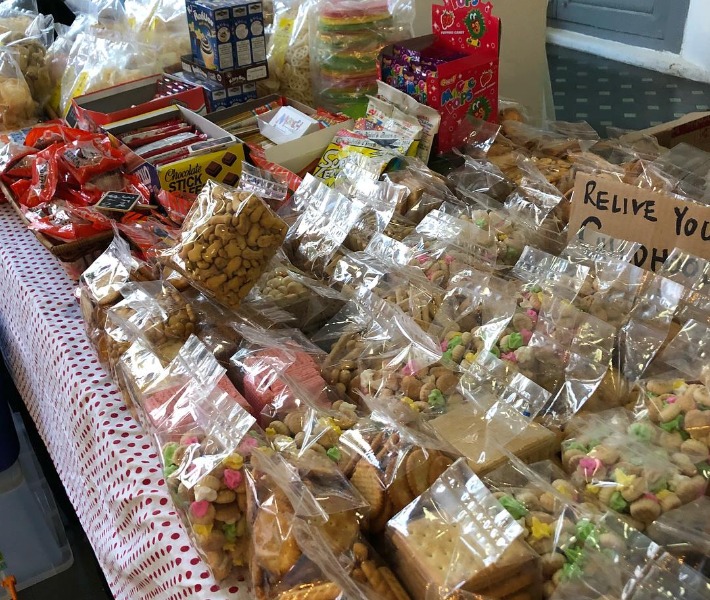 Photo Credit: Munch Munch
---
MUNCH MUNCH
---
Nestled in the basement of Chinatown Point, Munch Munch is where you can find a wide variety of biscuits, sweets, toys, keropok and tidbits that will give you a major #throwback to the 90s.
Besides old-school Singaporean snacks, you can also get childhood games such as Old Maid and Five Stones which we can rarely find in stores these days.
Munch Munch
133 New Bridge Road, #B2-03
Chinatown Point
Singapore 059413
Tel: +65 9638 5714
Daily: 11am – 9.30pm
Nearest Station: Chinatown

Photo Credit: The Notti Chef
---
TAN HOCK SENG CAKE SHOP
---
Tan Hock Seng Cake Shop is a family-run Hokkien confectionery store that churns out a myriad of traditional Chinese bakes and pastries fresh out of the oven. Hot favourites from their regular patrons are the wife's cakes and Chinese horseshoe biscuits, which is better known as beh teh saw.
Besides these pastries, they also sell a huge variety of old-school biscuits for you to choose from, including every 90s kids' favourite iced gem biscuits and elephant ear biscuits!
Tan Hock Seng Cake Shop
86 Telok Ayer Street, #01-01
Singapore 048469
Tel: +65 6533 6572
Mon to Fri, Sun: 9am – 7.30pm
Sat: 12.30pm – 3.30pm
Nearest Station: Telok Ayer
//

Photo Credit: twentyfifthtoforever
---
TECK LEONG LEE KEE
---
Established in 1968, Teck Leong Lee Kee is a paradise for avid fans of nostalgia and all things authentically Singaporean. Specialising in wholesale chocolate and candies, here you can expect to find hidden gems that are buried deep in your memory.
Biscuits, cookies, cakes, chocolates, candies, nuts and jelly puddings—the list of their old-school items is literally never-ending so you can definitely count on them to get a taste of nostalgia.
Teck Leong Lee Kee
Blk 122 Bedok North Street 2, #01-112
Singapore 460122
Tel: +65 6445 0879
Mon to Fri: 10am – 4.30pm
Sat & Sun: 10am – 2pm