Little India is home to countless outstanding eateries that serve up mouthwatering South-Indian cuisine and they range from established brands to humble, no-frills joints. After our trip to popular Indian eatery Ghandi's, we wanted to explore a hidden gem that is relatively unknown to most but frequented by loyal customers during peak hours.
We happened to chance upon Meera's Curry and paid them a visit for early lunch on a weekday. The eatery has a menu featuring  traditional Indian delights such as naan, murtabak and prata but what most people order there is their signature set meals which are served on fresh banana leaves.
If you are looking for a hearty and unpretentious meal in Little India, Meera's Curry along Veerasamy Road is a decent place worth checking out.
It is impossible to miss the bright green exterior of this spacious eatery. Upon stepping in, patrons are greeted with an enticing array of side dishes and curries. Despite its humble appearance, customers are mostly made up of well-dressed Singaporean-Indians and executives who are working around the area.
//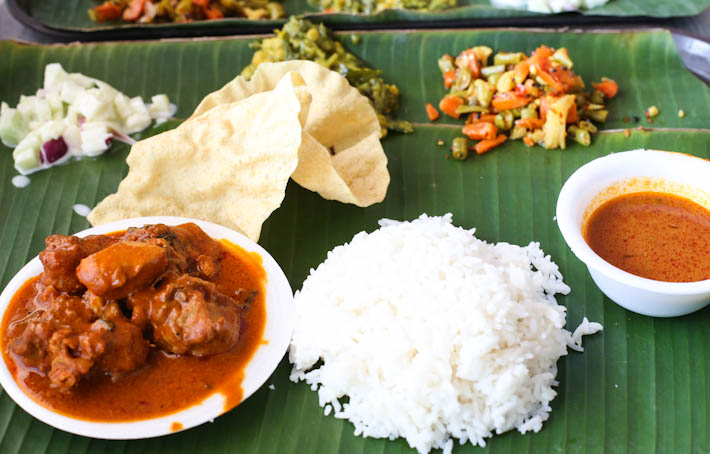 After browsing through the menu, we went straight for the first thing that caught our attention—Chicken Set Meal (S$7). Presented on a banana leaf, there was three types of vegetables, crispy papadum, chicken curry and fragrant white rice.
Diners are given a small portion of curry at the side to pour over your rice but there are also other options for you to choose from—such as daal and fish curries.
//
Taking centre stage is the aromatic chicken curry which we found tender and juicy and full-flavoured from the rich curry it came with. We enjoyed it thoroughly on its own but the refreshing onions and cucumbers gave it an extra oomph which elevated the overall flavours.
//
Another popular item on their menu is the Mutton Set Meal (S$7.50), which came accompanied with the same side dishes.
//
If you are fond of mutton curry, you will not be disappointed by Meera's version. Exceptionally tender and succulent, the mutton is stewed in thick and flavourful red curry brimming with aromatic spices which complements the naturally gamey taste of the mutton. Pair this with rice for a wholesome and comforting meal.
//
Alternatively, there are other delectable choices to choose from. For those who are not keen on having rice that day, go for their selection of Special Dosai, Murtabak, Prata and Biryani meals. Meera's Curry also offers vegetarian sets such as Chenna Masala (S$8), Tandoori Gobi (S$12) and Mushroom Masala (S$9.50).
Meera's Curry
5 Veerasamy Road
Singapore 207313
Tel: +65 6298 2827
Daily: 11am – 9pm
Nearest Station: Little India