An initiative by Project Warung, Burgs is a Halal-certified gourmet burger stall that has been gaining a fair bit of attention among the young Muslim population for their quality burgers that are sold at affordable prices.
Since the success of their first outlet at Golden Mile Complex, the team has opened yet another one at Viva Business Park—to the delight of those who work in the area and residents of the east.
Featuring a similar menu, with a few new additions, Burgs at Viva Business Park is located within Centuries Foodcourt so be prepared to face a crowd during lunch hours. Patrons can expect both Asian and Western-influenced burgers under S$10 and a selection of fries in various flavours.
At Burgs, their signature soft buns are baked by a local baker and personalised with their very own logo. In addition, all burger orders come with complimentary fries at the side so its generous portion should satisfy even the hearty eaters.
Behold, the extremely sinful beef burger that should be the icon of Burgs (in our opinion). We opted for the double beef patty (S$8) which boasts two thick slices of tender beef patties, homemade marinara sauce and thick folds of melty mozzarella cheese that spread beyond the buns.
Every bite was pure cheesy goodness, with the natural beef juices trickling down our fingers—hands down one of the best gourmet burgers we have tried recently that doesn't cost cost us an arm and a leg.
If you are not up for beef that day, their Chicken Parmigiana Burger (S$5.90) is a safe bet. The savoury contents tucked in between two buttered buns comprises a panko crusted fried chicken thigh, homemade tomato sauce and mozzarella cheese.
Deep-fried to golden crust perfection, the breaded fried chicken thigh gave the burger a great bite and we enjoyed the different layers of textures that came from the chicken, buns and gooey cheese.
Should that not be enough for you, 'upgrade' your burger with toppings such as sunny-side up egg, bonito flakes, turkey bacon and pulled brisket.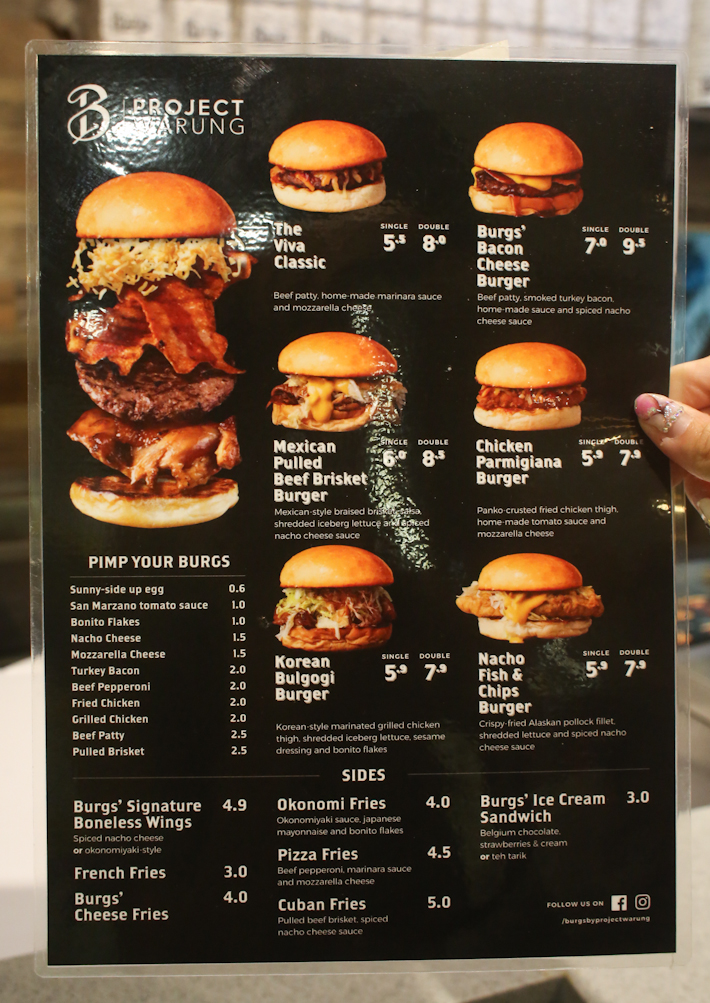 More options on the menu include the Korean Bulgogi Burger (single – S$5.90, double – S$7.90), Nacho Fish & Chips Burger (single – S$5.90, double – S$7.90) and Mexican Pulled Beef Brisket Burger (single – S$6, double – S$8.50).
If the usual French Fries doesn't interest you, complement your meal with Okonomi Fires (S$40, Pizza Fries (S$4.50) and Cuban Fries (S$5) instead.
Burgs By Project Warung
750 Chai Chee Road
Viva Business Park
#01-19, Centuries Foodcourt
Singapore 469000
Tel: +65 9114 6072
Daily: 11.30am – 8.30pm
Nearest Station: Bedok