The weather here in Singapore is unpredictable, to say the least—one moment it's bright and sunny out and before you're able to grab your sunscreen, it begins to rain cats and dogs. In light of the wet, stormy weather that can sometimes occur unexpectedly, the best comfort food, by a mile, has got to be a bowl of hot soup.
Almost every culture and cuisine has their own version of soup and more often than not, it typically consists of simple and inexpensive ingredients. Nothing beats having a bowl of piping-hot soup during when it's chilly, so here are 10 different soups you should try that'll (hopefully) help you get through this monsoon season.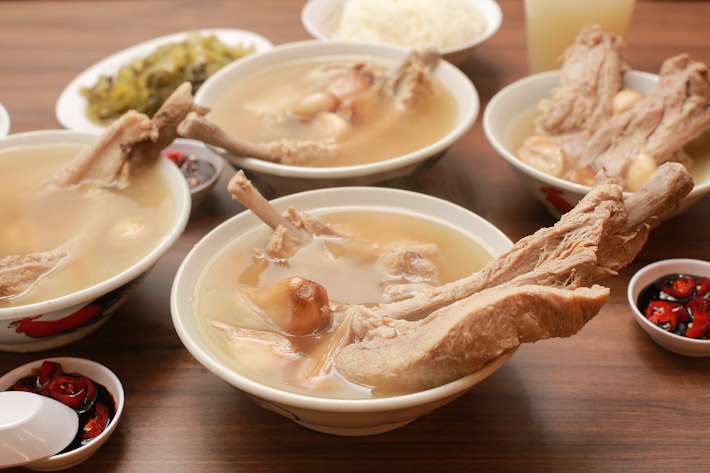 ---
BAK KUT TEH – SONG FA BAK KUT TEH
---
Bak Kut Teh—also known as pork ribs soup—is a popular dish among many Singaporeans and Malaysians. It doesn't matter if you are 'team herbal' or 'team peppery' broth because whatever it is that you fancy, a piping bowl of pork rib soup is more than enough to make you feel good—especially on rainy days.
At Song Fa Bak Kut Teh, their soup tends to lean more towards the peppery and garlicky end of the spectrum, and the pork ribs are tender and very juicy. Their soup is boiled for long periods of time, which makes it really flavoursome and addictive. That's not all,  they also provide complimentary top-ups for broth!
11 New Bridge Road #01-01
Singapore 059383
Tel: +65 6533 6128
Tues to Sun: 9am – 9.15pm
Closed on Mondays
Nearest Station: Clarke Quay
(Song Fa Bak Kut Teh has multiple outlets)

Photo Credit: Lao Huo Tang
---
CHINESE SOUPS – LAO HUO TANG
---
Established in 2008 in the Hawker Centres, Lao Huo Tang serves traditional Chinese soups that are nourishing and affordable. Now, they have expanded into the restaurant business, bringing quality home-cooked cuisine as well as their famous soups to their loyal customers.
Their soups are packed with ingredients and boiled for long hours, making them extremely rich and flavourful. Some of their signature soups include Lotus Root Peanut Soup, Buddha Jump Over The Wall and Ginseng Herbal Chicken Soup.
50 Jurong Gateway Road
#03-23 JEM
Singapore 608549
Tel: +65 6734 7933
Daily: 11am – 9pm
Nearest Station: Jurong East
(Lao Huo Tang has multiple outlets)

Photo Credit: pimloveandfood
---
FISH MAW SOUP – YAN TING
---
Fish maw soup is a popular festive delicacy usually enjoyed by the Chinese. Similar to shark's fin soup, fish maw soup is thick, gooey and rather filling.
Yan Ting Restaurant at St. Regis serves one of the better fish maw soups that we have tried. Filled with premium ingredients such as fish maw and dried scallops, Yan Ting's Braised Fish Maw Broth With Dried Scallop (S$28++) is an exquisite yet hearty dish.
29 Tanglin Road
St. Regis Singapore Level 1U
Singapore 247911
Daily: 12pm – 2.30pm
6.30pm – 10.30pm
Nearest Station: Orchard

Photo Credit: Ivy's Hainanese Herbal Mutton Soup
---
HERBAL MUTTON SOUP – IVY'S HAINANESE HERBAL MUTTON SOUP
---
Nowadays, Chinese-style mutton soup is slowly disappearing from the hawker food scene because is it not as popular in Singapore. However, there are some really good ones left to treasure and Ivy's Hainanese Herbal Mutton Soup is one of them.
The mutton soup is filled with deep herbal flavours and does not taste gamey at all. The lamb ribs absorb all the flavours from the tasty herbal broth and each piece of meat is tender and flavourful. Served in a claypot, the soup is kept hot for longer periods of time, ensuring that every spoonful from the start until the end of your meal will give you nothing less than pure comfort.
121 Pasir Panjang Road
Singapore 118543
Mon to Sat: 11.30am – 9pm
Closed on Sundays
Nearest Station: Pasir Panjang

Photo Credit: cheerstojoyce
---
HOT AND SOUR SOUP – CHOPSTICKS BY THE ASIAN KITCHEN
---
Chopsticks by The Asian Kitchen serve delicious and authentic Chinese cuisine. It provides a wide selection of Asian comfort food like rice, noodles and heart-warming broths for customers who miss the taste of home.
Their Hot and Sour Soup (S$7.90++) is rich and thick but not gloopy at all. Filled with lots of ingredients such as black fungus, firm tofu, meat and egg, this dish is packed with flavour and is really comforting. We particularly enjoy the sourish tinge courtesy of the vinegar that really does well to cut through the richness of the soup itself.
1 Raffles Quay #B2-04/07
Singapore 048583
Tel: +65 6534 9168
Mon to Fri: 11am –8.45pm
Closed on weekends
Nearest Station: Raffles Place

Photo Credit: The Soup Spoon
---
MUSHROOM SOUP–THE SOUP SPOON
---
With over 8 different soups to choose from, The Soup Spoon is a casual dining spot, commonly found in several shopping malls all over town, that serves warm soups suitable for any occasion.
Apart from soups, they also serve wholesome sandwiches and salads, perfect for those who are health conscious. Prepared using only the freshest ingredients, every dish in the menu is bound to satisfy your taste buds. Their signature Velvety Mushroom Stroganoff is thick and chunky in texture and brims with the aroma of mushrooms—perfect for mushroom lovers.
200 Victoria Street
Bugis Junction
Singapore 188021
Daily: 10.30am – 10pm
Tel: +65 6336 2865
Nearest Station: Bugis
(The Soup Spoon has multiple outlets)
---
PIG ORGAN SOUP – SOON HUAT PIG ORGAN SOUP
---
Not many people can stand the idea of eating pig's innards (or that of any animal for that matter) but if you are a fan of it, Soon Huat Pig Organ Soup is definitely a must to try.
Located at Serangoon Garden Market & Food Centre, Soon Huat Pig Organ Soup is hard to miss due to the long queue during lunch hour. Filled with pig liver, large intestines, thinly sliced pork and salted vegetables, this bowl of meaty joy is light, fresh-tasting and not too peppery, and the innards were well cleaned without any gamey taste.
51 Serangoon Garden Way
Singapore 555947
Tues to Sun: 9am – 4.30pm
Closed on Mondays
Nearest Station: Serangoon
---
SAMGYETANG – KIMCHI KOREAN RESTAURANT
---
Samgyetang–also known as Korean Ginseng Chicken Soup—is a comfort food loved by many. Located at Suntec City Convention Tower, Kimchi Korean Restaurant is a joint that serves a variety of authentic Korean food in a refined setting.
Their SamGye Tang (S$17.90++) contains half a spring chicken, jujube red date, ginseng and spring onions. The soup boasts an earthy taste of ginseng which is not too overpowering and a heady, savoury note of chicken.
3 Temasek Boulevard #02-387
Suntec City Convention Tower
Singapore 038983
Tel: +65 6337 7811
Daily: 11am – 10pm
Nearest Station: Promenade
---
SLICED FISH SOUP – PIAO JI FISH PORRIDGE
---
Sliced fish soup is one of our ultimate comfort foods especially when we find ourselves feeling sick or lethargic. Located at level 2 of Amoy Street Food Centre, Piao Ji Fish Porridge serves really fresh sliced fish soup.
Although it might be slightly pricier than many other sliced fish soups, what you are paying for is nothing short of sheer quality. The sliced fish is really soft and silky in texture, and the broth is just unique. The flavour of the soup is enhanced greatly with fried garlic and shallots which give the soup a heightened savouriness.
7 Maxwell Road #02-100
Singapore 069111
Fri to Wed: 11am – 3.30pm
Closed on Thursdays
Nearest Station: Telok Ayer
---
TOM YUM SOUP – SAWADEE THAI CUISINE RESTAURANT
---
Spicy foods are best for rainy seasons because they instantly warm your stomach. Thai food is universally known for their intense flavours that pack the quintessential taste components that is salty, sweet, sour and spicy, and perhaps one of the all-time favourites is tom yum soup.
At Sawadee Thai Cuisine, they serve a plethora of authentic Thai delights at affordable prices. Their Tom Yum Soup (small – S$12++, medium – S$18++) is loaded with tasty seafood and boasts spicy, sour and savoury notes that no doubt perk your taste buds up and possibly set your tongue on fire at the same time.
9 Tan Quee Lan Street
Singapore 188098
Daily: 11am – 2.30pm,
6pm – 10.30pm
Nearest Station: Bugis