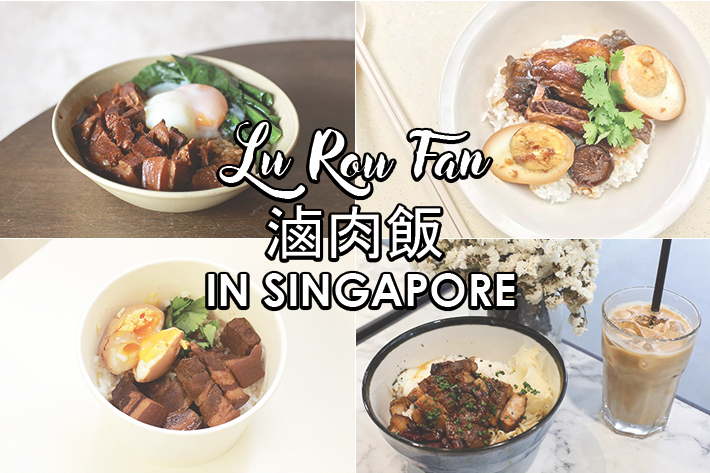 Lu Rou Fan (滷肉饭) is one of the most beloved Taiwanese comfort foods that works wonders whenever we are feeling a little under the weather, or even on a regular basis when we are looking to for a satisfying meal to sate our ravishing hunger.
A simple dish which is put together with braised marinated pork and steamed rice, Lu Rou Fan has truly won the favour of many hearts and it has cemented its place as one Taiwanese dish that we can't help but love.
But as simple as the dish may seem, a deep understanding of the intricacies of Lu Rou Fan's flavours and much skill is required to pull off the intense flavours of the braised gravy. Interested to know which eateries in Singapore have done just that? Here are 10 Lu Rou Fan In Singapore We Really Lu-rou-ve.
---
#1 5 LITTLE BEARS
---
An under-the-radar eatery which is a favourite of many Taiwanese in Singapore, 5 Little Bears at Paya Lebar Square, promises to feed its diners with authentic Taiwanese cuisine including the perennial favourite, Lu Rou Fan.
At just S$5, 5 Little Bears' Braised Pork Rice is served with a good portion of soft, tender diced braised pork, a mix of preserved mustard greens with chilli, bok choy and half a braised egg. You can also top up S$0.90 to complete your meal with a cup of iced tea.
5 Little Bears
60 Paya Lebar Road, #B1-09 Paya Lebar Square,
Singapore 409051
Tel: +65 6702 1098
Daily: 11.30am – 9.30pm
Nearest Station: Paya Lebar
//
---
#2 CAFFE ZEPPIN 
---
A fresh face on the cafe scene, Caffe Zeppin is a rather new cafe that popped up at Midview City sometime in March this year. And although Cafe Zeppin does not specialise in Taiwanese cuisine unlike the other places mentioned herein, their version of the Lu Rou Fan would justify a trip down to Caffe Zeppin.
Coming at a price tag of S$6.90, Caffe Zeppin's Taiwanese Braised Minced Pork Rice comes with a braised egg, slow-cooked pork belly and braised gravy over rice. Diners will also have the option to ask for more braised gravy to go with their food for that extra level of indulgence.
Caffe Zeppin
26 Sin Ming Lane, #01-116 Midview City,
Singapore 573971
Tel: +65 6262 1367
Mon to Sat: 10am – 9pm
Nearest Station: Marymount
---
---
So good that 3 bowls won't be enough, Eat 3 Bowls is probably one of our top picks for quality Lu Rou Fan in Singapore. Found in Seah Im Food Centre which is just opposite Vivo City, this is where you can find true blue Taiwanese street fare without feeling a pinch in the wallet.
Eat 3 Bowls' Braised Pork Rice (Lu Rou Fan) (S$2.50) was in every sense, a steal. In return for S$2.50, you will receive a bowl of rice topped with heartwarming and yummy pork goodness. For an elevated taste experience, we would recommend you to enjoy your Braised Pork Rice with the fresh coriander garnishings.
Eat 3 Bowls
4 Seah Im Road, #01-21 Seah Im Food Centre,
Singapore 099115
Tel: +65 9154 8191
Tue to Fri: 8.30am – 7.30pm
Sat: 9am – 5pm
Nearest Station: Harbourfront
//
---
---
How awesome does authentic Taiwanese comfort food with a S$5++ or S$10++ price tag sound to you? Located along South Bridge Road, FIVE-TEN offers an array of Taiwanese cuisine which draws inspiration from the street food scene of Taipei during the lunch hour.
FIVE-TEN's Lu Rou Fan will set you back by just S$10++ and each bowl comes with thick slices of braised pork belly, a sous-vide egg and a reasonable portion of boiled kai lan on a bed of Japanese short-grain rice. The Lu Rou Fan is then completed with a large helping of sweet and savoury sauce; are you hungry yet?
FIVE-TEN
237 South Bridge Road,
Singapore 058786
Tel: +65 6924 7352
Mon to Sat: 12pm – 4pm, 6pm – 10pm
Nearest Station: Chinatown
Photo Credit: City Square Mall
---
#5 LAI LAI TAIWAN CASUAL DINING 
---
Heralded as one of the forefathers of Taiwanese cuisine in Singapore, Lai Lai Taiwan Casual Dining would be a good place to turn to for some comforting and appetizing Lu Rou Fan.
Lai Lai Taiwan Casual Dining's Braised Pork Rice (S$7.50) is served with a decent portion of melt-in-the-mouth braised pork accompanied by a braised egg, braised peanuts and a pickled cabbage mix on the side.
Lai Lai Taiwan Casual Dining
180 Kitchener Road, #03-39/40 City Square Mall,
Singapore 208539
Tel: +65 6509 5626
Mon to Sun: 11am – 10pm
Nearest Station: Jalan Besar
//
---
#6 LIU SAN
---
If you grew up in the West, you would have undoubtedly come across Liu San, a cosy Taiwanese eatery in Bukit Timah Plaza that is actually brought to you by an expat Taiwanese; now you know that what you are eating is quality Taiwanese cuisine!
What's different about Liu San's version of Lu Rou Fan is that they actually use minced pork instead of pork belly in their dish. Nonetheless, their Braised Meat Rice (S$7) is just as tender, just as savoury and their braised gravy is well-balanced and not overly salty.
Liu San
1 Jalan Anak Bukit, #01-09 Bukit Timah Plaza,
Singapore 588996
Tel: +65 6463 1833
Tue to Sun: 11am – 9pm
Nearest Station: King Albert Park
---
---
A humble eatery focussing on tasty and affordable Taiwanese-style braised dishes, Lu Ding Ji is a hidden gem tucked away on the second floor of Oxley Tower that you should know about. Considering that Lu Ding Ji is located in the CBD but yet their dishes are priced between S$6 to S$7.50, this would make a great lunch option if you are searching for something good yet cheap in the CBD.
During your visit to Lu Ding Ji, do look out for their Pork Bowl (S$6.50), their version of the Lu Rou Fan which comes with huge slabs of pork belly on rice, covered by a generous helping of thick gravy made from a combination of soy sauce, garlic and other spices.
Lu Ding Ji
138 Robinson Road, #02-37/38 Oxley Tower,
Singapore 068906
Tel: +65 8333 3590
Mon to Fri: 11am – 4.30pm
Nearest Station: Downtown / Tanjong Pagar
//
---
---
Since joining Singapore's cafe scene sometime in June this year, Lunar Coffee Brewers—opened by the team behind Atlas Coffeehouse and the now-defunct Assembly Coffee—has received much love not just for its minimalist and instagrammable interior, but for its tasty and delicious food as well.
Although Lunar Coffee Brewers would strike most as a Western brunch spot or as a place for a hot cuppa, you must give their Lu Rou Belly Don (S$14.50) a try. Featuring bean sprouts, pickles, ginger, an onsen egg and fat, juicy chunks of pork belly atop warm fluffy rice, Lunar Coffee Brewers has definitely done justice to what Lu Rou Fan is all about.
Lunar Coffee Brewers
6 Shenton Way, #01-49 Downtown Gallery,
Singapore 068809
Tel: +65 6224 4500
Mon to Fri: 8am – 7pm
Sat: 9am – 3pm
Nearest Station: Downtown / Tanjong Pagar
---
#9 MR LORBAK
---
Founded and helmed by a second generation hawker, William Liou, Mr Lorbak is famous for its extremely value-for-money Lu Rou Fan which only costs S$3.50 per bowl. With such a fantastic price tag and Lu Rou Fan that does not skimp on the taste and flavour, what is there not to love about Mr Lorbak?
Mr Lorbak's Signature Braised Pork Rice (S$3.50) comes with slightly smaller cuts of pork belly (but no less generous), a braised egg, black fungus drenched with a thick gravy made from 20 herbs and spices; every mouthful will be so shiok!
Mr Lorbak
Blk 350 Ubi Avenue 1, #01-947,
Singapore 400350
Tel: +65 9226 2417
Wed to Mon: 12pm – 2pm, 4pm – 8pm
Nearest Station: Eunos
//
Photo Credit: Sung King Ryoriya
---
#10 SUN KING RYORIYA 
---
With two locations—one in Far East Square and the other in Robertson Walk—, Sun King Ryoriya is known for dishing out authentic Japanese Chuka Ryori and Taiwanese braised delights.
Affordably priced at S$6, Sun King Ryoriya's Signature Minced Pork Rice aka Lu Rou Fan comprises chunky portions of pork, soft preserved mustard vegetables and an egg doused with a robust and fragrant gravy, layered over a reasonable portion of fluffy rice.
Sun King Ryoriya
134 Amoy Street, #01-01 Far East Square,
Singapore 049963
Tel: +65 6536 7011
Mon to Fri: 11.30am – 2.30pm, 5.30pm – 11.30pm
Nearest Station: Telok Ayer