Bak chor mee, or minced meat noodles, is a unique Singapore dish and a perennial favourite in Singapore. Commonly found in hawker centres, this dish features a well-balanced flavour of both savoury and slightly tangy that will not leave you feeling too stuffed.
The dry version of bak chor mee includes springy al dente egg noodles coated in chilli-vinegar sauce, tossed with minced meat, pork slices and liver, and topped with vinegar-braised mushrooms and bits of pork lard. On the other hand, the soup version focuses more on the savoury pork flavour broth.
After a long night out, this is one of those foods that you would crave for supper. Here are 6 Bak Chor Mee Spots in Singapore For Supper-Goers to curb those late-night cravings.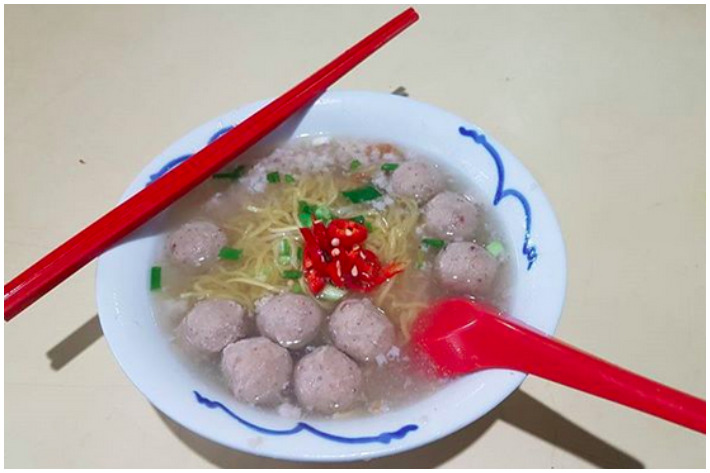 Photo Credit: morrison_kuah
#1 AH POH MINCED MEAT NOODLES
85 Fengshan Centre is one of the best places in the East to have suppers and Ah Poh Minced Meat Noodles is the stall to visit if you're craving the soup version of bak chor mee (S$4). Over here, the springy noodles (mee kia) comes in a bowl of robust sweet pork stock, chewy meatballs and topped with spring onions and chopped chilli. This bowl is the perfect comfort food on rainy days.
Blk 85 Bedok North Street 4
#01-18 85 Feng Shan Centre
Singapore 460085
Tue to Sun: 6pm – 3am
Closed on Mondays
Nearest Station: Bedok MRT
Photo Credit: ieatpuffin
#2 DING JI MUSHROOM MINCED MEAT NOODLES
Nestled in Bishan, Ding Ji Mushroom Minced Meat Noodles serves bak chor mee with a unique twist. Besides your standard bowl of bak chor mee tossed in lard oil and vinegar, the accompanying soup here comes with chunks of fish maw and an egg. Simmered overnight with pork bones and dried sole fish, the aromatic soup has a deep umami flavour. If you're feeling adventurous, pop by to try Ding Ji's rendition of bak chor mee (S$8).
Blk 284 Bishan Street 22 #01-211
Singapore 570284
Daily: 24 Hours
Nearest Station: Bishan MRT
Photo Credit: hungryamanda
#3 MENG'S KITCHEN
Meng's Kitchen is a popular late-night supper spot at Upper Thomson Road. Even at midnight, the waiting time might take up to 10 minutes. Customers can expect a simple bak chor mee (S$4.50) topped with generous cubes of deep-fried lard and a bowl of rich pork broth. The best part about this stall is that it opens 24 hours so you can get your bak chor mee fix at any time!
246b Upper Thomson Road
Thomson Garden Estate
Singapore 574370
Mon to Sat: 9.30am – 4.30am
Sunday: 9.30am – 12am
Nearest Station: Marymount MRT
Photo Credit: chutoro
#4 SENG HUAT BAK CHOR MEE
Conveniently located opposite Bugis Junction, this is another stall that opens around the clock. Besides a delicious bowl of bak chor mee, you even get to drizzle as much vinegar and chilli as you desire to your bowl. If you like tangy chilli-vinegar sauce with your noodles, this is the stall for you.
492 North Bridge Road
Singapore 188737
Daily: 24 Hours
Nearest Station: Bugis MRT
Photo Credit: princesspinky89
#5 XING JI ROU CUO MIAN
This famous bak chor mee stall in 85 Fengshan Food Centre always has a snaking queue that comes with a good half hour wait. The thin egg noodles are kneaded by hand which gives the noodles a springy and slightly chewy texture. At S$3 a bowl, this is one of the more affordable bak chor mee out there.
Blk 85 Bedok North Street 4
#01-07 85 Feng Shan Centre
Singapore 460085
Fri to Wed: 2.30pm – 1.30am
Closed on Thursdays
Nearest Station: Bedok MRT
Photo Credit: momentmovement
#6 YAN KEE NOODLE HOUSE
The late-night party crowd should be familiar with Yan Kee Noodle House. Situated in Clark Quay, this stall is well-known for its bak chor mee sua (wheat vermicelli) tossed in vinegar mushroom sauce, minced pork and meatballs. Fret not if you're the type that parties till sunrise because this stall opens 24 hours and serves an extremely satisfying bowl of bak chor mee sua (S$3.50) after a night of drinking.
21 South Bridge Road
Bk Eating House
Singapore 058661
Mon to Sat: 24 Hours
Closed on Sundays
Nearest Station: Clark Quay MRT