The Alley Singapore unveiled their first-of-its-kind concept store in Cineleisure Orchard. The Alley Luxe is the famous bubble tea brand's premium lifestyle cafe concept. Their line-up includes a fine collection of beverages and an array of exquisite European bakes. Think gourmet croissants, cruffins, and kouign-amann flanking their drinks for a shopping break or afternoon tea.
Most iconic are their Brown Sugar Deerioca Series but equally Instagrammable are their Aurora Series and Garden Milk Tea. On that note, we also recommend their Snow Velvet Peach Oolong Tea for a fragrant thirst quencher.
Their Brown Sugar Deerioca Series comes in two flavours: Brown Sugar (S$5.30) and Matcha Brown Sugar (S$6.30). Lining the base of each cup are delicate pearls that are meticulously brewed over four hours with The Alley's all-natural brown sugar. They are then filled with ice and Japanese grade fresh milk.
The warm pearls were sweet and chewy, making them the definite highlight of the Deerioca Series. Word of warning though is to not leave the drink sitting for too long because the ice cubes will chill the pearls and harden them.
Although both their Snow Strawberry Lulu (S$6.30) and Snow Velvet Peach Oolong Tea (S$5.80) were topped with a white layer of snow velvet cream cheese, we preferred the latter for its unmistakable fragrance. The former was sweet and had a base of genuine strawberries but lacked the refreshing aftertaste that the peach oolong tea could impart.
Their Aurora Series (S$8.80) comes beautifully bottled in a gradation of colours. The ice-blended drink harmonises fruit and tea and made for an Instagrammable video of us shaking the concoction, blending the colours into a reddish shade. Beyond the aesthetics though, it had an artificial taste since it was essentially made from syrup and ice.
Between their two milk tea options, their Garden Milk Tea (S$5.30) is more photogenic than their Royal No.9 Milk Tea (S$4.30). This drink is black Assam milk tea layered with sweet cream sprinkled with oreo crumble and garnished with a mint leaf.
Out of their bakes, we adored their cruffins the most. Cruffins are best described as a hybrid of a croissant and muffin, making the muffin-looking pastry as flaky as a well-baked croissant.
The ones that The Alley Luxe has comes with four different fillings which namely are lemon curd topped with a meringue, salted caramel, kaya garnished with coconut strips, and dark chocolate. We fell in love with the first two although they were a sugary and flaky mess to eat.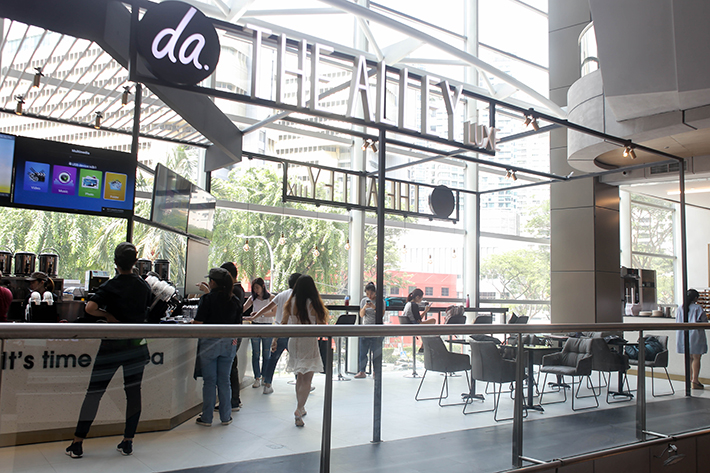 Other bakes that you can also savour while sipping on their aesthetic drinks are their Plain croissant, Almond croissant, Pain au chocolat, Gourmet sausage cheese croissant, Kouign amann, and Cheese scone. You can opt to have them as take-away too.
8 Grange Road, #02-06A/B
Cineleisure Orchard
Singapore 819666
Daily: 12pm – 10pm
Nearest Station: Somerset