For those who visit food festivals or carnivals in Singapore, you would have probably heard of or tried out The 6ixs Rosti. They are known for their golden and crispy röstis at pocket-friendly prices. Now, they have a permanent spot at one of the coffeeshops in Ghim Moh, and it is probably one of the best things that have happened to us because we no longer have to wait for another food event to indulge in their amazing röstis!
Aside from röstis, they have now incorporated other Western grub into their menu. We wanted to find out if they are just as good as their röstis! Read on to find out what we thought about their food, and whether it is worth travelling for. Drum rolls, please!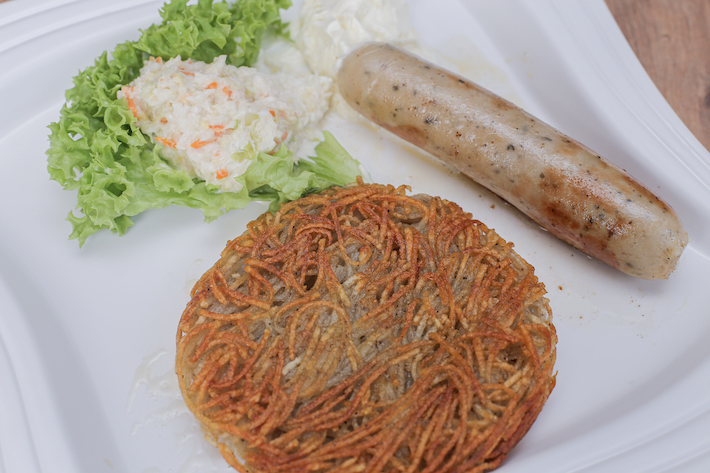 Of course, we had to start with their signature dish — the Classic Rösti with Chicken Bratwurst Sausage (S$9).
We tried this dish during Art Box 2018, and their sausage had left a deep impression. It had a slightly smokey and piquant flavour from the spices, with a chunky and juicy texture. Thankfully, it still tasted as good this time!
The rösti was evenly fried till golden brown, had a really good crisp and was not too oily. The potato shreds were nicely packed together and did not break apart when we dipped them into the sour cream. Bonus points for that. The sour cream helped to elevate the potatoes, giving a cold and refreshing touch to it.
We also had the Chicken Chop with Brown Sauce (S$7.90), with a strong aroma tickling our noses once it was served. Served with shoestring fries, two scoops of mashed potatoes and coleslaw, we would say the portion was rather decent.
The chicken was not the most tender. However, the skin had a nice crisp and char. The chicken chop was evenly coated with the marinade of spices, which paired perfectly with the creamy umami-packed sauce. We wiped the plate completely clean by dousing the fries in the gravy for that extra saucy goodness.
Overall, The 6ixs Rosti is really value-for-money and serves yummy fare that does not disappoint. There's consistency in their quality between their pop-up and coffeeshop stalls, but over here, you get even more options. We highly recommend you guys try it out for yourselves, especially if you are a fan of Marché's rösti — because this might be even better than their rendition.
25 Ghim Moh Link
Singapore 270025
Tel: +65 9008 9135
Wed to Mon: 12pm to 9pm
Nearest Station: Buona Vista