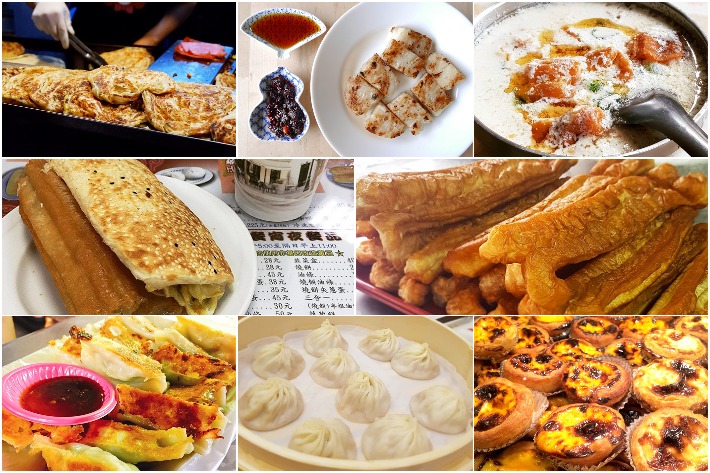 We know planning for your itinerary can be quite tedious because you would have to search for where to go, what to do and most importantly, what to eat. The best part of going for a holiday is to stuff yourself with different kinds of local food. If you are heading to Taiwan and you are not sure of what kind of traditional Taiwanese breakfast are there, we've got you covered.
Your Taiwan trip will not be complete without having an authentic local breakfast so be ready to kick-start each day with mouth-watering Taiwanese breakfast food to get you going throughout your day in Taiwan.
Rest assured that he breakfast items in Taiwan are worth getting out of bed for. Here are the 10 different types of must-try Traditional Taiwanese breakfast.
Photo Credit: FoodTaliban
---
#1 Cong You Bing
---
Cong You Bing is slightly different from Cong Zhua Bing as it is flaky, doughy and chewy unlike a pancake (Cong Zhua Bing). There are chopped green onions baked into the dough and it is usually served over a fried egg.
Photo Credit: Amellifluentlife
---
#2 Cong Zhua Bing
---
Cong Zhua Bing is simply "Scallion Pancakes" and this is one of the top cheap eats in Taiwan. The texture is similar to our local Roti Prata but with an aromatic scent of scallions. There are different flavours to choose from and adding an egg will complete this amazing flavoured pancake.
Photo Credit: Tina Zhao
---
#3 Dou Jiang
---
Dou Jiang is a staple breakfast drink in Taiwan. Imagine after feasting on all that You Tiao, Shao Bing and many more, you get to wash the greasiness down with a cup of fresh traditional Dou Jiang. You can literally pair the Dou Jiang with any other breakfast items that you're having and you're good to go.
Photo Credit: Pataraporn Vairojanakit
---
#4 Egg Tarts
---
These shortcrust pastries are filled with bright coloured egg custard and it has an aromatic flavour to it. Egg tarts are best eaten warm when the flaky crust and the caramelised yellow custard top still has the melt-in-your-mouth texture.
Photo Credit: Will
---
#5 Guo Tie
---
The dough and filling used for Guo Tie and steamed dumpling is the same so instead of boiling it, Guo Tie is pan-fried till it is golden brown on one side. It contains juicy pork filling which is similar to Xiao Long Bao. This dish can be found in many street stalls or local restaurants in Taiwan.
Photo Credit: low_slow_mellow
---
#6 Luo Bo Gao
---
Taiwanese style Luo Bo Gao is quite simple and savoury. It has a soft texture and a delicate aroma to it. This dish is pan-fried and topped with Taiwanese chilli sauce for added flavour to it.
Photo Credit: Tsao Lien
---
#7 Salted Soy Bean Milk
---
This dish is completely different from Dou Jiang as it has a thicker and richer texture to it. Salted Soy Bean Milk is topped with crispy You Tiao for an added crunchy texture with chopped spring onions. This dish is perfect if you are looking for a warm and comforting dish.
Photo Credit: Yosh
---
#8 Shao Bing
---
Shao Bing is one of the most iconic Taiwanese breakfast dishes of all time. It is a type of roasted layered flatbread sprinkled with toasted sesame seeds. You can either choose to have egg or beef as your filling or simply have it served alone just like a puff pastry. The Beef Shao Bing is stuffed with sliced beef, green onions and scallions while the Egg Shao Bing is stuffed with scrambled eggs. There are also Shao Bings with You Tiao available whereby the Shao Bing is wrapped around a crunchy You Tiao.
Photo Credit: Vicky Zhang
---
#9 Xiao Long Bao
---
Xiao Long Bao is a paper-thin skin filled with seasoned pork filling and soup. It is prepared and served in the bamboo steaming basket, which gives them the name "Xiao Long" and "Bao" means dumpling in Chinese. You have to be very careful when you are picking up the Xiao Long Bao as the skin is really thin and it often breaks before you even place them onto the spoon.
If you master the skills of picking it up without breaking it, enjoy the Xiao Long Bao by popping the entire thing into the mouth with a high risk of burning your tongue or you can nib it off bit by bit. This will allow the soup to flow onto the spoon and you can enjoy the flavourful soup by sipping it. Enjoy this delicate dumpling with the seasoned tasty meat and the light yet flavourful soup as Xiao Long Bao is definitely one of the must-tries in Taiwan.
Photo Credit: Smurfender

---
#10 You Tiao
---
Nothing beats freshly-fried dough fritters and it is yet another popular breakfast in Taiwan. You can choose to dip the You Tiao into the Dou Jiang or you can also have it plain. No breakfast is complete without You Tiao so be sure to try it with other dishes.