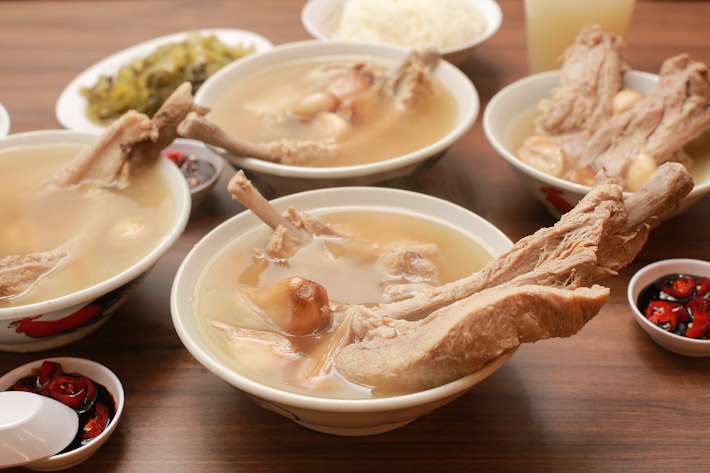 If you are familiar with Singapore's food scene, you definitely would have heard of Song Fa Bak Kut Teh. If you are visiting Singapore for the first time, you probably would have been recommended by many people to visit this famous Bak Kut Teh shop at least once.
Song Fa Bak Kut Teh has come a long way — in the 1960s it was an ordinary pushcart stall. From their humble beginning back in the days until now, Song Fa Bak Kut Teh promises both locals and tourists the best spicy, peppery soup and fall-off-the-bone tender pork ribs.
Song Fa Bak Kut Teh boils their soup with pork ribs and adds on several other herbs and spices which all come together to give us the most aromatic, fragrant and flavourful soup. The slightly cloudy and peppery soup base is extremely addictive. The best part is that you can ask for as many soup refills as you like!
Pair this peppery soup with a bowl of rice along with some deep-fried youtiao (also known as Chinese fried dough), as well as a portion of salted vegetables and you are good to go! We find that dipping the tender pork ribs in some black sauce, really enhances the overall taste!
Diner may also opt for other options for side dishes. Their Homemade Ngoh Hiang is soft on the inside and slightly crispy on the outside, but all around flavourful. We sometimes opt for some braised pig intestines to complete our Bak Kut Teh experience.
While many have said that Song Fa Bak Kut Teh is overrated (due to its multiple locations in Singapore), we think that it is truly one of the best around. The peppery soup is comforting and the tender pork ribs always satisfies our tummies nicely.
Song Fa Bak Kut Teh
01, 11 New Bridge Rd
Singapore 059383*
Mon: Closed
Tue to Sun: 9am – 9.15pm
Nearest Station: Clarke Quay
(*Multiple Locations Islandwide)