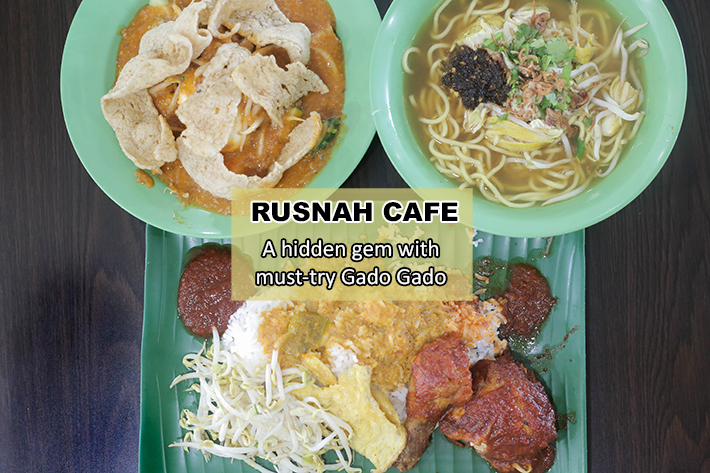 Originally opened in Forum The Shopping Mall back in 1988, Rusnah cafe has since relocated several times and now sits on the rooftop of Sime Darby Centre.
Helmed by three siblings, this humble eatery dishes out delightful Indonesian food in the likes of Gado Gado, Mee Soto and Nasi Padang.
Despite relocating several times, their food has become a go-to for many and has since garnered a loyal fan base, so much so that these patrons are willing to make the trip down to their new location whenever they shifted.
Rusnah, age 74 this year, used to be a popular cooking instructor at community centres back in the days. Now the main chef at Rusnah Cafe, she is assisted by her sister Asnah while her brother, Sallim, manages the operations at the store.
Although age is fast catching up, the three siblings shared that so long as their health permits, they would be committed to continuing the business to keep busy and stay on their feet. It is the satisfaction from seeing the smiles of their customers' faces and the fulfilment in knowing that their food brings joy to diners that keeps them going forward.
Rusnah Cafe is popular for many great dishes but more famously so is their Gado Gado (S$3)—an Indonesian-style salad which includes a medley of ingredients. Their rendition came with a hard boiled egg, beansprouts, firm tofu, potatoes, lontong, and cucumbers doused in peanut sauce and was decorated with crispy fish crackers.
The thick gravy, which features chunky peanuts for an added nutty taste profile, had a full-bodied flavour that was fragrant and rich. That, in our opinion, was what made it a winning dish.
We also had a go at their Nasi Padang, for it is said to be one of the best in the area. We picked their Ayam Masak Merah, which was essentially chicken in spicy tomato sauce, as well as beansprouts to complete our meal.  Our meal amounted up to S$4.50.
The spicy chicken was coated in an aromatic sauce that had a prominent ikan bilis flavour. Pair it with the steamed rice that comes dolloped in their flavourful chicken curry as well as some greens for maximum enjoyment!
A small portion Mee Soto (S$3/S$3.50) was enough to fill an empty belly and the small mound of chilli our bowl of noodles came with gave the light and savoury soup a fiery punch. The yellow strands had a soft bite which contrasted with the chicken chunks that were cooked with turmeric.
896 Dunearn Rd,#05-01A
Singapore 589472
Tel: +65 9271 2717
Mon to Fri: 9am – 4pm
Sat: 9am – 2:30pm
(Closed on Sundays)
Nearest Station: King Albert Park