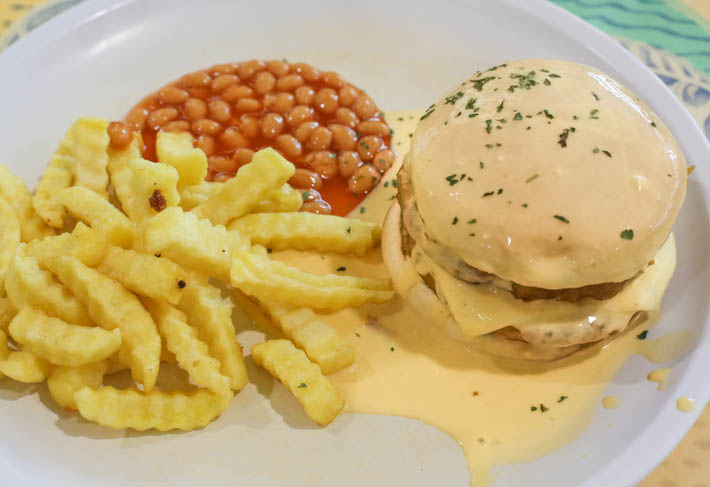 Cheese is the ultimate comfort food for many of us—no matter what form it takes—which is why dishes that predominantly feature melted cheese have been taking the spotlight this year. Some notable cheese trends that took social media by storm include raclette cheese wheels, steamboat with cheese dips and cheese toasties. That's right, Singaporeans just can't get enough of cheese!
Hopping on the melted cheese bandwagon is Nadim's Delights, a Muslim-owned Western Stall along Jurong West Street 52. Their signature Burger Banjir is a chicken burger filled with nacho cheese and overwhelming portions of molted cheese sauce poured over the toasted buns. Sounds insane? It sure is.
Besides their iconic cheesy burger, visitors can also expect to indulge in a range of Halal western mains and sides.
Nestled within a coffee shop, Nadim's Delights is a humble stall that is gaining in popularity among the west siders because of its recent launch of their Burger Banjir. Do be warned, however, that the waiting time may exceed 30 minutes which may not be ideal for those who are looking for a quick bite.
The Burger Banjir (S$7.50) was a marvelous sight—stacked high with two savoury chicken patties, a slice of cheese, nacho cheese sauce, a handful of coleslaw and toasted buns. The star of the show goes to the molten cheese that has been generously poured over the chicken burger which makes it oh-so-good! We could taste the rich, melted cheese that flooded our taste buds with every bite.
Every order of a Burger Banjir comes with two standard sides such as french fries and baked beans to complete your meal. In comparison to the burger, the sides are mediocre at best and the taste is what we would expect from a typical western stall in a coffee shop.
Besides their popular molten cheese burger, Nadim's Delights also has a range of western mains including Black Pepper Steak, Fish & Chips, Chicken Chop and Spring Chicken. If you are there for some light bites, there are options such as Chicken Nugget and Onion Ring as well.
As the stall is gaining popularity rather quickly, residents living in the west of Singapore should check out Nadim's Delights soon before the queue starts to get longer in coming weeks.
Nadim's Delights
508 Jurong West Street 52
Singapore 640508
Daily: 12pm – 10pm
Nearest Station: Lakeside