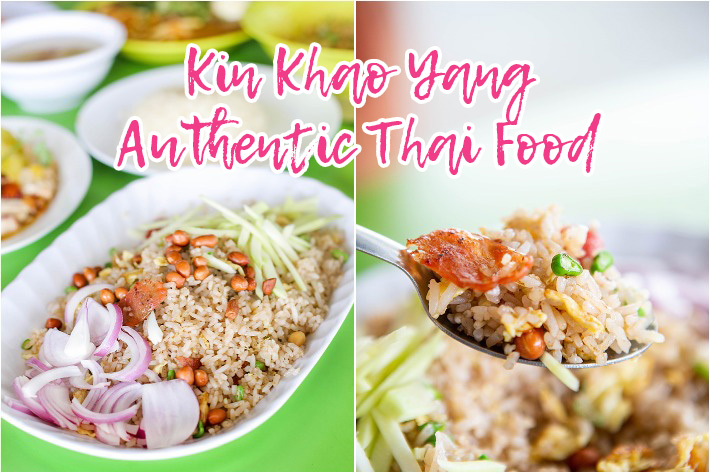 With the explosion of Thai eateries that have hit our shores in the last few years, Thai food needs little introduction. Its profusion of fragrances and exotic flavours that tickle our tastebuds with spicy, sour, sweet, and salty are seemingly inexhaustible. While we always want to be spoilt for choice, with so many Thai joints and dishes, it's hard to pinpoint where to start the tour of Thai food in Singapore.
If you're in the East though, Bedok Interchange Hawker Centre is one budget-friendly spot, to begin with. The hawker centre was revamped a few years back, making it more attractive and wifi-friendly.
If you love fried rice, Kin Khao Yang Authentic Thai Food gives theirs a Thai flair. Thai Style Balachan Fried Rice (S$5.50) is a versatile dish that can fit within virtually any meal or stand as one on its own. The rice is fried with eggs, chopped long beans, and lap cheong (cured sausage), before being topped with fresh onions, mango salad, and roasted peanuts.
Despite its name, our meal was hardly spicy and didn't taste of sambal balacan. Instead, it tasted like pretty regular mildly seasoned fried rice. No matter though, because we found that the best way to enjoy this dish was to have a bit of each ingredient in each spoonful.
The scrambled eggs and sausage gave the fried rice depth of flavour but it wasn't satisfying enough until we paired each mouthful together with the fragrant peanuts and sourish salad. The texture of the rice was just right being neither too dry or moist and greasy.
Kin Khao Yang has over 25 tasty dishes that also include the iconic Thai Basil Chicken with Rice (S$6.50) and even Mango Glutinous Rice (S$6) for a sweet ending to your meal. Try it out if you're in the East to skip the hassle of travelling to Golden Mile.
Kin Khao Yang Authentic Thai Food
208 New Upper Changi Road
Bedok Interchange Hawker Centre
#01-02
Singapore 460209
Nearest Station: Bedok