Nothing comes quite as close as the traditional kaya toast and kopi (traditional coffee) combination—of which many, if not all, of us Singaporeans, grew up with. If you don't know what kaya toast actually is, it is a toasted bread filled with kaya and butter.
Kaya is made from pandan leaves, coconut milk, eggs and sugar and it is most Singaporeans' favourite spread for bread. Pair the kaya toast bread with hot tea or black coffee and you are good to go for the day. Here are 7 best places to get a classic kaya toast and kopi breakfast in Singapore.
Photo Credit: Angangbin
---
#1 AH SENG (HAI NAM) COFFEE
---
Ah Seng (Hai Nam Coffee) serves one of the best kaya toast breads and their French Toast is to die for. Their French Toast is coated with a thin layer of kaya and butter on top of the toasted eggy bread. It is toasted with charcoal and served with extra kaya on the side of the plate for dipping. The kaya is neither too sweet or greasy so it definitely feels guilt-free when you dip more of that extra kaya.
Ah Seng (Hai Nam) Coffee
7 Maxwell Road
#02-95, Amoy Street Food Centre
Singapore 069111
Tel: +65 9710 2907
Mon to Sun: 5.30am – 4pm
Nearest Station: Tanjong Pagar
Photo Credit: Cai_er
---
#2 CHIN MEE CHIN CONFECTIONERY
---
Chin Mee Chin Confectionery serves soft fluffy buns that are baked in-house instead of the usual bread slices. These fluffy buns are usually toasted until it is slightly burnt and thick layers of kaya are spread together with butter. The kaya served here has a stronger pandan taste as compared to the usual ones that we have.
Chin Mee Chin Confectionery
204 East Coast Road
Singapore 428903
Tel: +65 6345 0419
Tue to Sun: 8am – 4.30pm
Mon: Closed
Nearest Station: Eunos
Photo Credit: Mactuckyhut
---
#3 DA ZHONG CAFE
---
Da Zhong Cafe serves traditional old-school coffee that is fragrant, strong and bitter. Their strong-tasting coffee is not for everyone but if you love strong coffee, Da Zhong Cafe will surely hit the spot for you. This stall also serves steamed bread that is really soft and popular amongst the fans of Da Zhong Cafe.
Da Zhong Cafe
105 Hougang Avenue 1
#02-20, Hainanese Village Centre
Singapore 530105
Tues to Sun: 5am – 2pm
Mon: Closed
Nearest Station: Kovan
Photo Credit: Theresa_tehs
---
#4 GOOD MORNING NANYANG CAFE
---
Good Morning Nanyang Cafe serves one of the best traditional coffee in Singapore that attracts long queues every morning. Their coffee is strong and aromatic which is the perfect drink to keep you awake for the rest of the day. This stall also caters to young customers by serving blended ice coffee with freshly made traditional kaya toast bread. They also created their own kaya that is less sweet to make it a healthier choice for customers who are health conscious.
Good Morning Nanyang Cafe
32 Maxwell Road
#01-05, Maxwell Chambers
Singapore 069115
Tel: +65 9656 6849
Mon to Sat: 7.30am – 5.30pm
Sun: Closed
Nearest Station: Tanjong Pagar
Photo Credit: Nicoledesouza
---
#5 HEAP SENG LEONG
---
Heap Seng Leong's signature kaya toast bread is simply unforgettable. The bread is toasted to perfection with its crispiness and pairing it with the kaya and butter makes it an absolute delight. Their kaya is not too sweet and adding two half-boiled eggs will complete a meal. French toast fans should not give their French Toast a miss because it is toasted with charcoal to perfection. 
Heap Seng Leong
#01-5109, Blk 10 North Bridge Road
Singapore 190010
Tel: +65 6292 2368
Mon to Sun: 4am to 8pm
Nearest Station: Lavender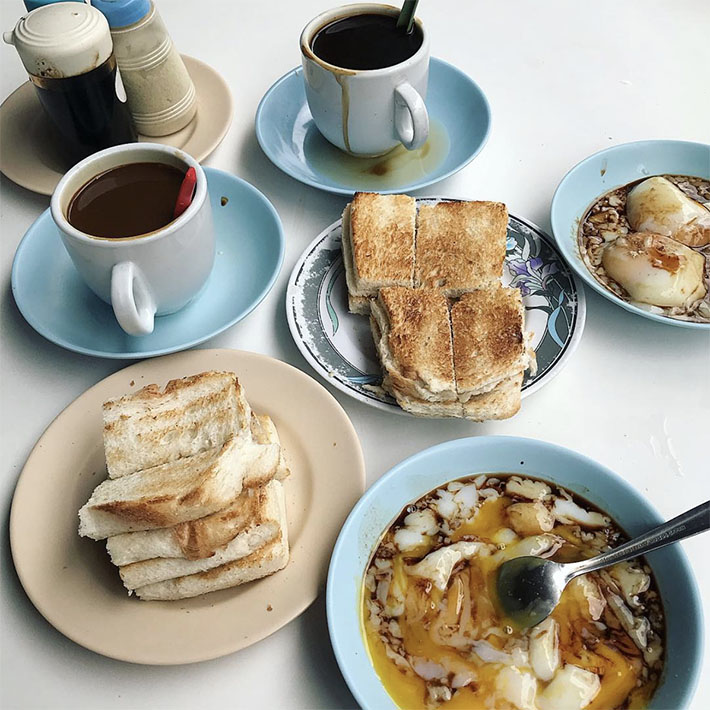 Photo Credit: Huilin9
---
#6 TONG AH EATING HOUSE
---
With a history of 75 years, you will know that Tong Ah Eating House is not messing around. They are well-known for their Soft Kaya Buns which are baked in-house. The buns are crispy, fluffy and soft and they go really well with the kaya and butter. Fans of super crispy toasted bread will love this place because they will toast the bread longer for extra crispiness based on your preferences upon ordering.
Tong Ah Eating House
35 Keong Saik Road
Singapore 089142
Tel: +65 6223 5083
Mon to Sun: 7am – 10pm
Nearest Station: Outram Park
Photo Credit: Sojung_0223

---
#7 YA KUN KAYA TOAST
---
Ya Kun Kaya Toast is a place that needs no further introduction and if you have not been to Ya Kun, it is about time that you give it a try. With more than 40 outlets conveniently located across Singapore, it is the most accessible kaya toast destination for locals or tourists. Ya Kun offers value set meals that are good for people who are looking for toasted bread, soft-boiled eggs and a drink altogether at an affordable price point.
Ya Kun Kaya Toast
200 Victoria Street
#B1-11, Bugis Junction
Singapore 188024
Tel: +65 6238 8904
Mon to Sun: 7.30am – 10pm
Nearest Station: Bugis
#7 TOAST HUT
Coffee is serious business at Toast Hut—it is only after countless step-by-step attempts by Melvin , the young hawkerpreneur of Toast Hut, over the years before he managed to nail the traditional taste of coffee. Kaya Butter Toast is undisputedly one of the best dishes to bridge the sweet-savoury divide. Toast Hut has their own take on Kaya Butter Toast (S$1.60 for 4 pcs, S$3.00 for a set) and we definitely are not complaining.
51 Old Airport Road #01-52
Old Airport Road Food Centre
Singapore 390051
Daily: 6.30am – 1.30pm
Nearest Station: Dakota