We are huge fans of Taiwanese street food. Period. And more often than not, we always jump right in whenever we receive news of a new opening specialising in authentic Taiwanese fare.
A relatively new addition to in the heartland of Toa Payoh is Beef Up, a humble stall that serves up a variety of classic Taiwanese dishes, and not just that, they're also Halal-certified!
Beef Up is located in a food court in the more industrial area of Toa Payoh, making it a tad bit hard to find it. However, we promise that the effort in getting here is well worth it!
The stall sells a variety of typical Taiwanese noodle and rice dishes as well as fried snacks.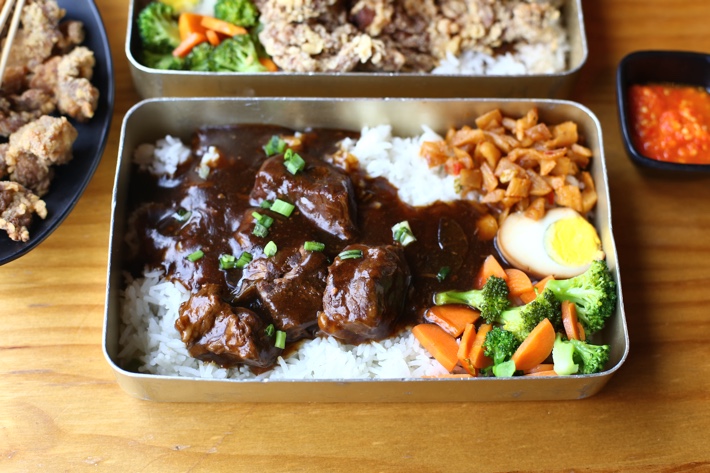 We decided to try their Steamed Beef Rice Set (S$8) which consists of beef stew, pickles, vegetables and a hard-boiled egg over a bed of warm white rice.
The beef stew mix was incredibly rich and went great with the rice. However, the beef cubes were a tad bit tough for our liking and would have been much more enjoyable if they were more tender. Other then that, we love how the different individual components of the dish complemented each other with their varying textures and flavours.
Next up, we tried their Chicken Cutlet Rice Set (S$7). We were pleasantly surprised to see how generous they were with the amount of fried chicken they gave; it really was a pretty massive piece! The dish like the beef stew came along with a side of pickles, a half boiled egg and some vegetables.
The chicken cutlet tasted as good as it looked and the chicken had been fried to a perfect crisp that made a satisfying crunch when we bit into it. The seasoning was also spot on and made the chicken taste as good as the ones you can get in Taiwan itself. We definitely will be coming back again for this!
We also decided to try their Chicken Bits (S$3) in wasabi. Aside from wasabi, you can also choose between plum, seaweed and black pepper seasonings.
The chicken here like the chicken cutlet was perfectly fried to a nice crisp. However, we were a little disappointed by how mild the wasabi flavour was as it did not pack as much of a punch as we thought it would.
Beef Up
Blk 978 Toa Payoh North #02-01
Singapore 319001
Mon to Sat: 11am – 9pm
(Closed on Sundays)
Nearest Station: Braddell