At the mere mention of dim sum for supper, most, if not all minds, would naturally gravitate towards popular Swee Choon if not its more rustic counterpart, 126 Dim Sum Wen Dao Shi over in Geylang. If you'd rather do without the queues and the crowd, consider Wong Chiew Eating House located along Upper Thomson Road.
Despite being around for over a decade now, this humble corner coffee shop hasn't gotten much limelight, but trust us when we say that these folks are worth a visit. Opened 24-hours a day, they dish out anything from roast meat, various rice and noodle dishes, dim sum as well as their signature Kampung Chicken.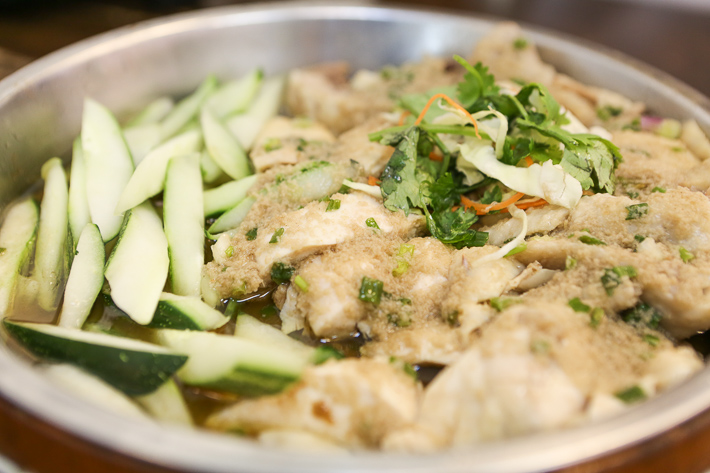 Paying tribute to the owners' Hakka roots, they specialise in their highly prided Kampung Chicken that comes served in a bucket. This dish is hard to come by nowadays and it's great that their will to keep making it is still going strong.
Doused in a herbal broth that boasts strong notes of ginger, each piece of chicken was aptly tender and succulent while retaining the flavours of the marinade. Available in half (S$14.50) and whole (S$28), the Bucket Kampung Chicken is definitely the perfect item to order up if you are here with a bigger group.
Despite its humble prices, the half bucket portion enough to share among 2 to 3 people. Hearty, comforting and uniquely delicious, this dish is easily one that we would see ourselves returning for.
Wong Chiew Eating House also specialises in Hong Kong-style roasted meats such as soya sauce chicken, roasted pork, roasted duck and char siew. We opted for the Char Siew Noodles (S$4.50), which is one of the most popular options in their roasted meats menu.
Besides the generous portion of char siew that they give, what's worth pointing out is the glorious caramelisation on the skin of it along with the slightly blackened char that gave the succulent meat a pleasant, smoky appeal.
Wrapped in lotus leaves, the Lotus Leaf Glutinous Rice (S$4.50) features steamed, sticky rice stuffed with mushrooms, flavourful pork belly, bits of chicken and small crumbles of salted egg yolk.
A classic sweet dim sum item that has become alarmingly popular these past few years, Wong Chiew's Custard Bun (S$3.50/ 3 pcs) will surely impress the moment you puncture its soft, doughy exterior, revealing its sweet, molten salted egg yolk filling. Buttery, sweet and flowy the way it should be, this easily ranks high as one of our top favourites.
Wong Chiew Eating House
19 Sembawang Road
Singapore 779075
Tel: +65  6456 6838
Nearest Station: Khatib/ Yio Chu Kang