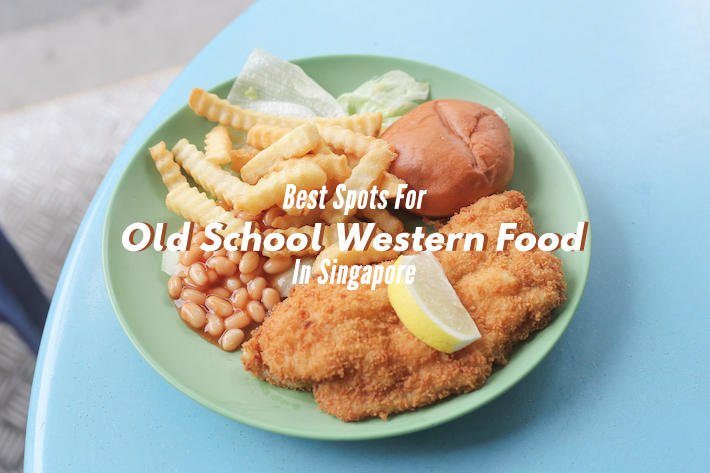 Getting your fix of Western fare in Singapore is so easy we could do it with our eyes closed, thanks to the countless Western establishments dotting the nation, from budget stalls to full-fledged restaurants. But for now, take a hike, Astons — we won't be needing you for this one.
Affordable old-school Western grub is something we'll never tire of. Most of us probably have that one childhood memory of us downing a sloppy plate of oversized chicken chop girded by cheap canned beans and coleslaw for dinner. It's nowhere near world-class dining but as kids, it sure felt like one heck of a treat.
For those of you who are trying to keep your wallet happy or are just craving a taste of nostalgia, we've put together a list of 10 great spots in Singapore for old-school Western fare. Take your pick from our list which covers value-for-money mixed grill sets to hunky chicken schnitzels.
Photo Credit: www.facebook.com/a1familyayamgoreng/
---
#1 A1 FAMILY AYAM GORENG & WESTERN FOOD
---
Away from all the limelight is A1 Family Ayam Goreng & Western Food, a humble stall within Everyday Come Coffeeshop that serves solid Halal Hainanese Western fare. This stall is known by regulars for their iconic green pandan rice, which is super delicious and fragrant.
Take it from us and get their juicy chicken chop and fish cutlet. Generous portions and superb executions? Oh, yes.
Block 406 Tampines Street 41, Everyday Come Coffeeshop, #01-06
Singapore 520406
Tel: +65 6787 5019
Daily: 12pm – 11pm
Nearest Station: Tampines
---
---
Backed by over 30 years of history, Apollo Western Food is run by Kelvin and his wife who took over the business from Kelvin's parents. This popular old-school Western food stall in Hainanese Village Centre is well-patronised for their homely fare.
The usual meat chops and fried cutlets can be found here. It's not mindblowing in any way but it definitely checks all the boxes of what good ol' Hainanese Western grub should be.
Block 105 Hougang Ave 1, #02-32, Hainanese Village Centre
Singapore 530105
Wed to Mon: 12pm – 9pm
Nearest Station: Kovan
Photo Credit: www.instagram.com/seowwenhao/
---
#3 CHEF HAINANESE WESTERN FOOD
---
You know a stall is really thriving when it's only open for 3 hours a day, and it's been around for decades. One of the most popular old-school Western food stalls in Singapore, Chef Hainanese Western Food has got people queuing up at their stall before the shutters are even up. Take one look at the plates dished out here and you'll have no more questions.
Their hulking portions are almost fit for a sumo wrestler, with the food almost spilling off the plates. Their grilled chicken chop and pork chop set come laden with an addictive brown sauce that will have you licking your plate clean. The accompanying baked potato, crinkle-cut fries, baked beans and salad do more than just keep the proteins warm.
Block 1A Commonwealth Drive, #01-04, Tanglin Halt Food Centre
Singapore 141001
Daily: 7pm – 10pm
Nearest Station: Commonwealth
---
---
Flanked by the famous Hill Street Tai Hwa Pork Noodle, Happy Chef Western Food certainly refuses to be overshadowed. Their top-notch Western fare has become well-recognised by the local foodie scene and media outlets. You can bet they're more than just a second option for when the queues at Hill Street Tai Hwa Pork Noodle are too long.
Their menu features a staggering number of dishes, with more exotic dishes such as casseroles and schnitzels. Their grub is a little more pricey than usual but once your food arrives, you wouldn't be half-bothered about your wallet.
Block 465 North Bridge Rd, #01-5041, Tai Hwa Eating House
Singapore 191465
Tel: +65 9046 6994
Fri to Wed: 11am – 9pm
Nearest Station: Lavender
Photo Credit: www.instagram.com/sky4everwen/
---
#5 HOTPLATE WESTERN FOOD
---
You'll hear it before you see it. The hot plates from this stall, that is. Sizzling chicken chops and sunny side ups are one of the hallmarks of Hotplate Western Food within Tiong Bahru Market. Their menu isn't the most extensive but every dish is fantastically executed. Get yourself a serving of their smoky charred chicken chops for a fuss-free lunch for champions.
30 Seng Poh Rd, #02-54, Tiong Bahru Market
Singapore 168898
Tel: +65 9382 0954
Wed to Mon: 12pm – 2.30pm, 5.30pm – 9.30pm
Nearest Station: Tiong Bahru
Photo Credit: www.instagram.com/melvyn_caffeine/
---
#6 NO. 1 WESTERN
---
If you see plates of huge fried chicken cutlets dotting the tables of Tanglin Halt Food Centre, you'll know that No. 1 Western is up and running. This Hainanese Western stall is run by a friendly husband-wife duo and is known for their oversized, hearty grub at affordable prices.
Indulge in their bestselling Chicken Cutlet (S$5), which sees an insanely crisp monstrosity, or their well-executed Fish & Chips (S$5).
Block 1A Commonwealth Drive, #01-13, Tanglin Halt Food Centre
Singapore 141001
Thurs to Tues: 12pm – 8pm
Nearest Station: Commonwealth
---
---
This ulu stall isn't the oldest Western food stall around, but it's one that is definitely worth the travel. Hidden in a coffeeshop within Seletar Hills, Seletar Western Food still manages to draw the crowds.
Look forward to sizable fish and chips and tender pork chops. Their battered fish is the talk of the town with its juicy flesh and thin crispy skin. If you're feeling ravenous, go for their bountiful Mixed Grill (S$12) set!
Definitely one of the best old-school Western food stalls in Singapore!
2 Jalan Selaseh, #01-04
Singapore 808433
Tel: +65 6481 9241
Sun to Fri: 5pm – 9.30pm
Nearest Station: Layar
Photo Credit: www.instagram.com/ms_foodie_faith/
---
#8 WANG'S WESTERN
---
Toa Payoh is just bent on snagging up all the good food haunts, huh. Well, Wang's Western is another one of their conquests. The humble stall is increasingly making a name for itself with its wholesome, affordable Hainanese Western grub. For less than S4, you can get your hands on their juicy chicken or pork chops!
22 Lorong 7 Toa Payoh, #01-23, Kim Keat Palm Market & Food Centre
Singapore 310022
Daily: 11am – 9pm
Nearest Station: Toa Payoh
Photo Credit: www.instagram.com/ceciliajoven/
---
#9 WESTERN BARBEQUE
---
The mosaic of newspaper clippings and certificates plastered across Western Barbeque's stall front should be enough evidence of its popularity and legitimacy. Having been around for around 50 years, this stall in Old Airport Road Food Centre is as old-school as it gets.
But if you're still not convinced, a bite of their smoky grilled chicken chop should do the trick. Well-marinated and crisp, it's absolutely divine especially when paired with their signature garlic sauce.
51 Old Airport Rd, #01-53, Old Airport Rd Food Centre
Singapore 390051
Tel: +65 6440 8934
Daily: 11am – 11pm
Nearest Station: Dakota
Photo Credit: www.facebook.com/yelaixiangtastybarbecue/
---
#10 YE LAI XIANG TASTY BARBECUE
---
If there's anything that can set Ye Lai Xiang Tasty Barbecue apart from the generic Hainanese Western stalls, it would be that addictive, sticky brown sauce that they douse over every plate. Made from a rich broth of bones and vegetables that simmers for over eight hours, the sauce is spiked with Worchestershire sauce, red wine, vinegar and other seasonings.
Apart from their decent chicken and pork chops, one of our favourites is surprisingly, the modest-looking buns. They're insanely soft, lightly sweetened and the perfect sponge for that rich tasty sauce.
1 Kadayanallur St, Maxwell Food Centre
Singapore 069184
Tues to Thurs: 12pm – 2pm, 6pm – 8.30pm
Nearest Station: Telok Ayer