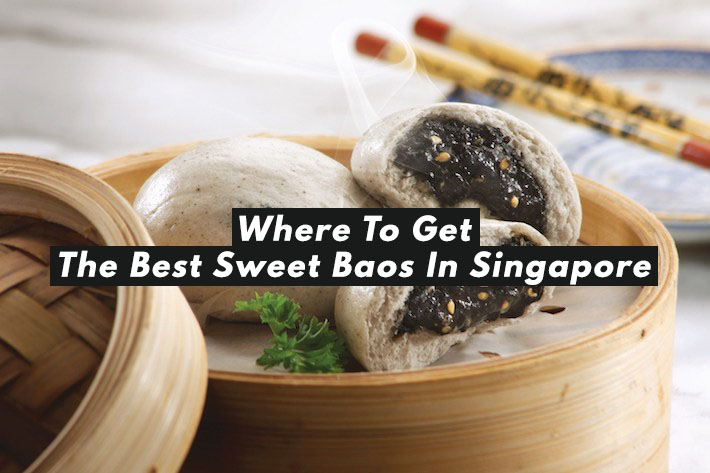 If there's one thing the Chinese are known for, it would be the bao. Bao — if that's not the most endearing word ever.
These steamed bite-sized buns are super versatile, and come in a wide range of sweet or savoury fillings. You'll find them pretty much everywhere, be it at your favourite dim sum restaurant or just at the kopitiam downstairs.
Savoury baos such as char siew and pork baos get much attention, but not so much their sweet counterparts, which are just as delicious. We want to turn the spotlight onto the best sweet baos in Singapore and where to find them. Here are 10 places in Singapore which serve the best sweet baos!
Photo Credit: www.facebook.com/baotoday.sg/
---
BAO TODAY
---
With a dazzling number of items on their menu, Bao Today will have your eyes in a complete flurry. But, set your sights on their esteemed bao selection, which hosts some really enticing flavours.
If you're not already a black sesame fan, you're sure to walk out a convert after trying their Black Sesame Bao (S$3.20/2pc). They may look small but they're not to be messed with. Brimming with nutty, fragrant black sesame lava, these baos are some of the best we've ever had.
313 Orchard Road, [email protected] Discovery Walk, #01-25B
Singapore 238895
Tel: +65 6735 3045
Daily: 10am – 10pm
Nearest Station: Somerset
Photo Credit: www.instagram.com/breadbooooo/
---
BAO ZAI
---
With over 40 years' experience of making baos, Bao Zai's craftsmanship is truly 'zai'. They've got a good mix of sweet and savoury baos in their menu, with their Char Siew Bao (S$0.70) and Da Bao (S$1.40) being their more popular items.
As for their sweet baos, their Dou Sha Bao (S$0.70) refuses to be overshadowed with its soft dough and rich, generously-portioned filling.
6 Bukit Merah Lane 1, ABC Brickworks Market, #01-135
Singapore 150006
Fri to Wed: 10am – 8pm
Nearest Station: Redhill
Photo Credit: www.facebook.com/chinsinhuan/
---
CHIN SIN HUAN
---
You may find their Yuan Yang Pau (S$1.30) a little familiar. That's right, Chin Sin Huan is run by the second generation of the famous Tanjong Rhu Pau. Their concept is a little more youthful and chic, one that resonates more with the younger generation.
Their establishment is a cross between an old-school coffeeshop and charming neighbourhood cafe, replete with vintage furniture and a charming pink-and-green colour scheme. Don't miss out on their signature Yuan Yang Pau (S$1.30) which houses red bean paste, lotus paste and salted egg yolk lava.
Besides just baos, they also have a range of dim sum offerings, such as Char Siew Pastry (S$1.10) and Carrot Cake (S$1.10).
285 Jln Besar
Singapore 208948
Tel: +65 6906 4957
Mon to Fri: 8am – 8pm
Sat: 8am – 6pm
Nearest Station: Jalan Besar
Photo Credit: www.facebook.com/dintaifungsg/
---
DIN TAI FUNG
---
Ah, one of our old favourites. Din Tai Fung is one place we know we can always fall back on for prime Chinese comfort food. Apart from their signature Xiao Long Bao and Shrimp Fried Rice, they also do incredible steamed baos.
The sweet variety of their baos are dressed in a range of flavours — custard, yam, black sesame and red bean. If you're a black sesame fan, their Black Sesame Pau (S$1.80) is one you won't be able to stop raving about.
252 North Bridge Rd, Raffles City Shopping Centre, #B1-08
Singapore 179103
Tel: +65 6336 6369
Mon to Sat: 11am – 9.30pm
Sun: 10.30am – 9.30pm
Nearest Station: City Hall
Photo Credit: www.facebook.com/fortyhands/
---
FORTY HANDS
---
Seated inconspicuously within the dessert display of Forty Hands is their iconic Tau Sar Pau (S$2.50). While it may look a little out of place amongst the cakes and pastries, that will be the least of your concerns the moment you have a bite of it.
Incredible fluffy and soft, the disc-shaped pau is stuffed with the smoothest, most luscious red bean paste. It's a little larger than the palm-sized paus you'd usually get. Whether or not it's worth the hefty price tag is for you to decide.
78 Yong Siak St
Singapore 163078
Tel: +65 6225 8545
Mon to Fri: 7am – 5.30pm
Sat to Sun: 7.30am – 6.30pm
Nearest Station: Tiong Bahru
Photo Credit: www.facebook.com/justdough/
---
JUST DOUGH
---
It's hard for anyone not to do a double-take when walking past Just Dough. This bakery-cafe specialises in handmade steamed buns which look like they've just been through the hands of Picasso.
Don't be scared off by the vibrant colours, though. All their buns are naturally coloured using natural ingredients such as freshly squeezed vegetable juices, black sesame and red yeast rice. Even the fillings are homemade, made with less sugar, oil and no preservatives.
With flavours such as Sweet Potato, Durian and Banana Chocolate, you won't be leaving empty-handed.
3 Temasek Boulevard, Suntec City, #B1-169
Singapore 038983
Tel: +65 6337 0188
Mon to Fri: 7am – 8.30pm
Sat to Sun: 8am – 9pm
Nearest Station: Promenade
Photo Credit: www.instagram.com/saccharphile/
---
KUNGFU JB PAU
---
Chances are, you've probably had a Kungfu JB Pau without even knowing it. This steamed buns and dim sum retailer has outlets and franchises within various Kopitiams islandwide.
They have a stunning range of sweet steamed baos with super enticing flavours such as Coffee, Yam, Black Sesame and Salted Egg Custard. We highly recommend their Red Bean Bao, which is generously stuffed with thick, creamy red bean paste.
Tampines Street 32, Kopitiam
Singapore 529284
Tel: +65 9621 3642
Daily: 5am – 8pm
Nearest Station: Tampines East
---
NAM KEE
---
If there was a competition for baos with the best bun-to-filling ratio, Nam Kee's would be walking away with first prize. The amount of filling you get easily outweighs that of the dough itself.
We're all about their Tau Sar Pau (S$0.80) which sees explosive red bean paste stuffed into soft fluffy bao. While the paste is a little on the sweet side, we'll let that slide thanks to their generosity in filling.
83 Punggol Central, Waterway Point, #01-K3
Singapore 828761
Daily: 10am – 10pm
Nearest Station: Punggol
Photo Credit: www.instagram.com/livingxlover/
---
TANJONG RHU PAU
---
If you've never heard of Tanjong Rhu Pau before, it's time to get acquainted. This long-standing name has been around for ages, and they are great at what they do — baos. All their baos are freshly handmade and have won the countless hearts, evidenced by their many faithful regulars.
Besides their divine Char Siew Paus and Big Paus, one of their signatures is the Yuan Yang Pau. A matrimony of lotus paste, red bean paste and salted egg yolk, it almost feels like a healthier mooncake. Taste-wise, it's as good as it sounds.
389 Guillemard Rd
Singapore 399788
Tel: +65 6842 2112
Daily: 10am – 8pm
Nearest Station: Dakota