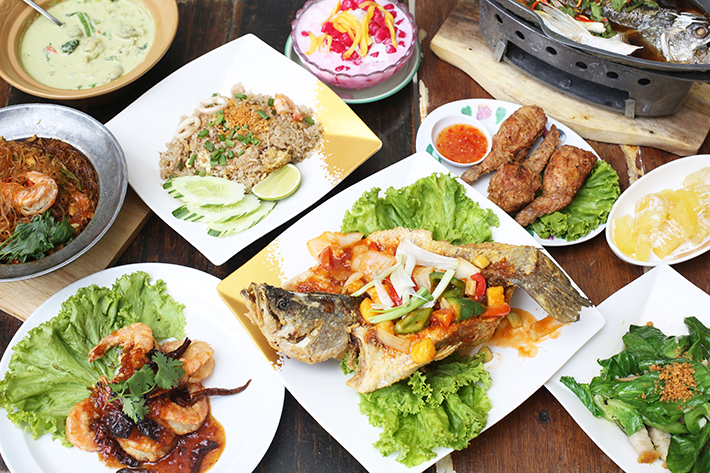 Out of all the many Southeast Asian cuisines we know and love, Thai food is something we constantly find ourselves going back to for the simple reason being that no other cuisine ties in all the taste elements of sweet, salty, sour and spicy as perfectly.
A hidden gem in the Toa Payoh enclave that not many know about is Soi 47, a one-year-old Thai eatery that specialises in a myriad of authentic Thai fare at wallet-friendly prices. Believe us when we tell you that a substantial meal here—drink and dessert included—will not set you back by more than S$15 per head.
Soi 47, aptly named after the HDB block it resides under, prides itself as an eatery that provides customers with a true taste of Thailand and more importantly, one that does it without utilising any form of MSG in its food preparation. But perhaps the one thing that impressed us the most was that the eatery even has its own herb garden of which many of the herbs that go into their dishes are plucked from.
Serving authentic Thai food that is masterfully cooked and reasonably priced, Soi 47 Thai Food is a great place to dine with your friends and family.

//
---
CLAYPOT TANG HOON WITH PRAWNS
---
The Claypot Tang Hoon with Prawns (S$10) is a crowd favourite; it comes topped with at least five plump prawns. Sweet, savoury and brimming with a deep prawn flavour, the tang hoon was truly one of the better ones we have had at this price point.
The noodles were not clumpy neither was the dish oily. It possessed a good amount of chew and it did a good job in taking on all that delicious sauce and the aroma of the ginger and cilantro.
//
---
STEAMED SEA BASS WITH SOY SAUCE
---
Take a peek at the tables around you and chances are you will spot the Steamed Sea Bass with Soy Sauce (S$19).
Given the simple treatment of a sweet and savoury soy sauce and finished off with a generous handful of diced chillies, cilantro and fried ginger garnished over top, this fish dish is a lavish treat that is ideal for sharing among groups of three to four.
We were truly impressed by how fresh the fish was. Arriving at our table bubbling hot, the sea bass was flaky and so incredibly soft that it literally melted on our tongues. We also liked that the light sauce along with the garnishing allowed the natural sweetness of the fish to shine through. This was hands down the most outstanding item on their menu.
//
---
DEEP-FRIED SEA BASS WITH SWEET AND SOUR SAUCE
---
New to Soi 47's menu is the Deep-Fried Sea Bass with Sweet and Sour Sauce (S$19). Lightly battered and deep-fried to golden perfection, the sea bass achieves an outrageously crispy skin whilst the meat inside is kept moist and delicate.
The sweet and sour sauce really complemented the crispy fish well. A good alternative if you are not in the mood for steamed fish, this is another item that is ideal for sharing.
//
---
PRAWN WITH TAMARIND SAUCE
---
For those of you who love prawns, the all-new Prawn with Tamarind Sauce (S$10) is your best bet. Fried to perfection, the prawns are drizzled with a sauce comprising tamarind and chilli that provide a sourish and subtly spicy kick—great when eaten together with rice.
//
---
FRIED BELACHAN RICE WITH SEAFOOD
---
One of the more underrated carb options, the Fried Belachan Rice with Seafood (S$6) is an interesting alternative to get should you desire something different. Although it delves away from conventional Thai food, we must admit that the salty qualities of this dish complement the other Thai dishes, especially the spicy ones, really well.
Salty with prominent notes of dried shrimp, this rice dish is best enjoyed with a squeeze of lime and is the perfect accompaniment to anything saucy.
//
---
STUFFED CHICKEN WINGS WITH MINCED CHICKEN
---
A good starter to consider is their Stuffed Chicken Wing With Minced Chicken (3 for S$6.80). This version comes loaded with a seasoned minced chicken filling that makes it even tastier and takes the conventional chicken wing to newer heights by making it, well, meatier.
The wings went perfectly well with the sweet and spicy Thai chilli sauce. But as yummy as the wings were, we must admit that the star of the show was undoubtedly the minced chicken.
//
---
GREEN CURRY WITH CHICKEN
---
A mainstay item in any Thai restaurant is their green curry and the Green Curry With Chicken (S$6) here did not disappoint. The curry was rich, thick and brimming with intense herbaceous qualities courtesy of the fresh Thai basil that comes from their very own garden out back.
The green curry comes loaded with mini Thai eggplants, carrots and tender chicken pieces which makes it a potential one-dish wonder for lone diners.
//
---
KAI LAN WITH ROASTED PORK
---
The Kai Lan with Roasted Pork (S$7.80) as well as their other vegetable dishes may not stand out as prominently on their extensive menu but believe us when we tell you that this veggie dish packs a serious flavour punch.
Fried with lots of garlic and fish sauce, the kai lan takes on a savoury and salty quality that goes excellently with plain white rice. What makes this dish all the more appetising is the abundance of fried garlic that is sprinkled over top upon serving.
//
---
AUTHENTIC THAI DESSERTS
---
After such a heavy and flavour-packed meal, it wouldn't hurt to order up a round of authentic Thai desserts. Some of the heavy hitters include their Red Ruby (S$3) as well as the iconic Mango Sticky Rice (S$5) that truly gave us a sense of being back in sunny old Thailand.
Soi 47 Thai Food
47 Lorong 6 Toa Payoh,
Singapore 310047
Tel: +65 6266 4747
Daily: 11.30am – 2.30pm, 5.30pm – 10pm
Nearest Station: Braddell / Toa Payoh
This post was brought to you by Soi 47 Thai Food.