Orchard is one of the busiest districts in Singapore, known for being home to major fashion labels and exciting street performances. Yet for students and those on a budget, dining in town can prove to be a burden on your wallet.
Most restaurants and cafes in the vicinity would set you back at more than S$20 per person for a meal—even if you are not dining at a fancy place. Thus, we made it our mission to suss out the cheapest dining spots in Orchard so you can still hang out in town with your friends without feeling the pinch!
Here are 10 Places In Orchard Where You Can Spend Less Than S$10 For A Meal.
KIM DAE MUN
A hidden gem in Concorde Hotel, this is where you can get Korean food without burning a hole in your pocket. The no-frills Korean eatery always dishes out satisfying grub that come in generous portions—with most of the dishes below S$10!
100 Orchard Road
#01-03 Concorde Hotel
Singapore 238840
Tel: +65 9112 5910
Tue to Sun: 11am – 8.30pm
Nearest Station: Somerset
GRAFFITI CAFE
While the food at Graffiti Cafe is not outstanding, this is where you can a simple bowl of wanton mee for less than S$5. The noodle dish comes with char siew, wantons and deep-fried dumplings. If you are looking for more, Graffiti Cafe also serves up a small selection of Chinese desserts.
14 Scotts Rd
Singapore 228213
Tel: +65 9633 6060
Daily: 10am – 10pm
Nearest Station: Orchard
MY FAVOURITE CAFE
Lucky Plaza may not be on the top of your list when it comes to shopping malls in Orchard but let My Favourite Cafe be the reason for you to visit the mall next time. The Yong Tau Foo stall has a strong loyal following for its cheap, yet delicious Yong Tau Foo dishes. Do not skip their signature fried meatballs!
304 Orchard Rd
#06-046, #06-047, Lucky Plaza
Singapore 238863
Tel: +65 6734 6935
Daily: 8.30am – 6pm
Nearest Station: Orchard
NEW STATION SNACK BAR
Chinese zi char is what New Station Snack Bar specialises in and their delectable salted egg yolk pork ribs and chicken wings have been receiving an outstanding ovation from the public. Nestled within Far East Plaza, this humble eatery also offers Seafood Hor Fun Soup, Hokkien Mee and Claypot Rice for solo diners!
14 Scotts Road
#05-95 Far East Plaza
Singapore 28213
Tel: +65 6734 2862
Daily: 11.30am – 9pm
Nearest Station: Orchard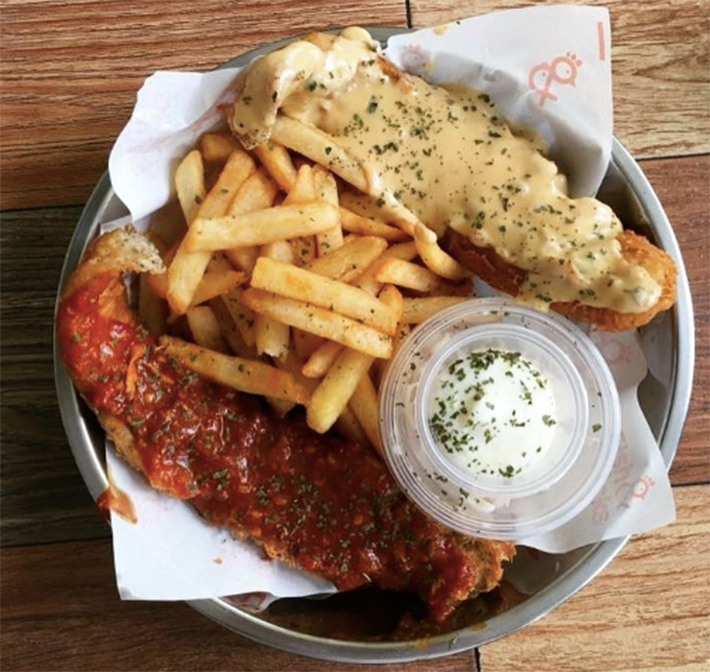 FISH & CHICKS
Having shot to fame after introducing their Salted Egg Yolk Fish & Chips, this F&B brand is now a well-known name among Singaporeans now. At their Cineleisure outlet, you can indulge in a variety of western delicacies such as Salted Egg Fish & Chips, Salted Egg Yolk Pasta with Chicken Cutlet and more.
8 Grange Road
Cathay Cineleisure Orchard
Basement 1 (Koufu)
Singapore 239693
Tel: +65 9828 3490
Daily: 11am – 10pm (Last order 9.30pm)
Nearest Station: Somerset
RIVERSIDE INDONESIAN BBQ
[email protected] has a host of reputable restaurants but if you are tight on budget, head down to Riverside Indonesian BBQ at the basement of the shopping mall. We are such huge fans of Indonesian barbecue so trust us when we say that their Ayam Pang gang is worth every penny. Otherwise, you can also go for Ikan Panggang and Sotong Panggang!
313 Orchard Road
#B3-44 [email protected]
Singapore 238895
Tel: +65 6733 1180
Daily: 10am – 10pm
Nearest Station: Somerset
PICK A BOO
Cafe food for less than S$10 in town?! You've got to be kidding. But yes, Pick A Boo in Lucky Plaza is where you can find all sorts of western dishes from aglio olio to burgers and fried chicken for less than S$10 per item! When you are done with your main, indulge in some sweet waffles with ice cream!
304 Orchard Road Stall
12 B1-038 Asian Foodmall
Lucky Plaza
Singapore 238863
Daily: 9am – 10pm
Nearest Station: Orchard
SU SUPERSTAR
With 12 varieties of Korean ramyeon that are priced below S$10, it is no wonder why the Korean eatery is mostly packed during lunch and dinner hours. Some appetising options for ramyeon include Chicken, Kimchi and Fish Cake. For those who prefer cold noodles, they also have the Cold Soup and Cold Dry.
2 Orchard Link
#02-18/18A/28 *SCAPE
Singapore 237978
Daily: 10.30am – 10.30pm
Nearest Station: Somerset
FISH TALES
Located beside Su Superstar, Fish Tales is a common hangout spot for youths looking for cheap western food. With mains below S$10, this is where you can enjoy a drool-worthy range including the likes of Cheesy Affair, Lemon Butter Chicken and Prawn Mushroom Aglio Olio.
2 Orchard Link
#02-27/#02-18B, SCAPE*
Singapore 237978
Tel:+65 6636 9960
Daily: 12pm – 10pm
Nearest Station: Somerset
KRA POW THAI
Hands up if you love Thai food! Kar Pow Thai is an up-and-coming Thai eatery in Orchard you must know about. From Tom Yum Soup to Crispy Thai Chicken Wings and Thai Beef Fried Rice, their menu caters to those visiting in groups and solo diners. The best part? Most dishes are below S$10!
14 Scotts Road
#03-26/27, Far East Plaza
Singapore 228213
Tel: +65 6734 1946
Daily: 11.30am – 9.30pm
Nearest Station: Orchard