Hello Kitty has been taking the world by storm since 1974, and just when we thought anything possible could be spun out of this well-loved Japanese cat – themed parks, restaurants and cafes, clothing line, cosmetics – Taiwan changed the world with a Hello Kitty maternity hospital!
The hospital's director, Tsai Tsung-chi, obtained an authorization from Sanrio Co Ltd, and set-up this 30-bedder hospital in Yuanlin, Central Taiwan. His aim is to provide mothers (who are Hello Kitty fans, of course!) the most comfortable environment for stress-free deliveries.
Well, we should believe he has succeeded. Let's take a look at this very cutesy, pinky Hao Sheng Hello Kitty Maternity Hospital.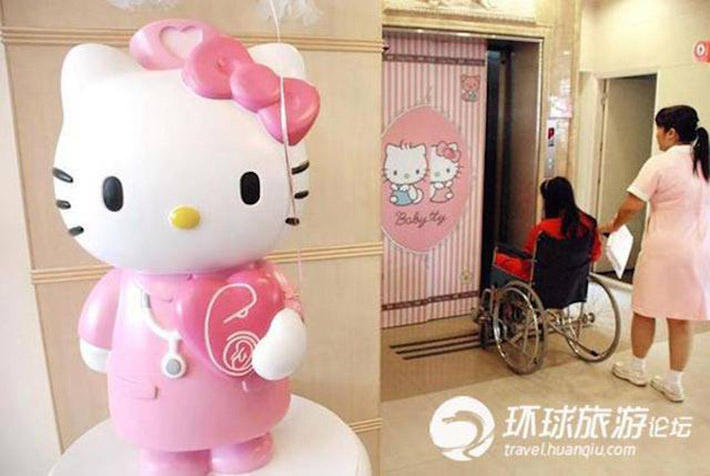 Upon entering the building, you will be greeted by a Hello Kitty statue dressed in a doctor's uniform. Everywhere is pink and adorned with posters and motifs and drawings of the cat without mouth.
Pink elevators, pink beds, pink wheelchairs, pink everything. Even the hospital staff are all dressed in pink!
Of course, your newborn will be draped in pink and sleep in pink cots. Baby boys will be wrapped in baby blue receiving blankets while the baby girls get pink; Mommy's bed will be in pink, complete with Hello Kitty bed linen and pillowcases. And we heard the birth certificates come in a special pink version, too!
This NT$100mil investment is the world's one-and-only Sanrio-certified medical institution providing maternity services. Talk about the most amazing ideas people have! This is one hospital we would gladly check in to!
Google & Facebook