If you have even the slightest clue about the Malay food scene in Singapore, you would know that Geylang Serai is where the party's at. Whether you're in the mood for nasi padang, mee rebus or putu piring, this happening neighbourhood will set you right up.
While the Geylang Serai Market is one of the most popular haunts in the area, just across the road from it is a well-known name among the Malay community. Mention "Hajjah Maimunah Restaurant" to anyone in the area and chances are, you'll get nodded in the right direction in no time.
Hajjah Maimunah Restaurant was founded by Madam Mahiran Abdul Rahman in 1992, named after her late mother. The business has now expanded to include two restaurants and even a catering service.
With their dedication to fresh ingredients and traditional culinary methods, it's not surprising that they were noticed by Michelin, who awarded them with the Michelin Bib Gourmand in 2016 and 2019.
Their menu encompasses more than 40 types of Malay and Indonesian dishes, some of which are age-old recipes passed down from her mother. Staying true to their kampung roots, the restaurant sources some of their herbs and vegetables straight from the kampungs in Indonesia. It doesn't get any more legit than this.
From the first step into the restaurant, you'll be met with nasi padang galore. Tray after tray of curries, spicy vegetables and meaty gravies vied for our attention, with the help of blinding display lights.
When we arrived at around 11am, there was already a steady queue.
The friendly servers worked efficiently and in an organised manner, swiftly scooping up ingredients at the customers' commands.
We tried the Sundanese Chicken (S$4.50), one of their signature Javanese dishes. The hunk of chicken leg wasn't as juicy as desired but the blend of seasonings was very well-balanced. The caramelised kecap manis sauce added a delicious sticky sweetness, which was undercut by a spicy kick.
We finished it with a squeeze of lime juice for a nice, citrus tang.
Next up, we had the BBQ Stingray (S$8), which was draped in fresh slivers of green chili and shallots. The stingray was coated in a tasty concoction of spices that had been locked into the fish over the smoky charcoal grill.
While the outer layer of the fish was slightly tough, the insides were fleshy and moist.
Finally, we had the Mee Sup Daging (S$4.50), beef soup noodles. It came with bee hoon, chunks of beef, beansprouts and chye sim drenched in broth.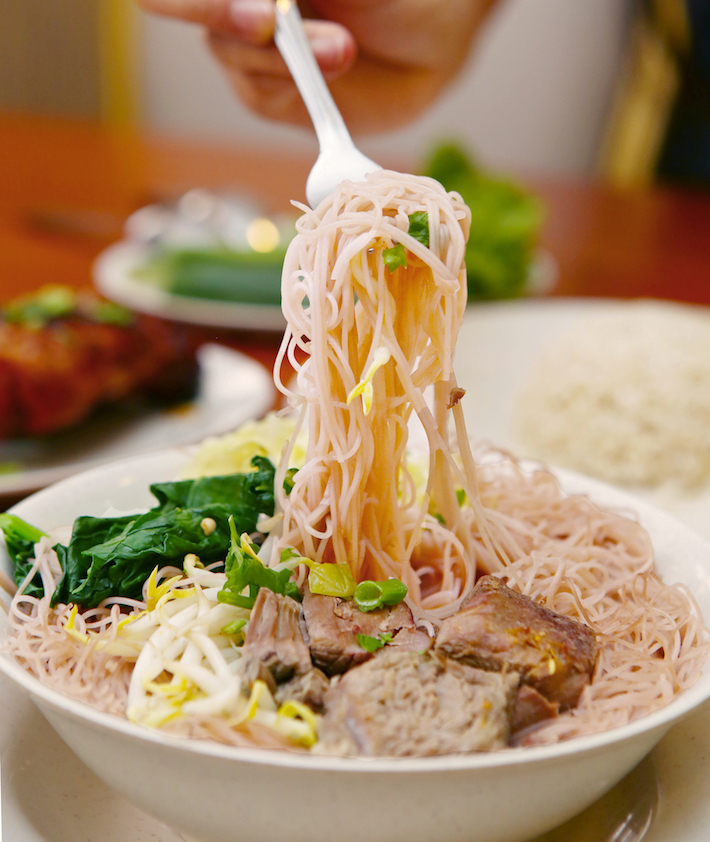 Sadly, this was not that impressive. Nothing about this dish really stood out. The beef chunks weren't tender and juicy, and the soup itself lacked robustness.
That being said, we really appreciated that they offer wholegrain noodles and brown rice as healthier substitutes. It's great for folks who are trying to eat clean but still want to indulge in great Malay cuisine.
Due to our limited stomach space, we could only afford to try a fraction of their vast selection of dishes. But, we definitely want to return to devour at least half of the dishes on their menu the next time!
Hajjah Maimunah Restaurant
20 Joo Chiat Rd
Singapore 427357
Tel: +65 6348 5457
Tues to Sun: 8am – 9pm
Nearest Station: Paya Lebar