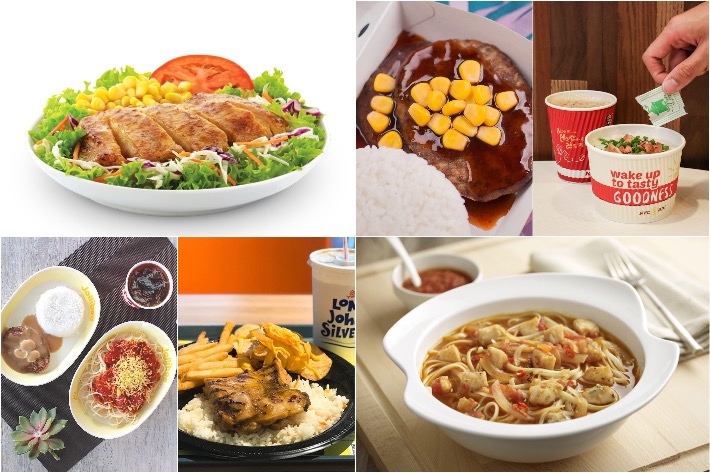 So you're trying to lose a few pounds, keeping true to your 'new-year-new-me' diet resolutions, but sometimes it's just too difficult to draw a line between your personal goals and group decisions especially when hanging out with your buddies.
No one likes to be a party pooper, but that doesn't mean that you have to succumb to eating all that greasy food either. For all of you calorie counters out there, get excited because despite the notion of fast food being unhealthy—which is totally right—there are a few saving graces here and there.
Read on as we give you the low-down on how you can still eat relatively healthy even at fast food restaurants. Happy Meal? We'd rather a Healthy Meal, thanks.
---
JOLLIBEE
---
The fast-food chain that's a clear hit among the Filipino population, Jollibee is known for their full range of comforting eats, namely the outrageously tasty fried chicken and Filipino-style sweet spaghetti. But grease and sugar aside, the fast-food chain also carries a slightly healthier alternative known as the Burger Steak with Rice.
Essentially 2 grilled, fairly lean beef patties served with white rice with a brown sauce ladled over top, this particular item is heaps healthier in comparison to its batter and deep-fried counterpart and is great for all you fitness enthusiasts who are all about those 'lean gains'.
---
KENTUCKY FRIED CHICKEN (KFC)
---
No one goes to KFC and does not order fried chicken—that's a given. But should you choose to opt for a healthier option, then consider one of their many rice buckets. Choose between their signature Original Recipe Rice Bucket or their Curry Rice Bucket, if not, their morning porridge options are great and another low-calorie option as well.
If you're itching for some fibre in your diet, then feel free to ask for an upsized serving of coleslaw as well.
---
LONG JOHN SILVER'S
---
For the health conscious, you're in luck because Long John Silver's is perhaps one of the few fast food options out there that has a separate menu dedicated entirely to grilled delights. Lower in fat, calorie dense and protein-packed—a dream come true for the fitness gurus and a much tastier alternative in our opinion.
Our personal favourites include the Grilled Premium Salmon as well as the Grilled Cajun Chicken.
---
MCDONALD'S
---
Colossal fast-food brand McDonald's is no stranger to anyone who's ever craved a soul-satisfying meal past midnight or at any time of the day.
Featuring an arsenal of comforting delights from their crispy McWings to their enormous Big Mac and of course, not forgetting the good-old, lip-smacking McSpicy, you can always count on McDonald's to be there to rescue your growling tummy. But while those items are solid, they aren't the most ideal if you're looking to lose weight or stay healthy.
Instead, opt for their Grilled Chicken McWrap that you can customise with a side order of Corn Cup, Apple Slices and Low-Fat Milk. Healthy, delicious and worth the judgemental stares.
---
MOS BURGER
---
While Mos Burger's offerings are not totally unhealthy with the absence of fried goodies, there are certain items that are considerably better for your waistline.
Their rice burgers are a good bet but if you're really hardcore, then you should definitely opt for their Natsumi burgers which essentially involve a meat-based patty, sauce and vegetables—the only catch is that the buns have been removed and substituted with lettuce instead—enjoy!
---
PASTAMANIA
---
Pasta is not something we would regard as unhealthy per se, but eating lots of it does inevitably contribute to your waistline due to the large amounts of calories per serving of it. At Pastamania, you can't go wrong with their Aglio Olio but if you're hankering for something unique, then you should definitely go for their Zuppa options—soup-based pasta, basically.
---
SUBWAY
---
While many already associate Subway as being a healthier choice, there are some menu offerings that stray a little too far off the healthy scale. Signature fillings such as their Meatball Marinara Melt and Chicken Teriyaki come with a sauce that is packed with salt and sodium.
For a truly healthy and hearty sandwich, opt for something simple like a Roast Beef or even Roasted Chicken Breast and load up on the veggies. Try and avoid sauces if you can, but if you must, they do carry healthier sauces as well such as yoghurt or vinaigrettes.