A hit among residents living in the area, Curry & Curry is known for a great many things but more famously so is their claypot fish head curry—hence the name.
Simply cooked in a medley of aromatic spices and served bubbling hot in a searing hot claypot alongside okra (ladies fingers), brinjal and tau pok, this is easily one of the most comforting one-dish-wonders around. And for larger groups, be sure to try their wide array of zi char delights as well.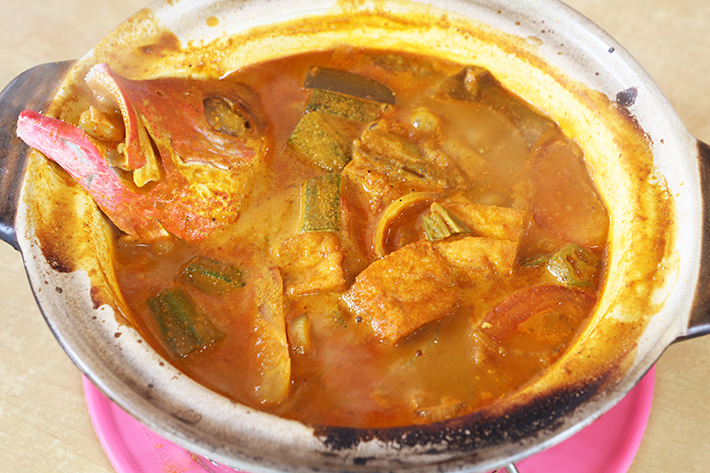 A prominent feature that differentiates their Fish Head Curry (S$26) to the ones that we have tried elsewhere is the curry. Compared to the Indian-style of preparing fish head curry, the Chinese variant sees a curry sauce that is relatively thicker, almost creamier yet well-balanced flavour-wise.
The curry boasts an aromatic, heady note with a prominent hint of curry leaves. The Red Snapper, on the other hand, was flaky and tender and the vegetable medley absorbed the savoury curry sauce really well.
Accented with a sourish tinge and a fairly thick consistency, the dish is best accompanied with steamed rice for maximum enjoyment.
Another highlight to include in your meal is their Fu Young-Style Egg Omelette (S$7). Essentially a fried egg omelette containing chye poh (preserved radish), this rendition of the Hokkien classic features prawns and diced onions as well.
The result? A mighty tasty omelette that boasts a beautiful combination of textures along with a savoury-sweet taste. A greasy but satisfying side dish, this dish is a must to include in your meal.
Curry & Curry
203 Hougang Street 21
Singapore 530203
Tel: +65 8121 9561
(Closed on Mondays)
Tue to Sun: 11.30am – 9pm
Nearest Station: Kovan