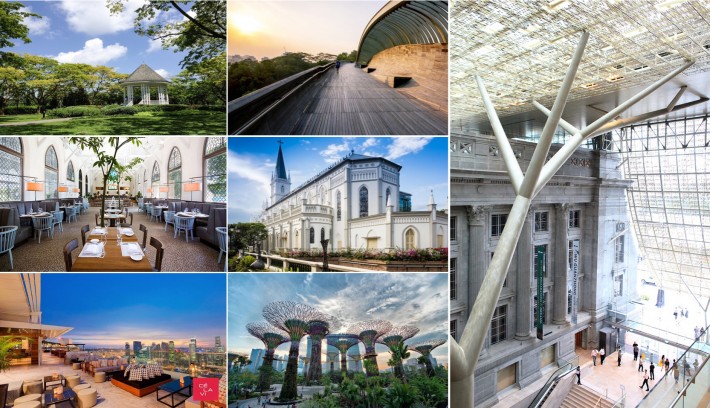 Proposals are an undeniably special occasion as this is when you will be asking for your partner's consent to be your partner for life. Growing up, many girls would fantasise about their ideal proposal venues, and their dream engagement rings – often leaving their partners in a tussle as they stress over making every aspect of the proposal perfect.
In a proposal, location is key. Not only does it create the right atmosphere for the romantic event, it will be a place where you will return to in the future, to commemorate and reminisce about your engagement.
No worries for we understand your pain and struggle. Finding the right location to propose is not an easy feat, but a tip of advice is to simply ask yourself "What would she like? What kind of girl is she?"
To ease your search or for some inspiration, here are 12 Romantic Places In Singapore Where You Can Pop The Question and secure your partner for the rest of your life.
#1 ALKAFF MANSION
An exquisite Italian restaurant found at the peak of Telok Blangah Hill, the Alkaff Mansion sits within a great green park and the grandeur of the building and its courtyard is a sight to behold.
The Alkaff Mansion is also a popular destination for weddings and it is not hard to see why. The colonial-inspired architecture of the mansion paints an extremely romantic and magical ambience great for a proposal. If you are unsure about what your partner expects for a proposal, the Alkaff Mansion would be a safe choice that would tick the boxes for most girls.
Alkaff Mansion
10 Telok Blangah Green, Singapore 109178
Tel: +65 6510 3068
Daily: 11.30am – 3pm, 6pm – 11pm
Nearest Station: Telok Blangah
//
#2 BLISSHOUSE SINGAPORE
Blisshouse Singapore is a wedding-themed restaurant in Clarke Quay Central and the dining establishment wants to share your "Blissful Moments" together with you in Blisshouse.
The design of Blisshouse Singapore came from the Garden of Eden and you would find the location decorated with an endless amount of artificial flowers. There is also a decorated carriage and a bridge within the premises, which only goes towards creating the perfect romantic setting for a proposal and picture-worthy backdrops.
Albeit a slightly girlier and a more "cheesy" proposal setting, this would be an ideal proposal location if your partner is a fairytale lover and let's be frank – you are her Prince Charming.
Blisshouse Singapore
6 Eu Tong Sen Street, #03-21 Clarke Quay Central, Singapore 059817
Tel: +65 6225 5532
Sun to Thu: 12pm – 10pm
Fri & Sat: 12pm – 11pm
Nearest Station: Clarke Quay
#3 BOTANIC GARDENS
A proposal in a picturesque white pavilion placed among lush greenery in the Botanic Gardens is the epitome of a romantic and meaningful proposal. You can request to book the pavilion and the lawn for your very special day.
However, in light of the bare setting of the pavilion and the lawn, please be advised that this proposal location would require greater efforts in preparatory and decoration works. Still, this gives you more room to explore a theme for your proposal and greater leeway to inject more personal touches into the whole event.
If you are planning to execute your proposal at night, you can consider decorating the entire pavilion with fairy lights for a warm, romantic setting and even have live music played during the event. With the extensive amount of work required, we would advise you to rely on the help of friends and family. Also, their presence at the proposal could be something your partner truly appreciates.
Botanic Gardens
1 Cluny Road, Singapore 259569
Tel: +65 6471 7138
Daily: 5am – 12am
Nearest Station: Botanic Gardens
#4 CÉ LA VI
Formerly known as KU DE TA, CÉ LA VI is a swanky rooftop bar atop the Marina Bay Sands. Ask for the best seats in the bar, in advance, so that you and your partner can enjoy the best view of Singapore's cityscape as you enjoy your meal together.
Watch the sunset or even enjoy one of their signature cocktails together and thereafter get down on one knee and ask for her hand in marriage.
Due to its incredible jaw-dropping views, CÉ LA VI is also another hot spot for proposals. Also, their staff are more than happy to assist you with your proposal plans which does reduce your stress during the actual proposal itself. You are in good hands.
CÉ LA VI
1 Bayfront Avenue, Marina Bay Sands, Singapore 018971
Tel: +65 6508 2188
Mon: 12pm – 2am
Tue: 12pm – 5am
Wed: 12pm – 3am
Thu to Sat: 12pm – 5am
Sun: 11am – 2am
Nearest Station: Bayfront
//
#5 CHIJMES
CHIJMES is arguably one of the most beautiful places to have your wedding at. Filled with a unique charm and warm ambience, the Gothic-styled 19th-century chapel is decorated with intricate designs and details that transform the location into a stunning venue for any romantic occasion.
In this instance, why not consider proposing to your partner here? Especially so, if your partner is an architectural lover and is aware of the history behind the building. Perhaps, you can even consider having your wedding at CHIJMES itself in the future. This would be a dream location to say "yes" at twice!
CHIJMES
30 Victoria Street, Singapore 187996
Tel: +65 6337 7810
Mon to Fri: 8am – 3am
Sat & Sun: 8.30am – 4am
Nearest Station: City Hall
#6 GARDENS BY THE BAY
Most of us usually visit Gardens By The Bay when we feel a little touristy, or predominantly during the Christmas season. But have you thought about transforming this iconic attraction of Singapore into a potential place to propose to your partner?
One of the potential places to conduct the proposal is at the Flower Dome, where you can "say it with flowers". Or why not ask for your partner's hand in marriage on the OCBC Skywalk surrounded by towering super-tree groves? With stunning views all around, this will be a picture perfect proposal.
Gardens By The Bay
18 Marina Gardens Drive, Singapore 018953
Tel: +65 6420 6848
Daily: 5am – 2am
Nearest Station: Bayfront
#7 HENDERSON WAVES AT MOUNT FABER PARK
Does your partner enjoy hiking or love nature? If so, Henderson Waves at Mount Faber Park would be a great place to pop the question as it differs from the conventional stereotype of proposals in a restaurant setting or hotel room.
Built 36 metres above the ground, Henderson Waves is recognised as the highest pedestrian bridge in Singapore that boasts incredible views of the city's landscape, sunrise and sunset. However, if you prefer to keep your proposal private, aim to bring your partner to Henderson Waves in the early morning or late evening as it is otherwise a popular dating spot for plenty of couples.
With a homemade breakfast or dinner in hand, and spectacular views of the horizon before you, Henderson Waves is the perfect backdrop to a proposal and this will be one your partner will definitely appreciate.
Henderson Waves
Henderson Road, Southern Ridges, Bukit Merah, Singapore 159557
Tel: +65 6377 9688
Daily: All day
Nearest Station: Telok Blangah
#8 NATIONAL GALLERY SINGAPORE
Known for its grand Victorian-inspired architecture and spacious interior, the National Gallery Singapore is a monumental Singaporean landmark as it occupies both the Old Supreme Court and City Hall. With such beauty, it is hardly surprising that this is one of the more popular shooting locations for wedding photography.
But you do not have to wait until your wedding preparation to enjoy the beauty of this historical landmark for it is also a great location for a romantic proposal. There are many galleries for you to execute your proposal; the Ng Teng Fong Roof Garden Gallery, the Former Supreme Court Foyer and inside the Rotunda.
If your partner is an avid lover of history and museums in general, this is one location that you should seriously consider as she will not only appreciate the apt choice of a proposal setting but the National Gallery Singapore as well.
National Gallery Singapore
1 Saint Andrew's Road, #01-01, Singapore 178957
Tel: +65 6271 7000
Sun to Thu: 10am – 7pm
Fri & Sat: 10am – 10pm
Nearest Station: City Hall
//
#9 RESORTS WORLD SENTOSA
Resorts World Sentosa is filled with so many timeless attractions where you can propose to your partner. And you will not have to do the planning alone, as there are Event Specialists who can help you out with your special day!
From surprise proposals in the S.E.A. Aquarium, at the Ocean Suites, what about a public flash mob? There are so many options to go for especially if your partner is a fun-loving individual. No matter your decision, we are confident that she will appreciate the gesture nonetheless and that it will a day to remember.
Resorts World Sentosa
8 Sentosa Gateway, Singapore 098269
Tel: +65 6577 8888
Nearest Station: Harbourfront
#10 SINGAPORE FLYER
A proposal in the skies will be sure to take your partner's breath away. You can have this, and more in the Singapore Flyer, as a gorgeous view of the city's landscape at 165 metres above the ground is guaranteed to complete the experience.
If you prefer to keep the proposal private, there is the option of booking an entire capsule where you can enjoy a romantic meal through The Premium Sky Dining Flight with your partner during the entire ride. Although a slightly pricier option, this gesture will be sure to impress your partner, and it will be a wonderful memory to keep for a lifetime.
However, we would recommend that you book the capsule at least a few weeks in advance to ensure that you secure a capsule for your special day.
Singapore Flyer
30 Raffles Place, Singapore 039803
Tel: +65 6333 3311
Daily: 8.30am – 10.30pm
Nearest Station: Promenade
#11 ST JOHN'S ISLAND AND LAZARUS ISLAND
If she loves the ocean and if you have catered aside a slightly higher budget, renting a private yacht to roam the sea surrounding St John's Island and Lazarus Island would certainly dazzle your partner beyond belief.
Enjoy plenty of romantic moments with your partner as the both of you stare out into the open sea, entirely alone; just the two of you. There will be so many opportunities for you to ask for her hand in marriage, which will be made perfect by the gorgeous cerulean blue seas set against the bright blue sky.
Or you can also consider leaving your yacht and taking the romantic event down to the beautiful white sand on St John's Island or Lazarus Island. Either how your partner will undoubtedly be amazed by your planning and this will make for an extremely special memory to look back on.
//
#12 THE WHITE RABBIT
The White Rabbit is a highly popular dining establishment both for its excellent food and its intimate, romantic ambience. In particular, you can even plan for a sweet garden proposal (or an intimate wedding) at this dreamy restaurant and its grounds.
As with the Botanic Gardens, The White Rabbit offers you plenty of space and opportunities to create a proposal that is all about the both of you. This location is also ideal for your proposal if your partner is a loves flowers, gardens and Alice in Wonderland.
Imagine your partner being led through "The Rabbit Hole" and thereafter exploring the different setups about your relationship on the grounds of the restaurant, before reaching you, on your knee ready to propose. She will be thrilled with efforts you put into the proposal, and we are sure that she will only sing high praises of this special day for the rest of your lives together.
The White Rabbit
39C Harding Road, Singapore 249541
Tel: +65 6473 9965
Tue to Fri: 12pm – 2.30pm, 6.30pm – 10.30pm
Sat & Sun: 10.30am – 3pm, 6.30pm – 10.30pm
Nearest Station: Botanic Gardens