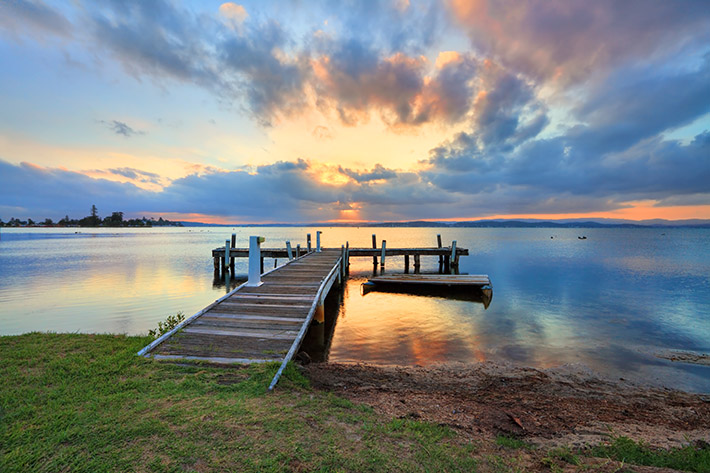 Photo Credit: Wikipedia
Sydney is one of the most popular cities in Australia, and people love it for the vibrant life, shopping, food and entertainment.
But if that alone is not enough to excite you, take day trips out of the city! Most of them are within driving distance, and we have shortlisted some for your consideration.
#1 BLUE MOUNTAINS
No trip to Australia is complete if you do not venture out a little further to admire the natural beauty of Blue Mountains which is just two hours away from the city. Think dense eucalyptus forests, historic rock formations, waterfalls and fantastic views from the mountain tops.
The best way to fully appreciate the blue hazed beauty of Blue Mountains is to explore the area by foot. As this is a popular tourist attraction, there are many well marked hiking paths so not to worry even if you are not a seasoned hiker.
Looking for a light walk? Try the Princes Rock Walk which will lead you to Wentworth Falls, Kings Tableland and Mount Solitary. Otherwise, we recommend you to go for the Pulpit Rock Track because we are pretty sure that you will fall in love with the 280-degree panoramic view of the blue gum forest in Grose Valley.
If you still have plenty of energy left in you, head to an enormous rock formations called Three Sisters at Echo Point Lookout and then to Scenic World which is home to the world's steepest inclined railway. Take a ride into an age-old forest and hop into a glass-floored cable car where you will see a steep gorge directly below you.
Photo Credit: Port Stephens Accommodation
#2 PORT STEPHENS BAY
A trip to Port Stephens Area range from 2.5 hours to 3.5 hours, depending on where you intend to go. Yes, Ports Stephens Bay is a 70-mile-long shoreline you can never finish exploring on a single trip. Twice the size of Sydney harbour, there are 26 beaches; sand dunes that are the largest in the Southern Hemisphere; diving spots at Fly Point Park; and many more.
You can expect fun activities such as sand boarding down 40 metres high dunes and interacting with cute bottlenose dolphins. If you are lucky, you may catch sightings of humpback whales migrating from May to November.
The food there is also top notch as Port Stephens Bay is known for its fresh produce and spectacular dining scene. Indulge in freshly shucked oysters, locally grown avocados and macadamia nuts. A dinner cruise or private picnic can also be arranged to surprise a loved one or to celebrate an occasion.
Photo Credit: Australia
#3 MANLY BEACH
The best way to get to Manly Beach from Sydney will be a 30 minutes ferry ride from Sydney Harbour. Visitors will get to catch a glimpse of the famous Sydney Opera House before arriving at Manly Beach.
Relax on the golden beach if you intend to do some sunbathing and take in the refreshing sea breeze while doing so. The amount of activities you can do there is simply endless! A bicycle tour is the best way to explore the place with 20km of dedicated bicycle tracks that lead to places such as Sydney Harbour National Park Explorer and Manly Dam. Otherwise, pick up a new hobby by taking up surfing lessons at Manly Surf School.
Chill at Manly's one and only brewery where there is not only locally brewed beer, but also exciting entertainment such as live bands on most days and an in-house magician on Thursday.
Photo Credit: Travel Online
#4 HUNTER VALLEY
Wine connoisseurs must mark this place down! Being Australia's oldest commercial wine-producing region, Hunter Valley boasts many vineyards that harvest the grapes of Cabernet Sauvignon, Pinot Noir, Muscat and Shiraz—which you will get to taste over there. You may want to plan for your trip beforehand as Hunter Valley also has other activities to offer.
Learn a tip or two on preparing a feast with locally produced food at the cooking schools, attend the annual Hunter Valley Wine and Food Month which falls throughout the months of May and June or visit a farmers market over the weekends.
A two hours drive from Sydney will get you to Lower Hunter Valley where you will see over 100 vineyards. We have not even started counting the remaining vineyards at Upper Hunter Valley. With so many wine tasting sessions to choose from, it is advisable to arrange for transport back!
Photo Credit: Hello Sydney Kids
#5 THE BASIN
Retreat to this national park and campground if you are looking for a place to escape from bustling Sydney. Just a short 20 minutes ferry ride away from Palm Beach, this place is ideal for camping or having a picnic.
Choose a good spot for pitching your tent and spend the rest of the day riding a bicycle or looking out for local swamp wallabies and kookaburras. Campsite facilities that you will need such as barbecue pits and toilets are all included.  
Your eyes will be in for a real treat with views of an untouched beachfront and an inland lagoon. The last ferry departs just before sunset, but we wouldn't be surprised if you choose to stay on for another day or two.
Photo Credit: Awol
#6 TERRIGAL
Terrigal Beach is one of the main highlights when going to the Central Coast. The two hour journey will lead you out of urban Sydney to much more peaceful, tranquil coastal Terrigal. Visitors can swim and surf to their heart's content, safe in the notion that the beach is patrolled by lifeguards.
Wander around looking at the rock pools, a leisure activity to be done with both the young and old. Otherwise, try paddleboarding at the lagoons in Terrigal or have a picnic somewhere along the picnic areas that have grassed and under cover picnic tables.
If you are there with a group of friends, go straight to Terrigal Haven at the southern end of Terrigal Beach for it is a protected boat dockyard with much to do. Rent a boat out, visit the aquamarine by scuba diving or have a barbecue as facilities are provided for your convenience.
Photo Credit: Ecoxpo
#7 KANGAROO VALLEY
Parked two hours south of Sydney, Kangaroo Valley has been touted as "The most beautiful valley in Australia" and we do not find it hard to see why. The valley is enclosed by lush rainforests, natural streams, farmland and colourful flora and fauna. As its name suggests, Kangaroo Valley has kangaroos of course! It would be a pity to leave the place without spotting them first.
The iconic green valley offer scenic walks, drives and bike rides for visitors to take in all the beauty the place has to show. Kangaroo Valley Village Markets are held on the second Saturday of each month at Kangaroo Valley Showground from 8.30am to 2.30pm. Shop away for fresh local produce, coffee and food to perk you up in the morning, fashionable clothes, crafts and entertainment.
Photo Credit: Australia
#8 JERVIS BAY
Slightly below three hours ride away is Jervis Bay, somewhere you must visit if you love admiring white sandy beaches and sparkling turquoise coloured sea water. Fishing is not going to be an old man's activity here at Jervis Bay which is teemed with bait fish, snappers, Australian Salmon and more. It is three times the size of Sydney Harbour and is one of the best for game fishing.
No matter if you are there with your family, friends or having some couple time with your partner, Jervis Bay is able to accommodate to your needs. Accommodations range from self-catering holiday homes, to boutique B&Bs as well as couples' retreats.
Nature walks are abundant with three national parks where you will see native wild animals. They are under the care of Wildlife Rescue South Coast, a wildlife rescue group that takes care of injured or orphaned animals.
Photo Credit: Travelphtodb
#9 ROYAL NATIONAL PARK
This place is the perfect educational trip for your little ones. As the world's second oldest national park, you can expect many heritage attractions and the chance to be up close with the multitude of plants, birds and animals. The best part? It is only an hour drive from Sydney!
Plan ahead and find out what the activities you can do during different seasons of the year. Spending summer at the Royal National Park means that you can drop by Garie Beach where 260 foot high cliffs surround the beach. If not, swim at Bundeena's Bonnie Vale or Karloo Pool. Winter visits are a great time to spot whales from the cliffs and you get to avoid the busy holiday period during summer.
Photo Credit: Hillsnews
#10 TOBRUK SHEEP STATION
Tucked in Hawkesbury Valley is Tobruk Sheep Station, which prides itself in providing unique farm experiences. The farm runs many programs a day where you get to watch a stockman on horseback, duck shows, sheep shearing and many more.
Have a thrill on a tractor trailer ride, which is a new way of getting around the farm that is recently included into their list of activities. The tractor is able to cater for 20 people, so your whole group gets to take the ride together.
From Tobruk Sheep Station, you are able to see the magnificent Blue Mountains.