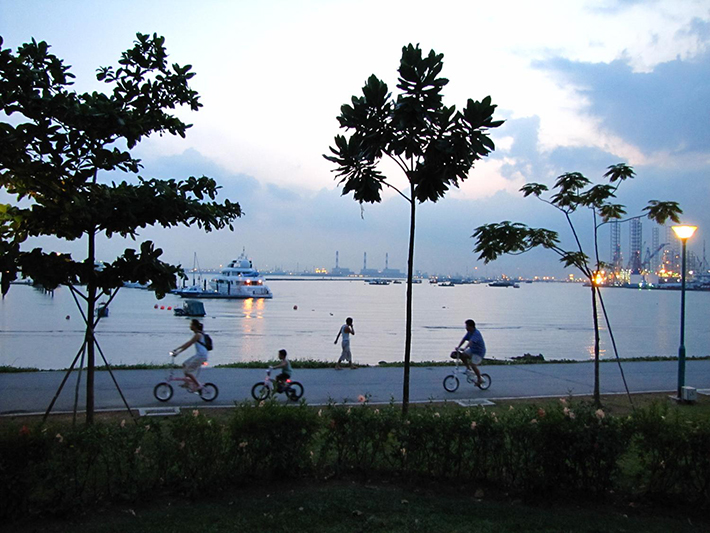 Since Jurong is well known for its industrial activities, many of us who live in the western part of Singapore are sure to come across the same comments from those who do not live in the West. There are some of which we agree wholeheartedly but many more that makes us shake our heads in disbelief.
Here are Eight Things West Siders Are Tired Of Hearing About Living In The West. We bet many of you Westies will be nodding your head in agreement!
#1 THERE ARE ONLY FACTORIES IN JURONG
While it is true that there were only a handful of shopping malls in the past, most have gone through renovation works and are replaced by mega shopping malls now. Those who have been living in Jurong for some time will recall the Jurong Entertainment Centre which has gone down in history and replaced by JCube. Have some fun with ice-skating there before swinging by JEM and WestGate which are just side by side. Another shopping mall not to be missed is Jurong Point at Boon Lay station. It has an interesting mall concept that takes you to different parts of the world. Curious? Head down to Jurong Point yourself and look out for the Japan and Hong Kong streets! There is even a section dedicated to Malaysian and Korean food.
#2 I'M ACTUALLY IN JURONG WEST WHEN I ALIGHTED AT BOON LAY MRT STATION?
Yes we can see how this is a slightly confusing. When you step out of Boon Lay MRT station, you are walking along the streets of Jurong West. Boon Lay is a small estate surrounded by Jurong West and you need to take a bus from Jurong Point to get there.
#3 IT IS AN ULU PLACE WITH NOTHING TO DO
Just like the rest of Singapore, you can find interesting activities that makes traveling time worth it all. Sports enthusiasts take note! The indoor batting cage at Pandan Gardens is the place to go for playing baseball if you are looking for something different while planning a group outing. Also, make a visit to the Singapore Science Centre to brush up your scientific and technological knowledge and go over to the Omni-Theatres where they have interesting programmes from time to time. If you are feeling restless, unleash your energy at the Amped Trampoline Park which allows you to jump to your heart's desire on 5,000 sq feet of trampolines and foam pits.
#4 UNDERDEVELOPED AREA
Jurong may be a mangrove swamp in 1961 but that was many years back. If you give the West side a chance, you may be surprised at the beauty the place offers. In fact there are many spots for you to take your OOTDs in the West! Chinese and Japanese gardens have striking pagodas and bridges accompanied by the surrounding tall trees which makes it a scenic spot for taking pictures. Lim Chu Kang jetty at the North-Western part of Singapore boasts an old wooden bridge built on the coastal shores and is perfect for those who seek variations in their pictures as opposed to the usual urban city background.
#5 NO GOOD FOOD IN THE WEST
Despite the fact that many popular cafes and eateries are located in the East, there are many food stalls here in the West that deserves praises too. You can always expect a long queue outside Sunday Folks at Chip Bee Gardens. They serve a good variety of soft serve options atop crispy egg waffles. Archipelago Creamery is another place that serves up photogenic desserts that is almost too pretty to eat, especially the Matcha Rose and Shibuya Toasts. Neighbourhood hawker centre Boon Lay Place Food Village is very well known for its Boon Lay Power Nasi Lemak stall.  
#6 ASSOCIATING JURONG WITH TUAS, JOO KOON AND JURONG ISLAND
Ask any West sider and he will tell you that Jurong is a large area extending from Jurong East to Pioneer only. When we tell you we live in Jurong, we do not mean Tuas, Joo Koon or Jurong Island. Speaking of Joo Koon, there is an enormous NTUC warehouse there where members are able to get their groceries at a cheaper price.
#7 YOU NEED A PASSPORT TO GO HOME
Really?
#8 REALLY QUESTIONABLE COMMENTS
A school mate once commented she had this impression that Westies are always in track pants and sneakers. Well, I was definitely not in track pants and sneakers when she saw me that day. In fact, West siders have plenty of shopping options as a portion of Jurong Point and JCube have been modified to look like Bugis Street! Another unusual comment overheard from a friend's colleague was that West siders smell like bread. We don't even know where she got that from.
With many upcoming development plans for the western part of Singapore such as Jurong Lake Gardens, new cycling networks, and a brand new water hub at Jurong Lake, it is time for those living in other regions of the country to visit us in the West!