It is not often that we come across cheap and delicious donburi, and even more so, a Wagyu Roast Beef Don at just S$10. And truth be told, the thought of this dish was enough to get us hooked.
Led by a group of young and passionate foodies who seek to serve up stellar gourmet food at affordable prices, Gyu Nami is a 5-day old humble hawker stall nestled right beside the famous Han Kee Fish Soup, within the bustling food hub that is Amoy Street Food Centre.
A mountain of wagyu beef atop a bed of warm, fluffy rice? Ah, the simplicities of life are just the best.
The only dish on Gyu Nami's menu is the Wagyu Roast Beef Donburi (S$10) and thus, we did have high expectations for its taste since it is, after all, the only dish that Gyu Nami specialises in.
From the picture of the Wagyu Roast Beef Donburi (S$10) at Gyu Nami's shop front, we had the impression that the Wagyu Roast Beef Donburi would come with quite a generous portion of beef. Unfortunately, we had to adjust our expectations and when we were served our meal, we felt that the portion of wagyu roast beef served was at most, average.
Gyu Nami's Wagyu Roast Beef Donburi (S$10) comprises a reasonable portion of wagyu roast beef layered like a volcano on a decent portion of rice, which is then topped off with an egg yolk, home-made yoghurt sauce, truffle shavings and alfalfa sprouts.
If we were only focussing on the presentation of the dish, Gyu Nami definitely checked all the boxes. The presentation of the Wagyu Roast Beef Donburi was executed with elegance and paralleled what you would find in most Japanese restaurants.
The wagyu roast beef is thinly-sliced before being served to you. For us, we appreciated that Gyu Nami served up medium rare slices of wagyu roast beef but felt that the beef lacked flavour.
Thankfully, this is where the yoghurt sauce saved the day. It added an additional kick of flavour which helped to balance the otherwise muted taste of the wagyu roast beef. That being said, the dish would have been made better if there was more yoghurt sauce served.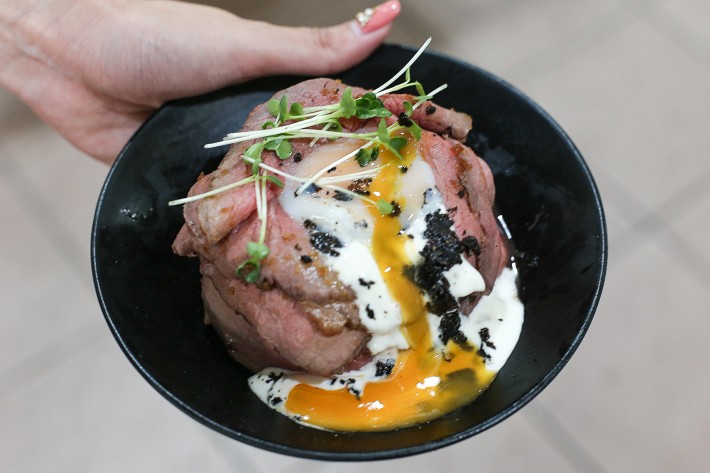 Nonetheless, Gyu Nami's Wagyu Roast Beef Donburi would still be worth a try, especially if you are looking for a quick meal in the CBD. It may not be the cheapest option you can have, but you will definitely get plenty of Instagram-worthy pictures of your meal.
Gyu Nami
7 Maxwell Road, #02-126 Amoy Street Food Centre,
Singapore 069111
Mon to Sat: 11am – 2pm
Nearest Station: Tanjong Pagar